The USA's Collin Chartier surprised many with his impressive victory recently at the inaugural PTO US Open in Dallas.
While few, if any, had him as their favourite for success in Texas, his calm post-race interview perhaps indicated that we should have much closer eyes on him leading into next Saturday's IRONMAN World Championship.
"I believed I had a chance of winning today" he said at the finish line in Irving, and given his display in the heat and humidity there, can he be another Kona debutant with serious podium potential in 2022?
The Norwegians are the ones to beat, but Chartier has Team Norway in his corner too, as he explained to me in an extensive interview on Wednesday.
University calling
While Collin's first race over the longer distances came with a victory at IRONMAN 70.3 Cartagena, Columbia, in 2019, the Health Science graduate is no new kid on the block in triathlon terms.
'I actually did my first triathlon in 2008, it was a sprint triathlon. And I did the same thing in 2009, just with a friend who was on the swim team. At the end of 2009 I got involved in some Junior racing, I think I was maybe 15 years old. That was really the start, but I didn't really know anything at that point. I swam on a swim team, did some running, played soccer and was just doing triathlon once or twice a year.
"I then graduated high school and took a year off to just focus on swimming, but then I got recruited from this triathlon program at Marymount University. It was the first varsity triathlon program in the US. It was close to home, I didn't really have to move, it was 30-minutes from my parents place and so that was the university years. I did swim team for one year, I ran cross-country and I did triathlon."
Learning his trade
The university route has seen plenty of athletes find success in the UK and initially at least, short course racing was the focus.
"I graduated in 2017 and then I went full on in to the short course ITU. I made progress every year, joined training groups, made a lot of friends and learned how to race in all sorts of conditions around the world. There were a lot of skills that I built during that time, so it was pretty full on for 2017, 2018 and 2019, those three years.
"I knew that eventually I would want to go long, but I still had things I really wanted to do in short course. I really wanted to give it a go for the Olympics and to race on the World Triathlon Series, the top level."
One door closes, another opens
"I was progressing quite well in 2019. I was very close to getting national team funding, being on the funded team, and then into 2020 came and that's kind of where the plans unravelled.
They were questioning my commitment to ITU and they sort of kindly asked me to leave
"I ended up doing long course, and kind of getting pushed out of the USA Triathlon short course from some of the High Performance Directors. They were questioning my commitment to ITU and they sort of kindly asked me to leave the scene, to make room for others.
"So I was kind of pushed out, and economically it did make much more sense to transition to the half distance and long course racing."
Lockdown years
While moving towards the longer distances may have made sense, the impact of the global COVID pandemic made racing of any type incredibly difficult. Collin was making the best of what was available.
"I actually did four ITU races in 2020. Two before the pandemic, then I was on the wait-list for the Karlovy Vary World Cup at the end of that summer, and I didn't make it into the start list.
"I did the Arzachena World Cup, and had a bad crash there. I also raced a local Catalan race in Spain, the half distance. I won that by 16 minutes, and it was at that race that the local Spanish pros said they were going to a race in Bilbao next week. So I drove to Bilbao and I got second there [Ed. to Javier Gomez]."
2021 – consistent inconsistency
2021 saw a C.V. full of middle distance races, with victory at Challenge Salou, 70.3 podiums in Des Moines and Boulder, plus another strong Challenge Family result in Mallorca. At first glance, a clear indication that he had found his favourite distance and format? It's not quite so clear cut, as he explained:
"I actually have the desire to do all distances. Maybe I am a bit better at the longer distances, but both are a challenge and I like to do any race, and the challenge of figuring out how to do my best at that race."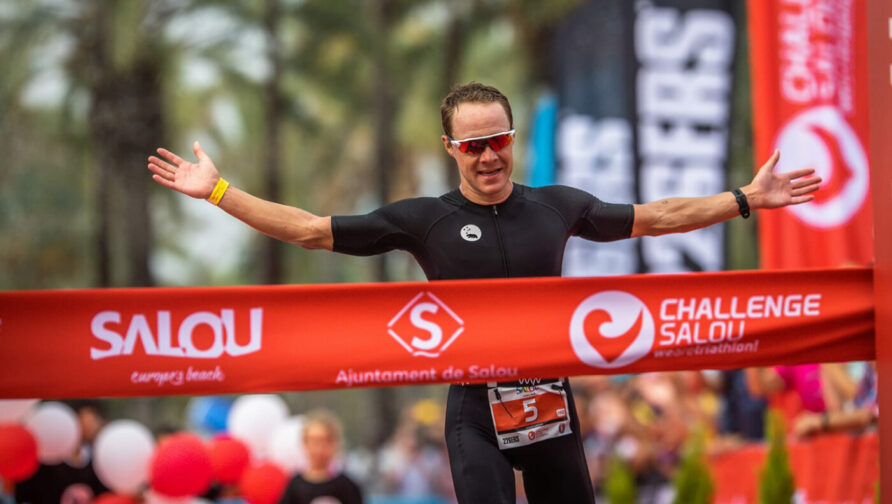 In a similar manner, a consistent season of results, doesn't tell the full story either… including racing a completely different sport:
"2021 on paper was maybe consistent, but for me it was massive inconsistencies in injuries, training, travelling – it was a fun year, but a very, very busy year. I started the year with a hip flexor tear (actually from Bilbao in 2020), and so I went to ski-mountaineering racing. So in 2021 I did nine skimo races and then I started the triathlon season.
"By the end of year I was ready to make a change. I'd been self-coached for three years and I wanted to take it to the highest level at Ironman, and I knew I needed some more support and help. So I got a coach, Mikal Iden, who I met at the Collins Cup and we started working together on January 1st 2022. I started working with nutritionists, started the year with a strength coach – trying to get everything dialled."
The path is rarely smooth
Having raced so much in 2021, and with a new coach heading into this year, it's logical that an athlete would perhaps take a step back and rebuild under their new team. Again, that only tells part of the story.
"This year is less racing, but I would have liked to have raced more earlier on in the year. I was still dealing with this injury. I started the year well, but by February I was not training well and then before a race I was training for in May, I basically came to a full stop.
"I couldn't run, I couldn't bike for 10 days. I thought it was a stress fracture – it wasn't – but I had to take a step back and kind of relearn how to move. Once I did that stuff – and I worked with a lot of people in Spain and California – that helped me to perform at the next level."
Stepping up to IRONMAN
"This season going to Kona was always the objective. I was trying to go for that at IRONMAN South Africa in April [Ed. finishing fifth], but that didn't happen there. I was still dealing with injury, but also learning how to race an Ironman. I made so many tactical mistakes and wasting energy in that race.
"Basically IRONMAN Mont-Tremblant was the soonest race I could do, but still perform well from that injury. It also happened to be the last qualifying race for Kona. It turned out well."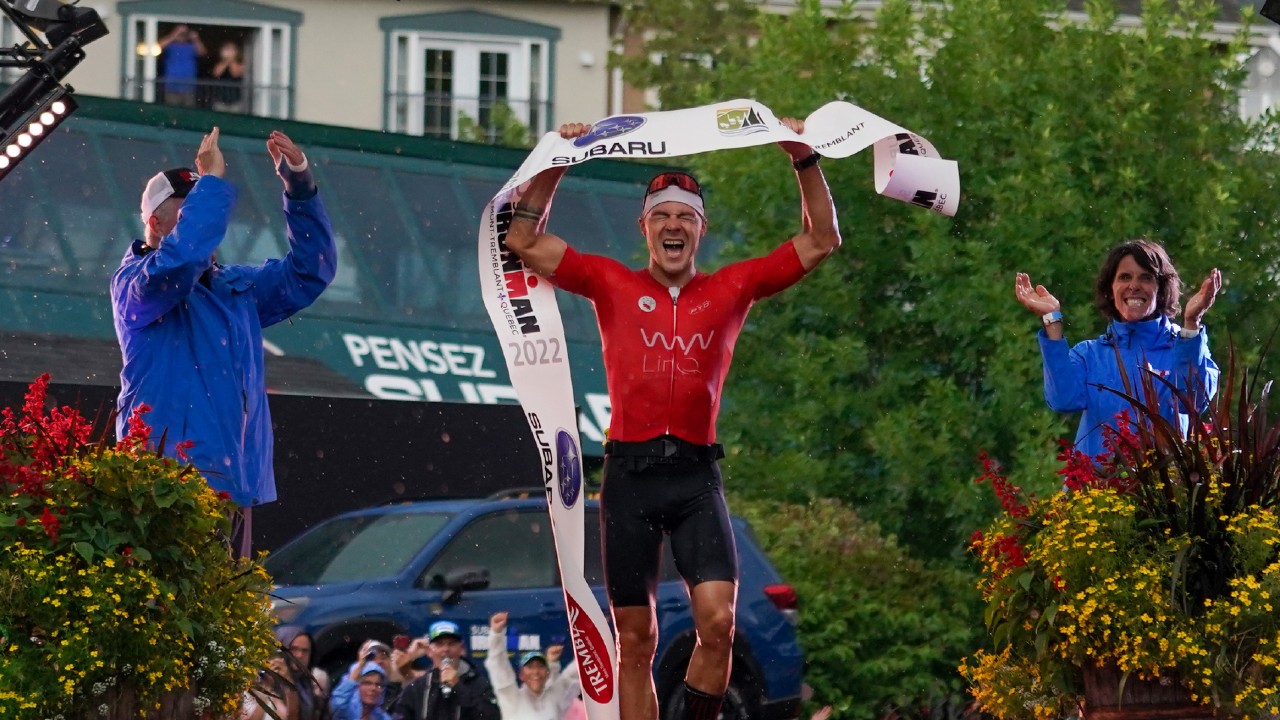 Edmonton – a step in the right direction
In July Collin finished 11th at the PTO Canadian Open in Edmonton. While it didn't gain headlines, it was a solid performance that indicated that his health and fitness was now on the right path.
"In Edmonton, I was pleased with the execution of the fitness level that I had going into it. I was still slowly ramping up my training and I only had five weeks of running at a pretty low volume, so at an execution level I did do well."
It was in Edmonton that a key part of the last couple of months of training began, as Chartier linked up with another high-profile, Mikal Iden-coached athlete.
"In Edmonton is also where I met Lionel Sanders, which was a big change for the next races. I changed my training plans for after Edmonton to go and be a training partner with Lionel in Tucson, Arizona. I basically flew back to where I was in California and just drove to Tucson a couple of days later.
"I hope it will continue through next year, that I can meet up with Lionel and do training camps together. I know this period from Edmonton thru Kona has been a great time. All the time we are talking about training, and how to learn and grow in the sport. That's the mindset you really need to take into every single day; how can we learn something and improve on it day-to-day?"
Lionel and I, our goal is to beat the Norwegians
Of course, we've seen the success that Team Norway has had in training together, the Brownlee brothers in Leeds and various other training groups in terms of creating truly high performing environments.
"I 100% agree with that. You need a team around you, and you need someone who is at a similar world class level to be able to keep pushing forward. Mikal has been on training camp with us for the last few weeks, both before Dallas, after Dallas and in Kona.
"Lionel and I, our goal is to beat the Norwegians and to beat Gustav and Kristian. And even though Gustav is Mikal's brother, that's still his goal as well!
Thinking big picture
With both Lionel and Collin now under the guidance of Mikal Iden, what does he feel he brings to the table as a coach?
"He makes sure that intensity is controlled. He's thinking long-term vision, not just a single training session, but making sure that we can execute weeks and months of specific work. As an athlete, it's easy to have the blinders on and think about needing to perform one specific workout. Really, that's just one small piece in the puzzle. Keeping the perspective grounded.
"If you look at the training that Kristian and Gustav have done to get to this point, it really is important to be looking that far back, 10 years, to see that level of consistency. It does take even for me to get to this point, with maybe a lot of inconsistencies, 10+ years. You are not going to just go from average level to next level in one season."
Starring in the Lone Star State
While he believed he could win in Dallas, the race itself wasn't truly the target, providing a very new approach.
"Dallas was an interesting piece to the puzzle, because Kona has been the objective. With it being just three weeks apart, it is quite difficult to put that in from a planning and training perspective.
"The goal was to get the most out of ourselves in training for Kona and then try to rest as little as possible going into Dallas. We still wanted to be able to perform, but still keep our eyes focussed on Kona. I'd not really approached a race like this before – I don't have expectations, I don't have any pressure and I'm the fittest I've ever been – quite a nice perspective going into a race, because I'm quite relaxed."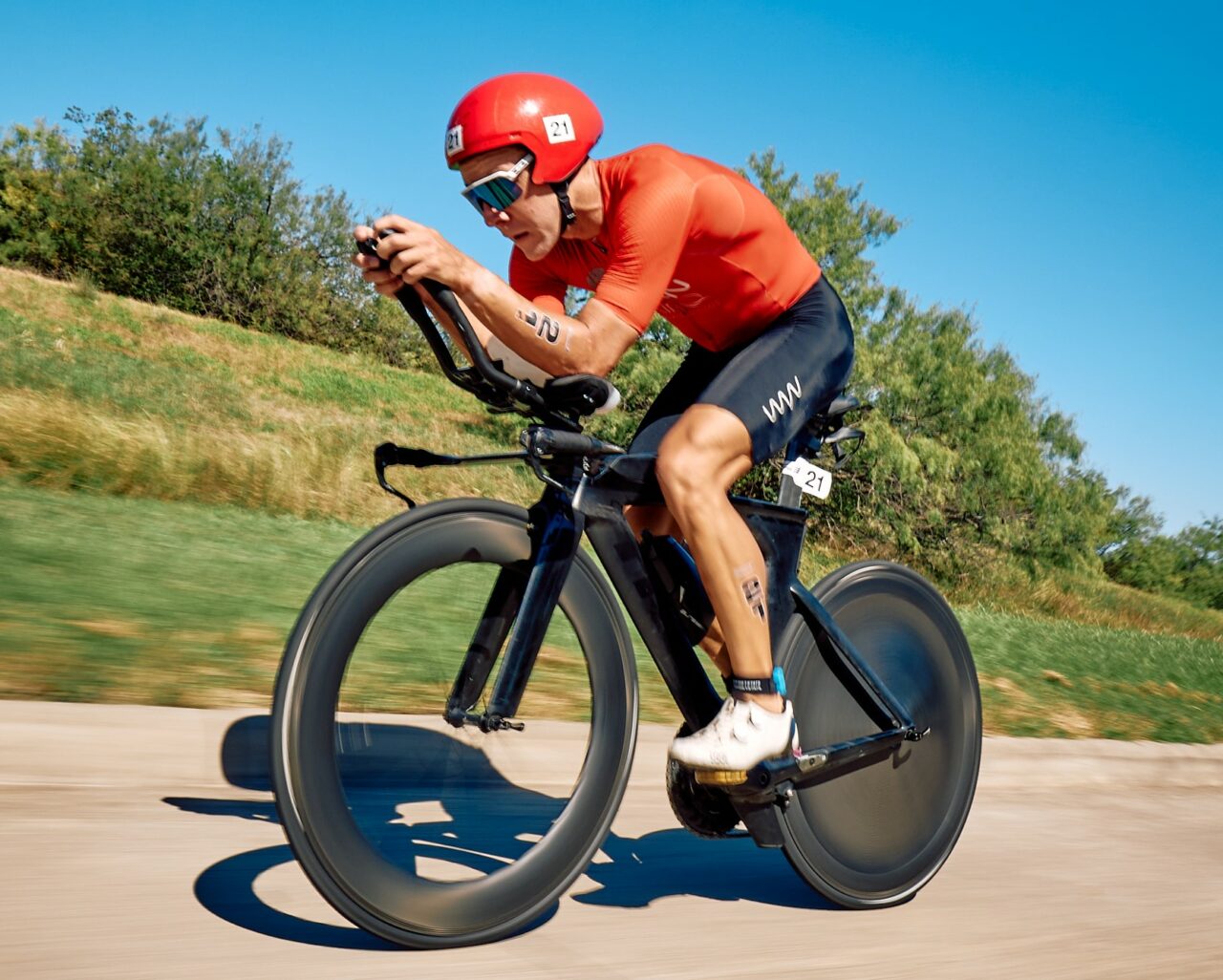 Heat, what heat?
"It was quite hot in Dallas – I think. For me personally I did not feel that it was hot at an extreme level, because of the heat prep that I was doing in Tucson, Arizona for this. That was one of the key factors in how I could perform well; I was very well adapted to the heat.
"As for the race. The swim was much slower than previous swims, you could see that. The men were only maybe 20/30 seconds quicker than Lucy Charles-Barclay. That was quite tactical on the guys like Aaron Royle, Sam Laidlow and Ben Kanute. They had watched the women's race [Ed. the day before] and saw how much damage you could do in overheating in the swim, so the pace was brought down and I was finding it quite easy in that group on the second lap.
"Onto the bike, there were a couple of guys pushing it early, but there was still some benefit being in that group, even though they were 20 metres apart. That's all I focussed on for four laps. Once Sam Long and Magnus Ditlev caught up, the only reasonable thing for them to do is to attack the group, as they don't want to be towing anyone along with them. That was really the key moment. I was not sure how the legs would do, or if I would the price pay for it later on the run. It was kind of that moment of faith, will I go, will I try and go with them and possibly fail, or just sit in the group being comfortable?
"I decided to go and pushed hard on the final three laps on the bike, and that was a boost of confidence for me from the bike work I've been doing with Lionel. I've transitioned to using the Wahoo KICKR indoors, which I've never used before the last month, and I think that makes a big difference in being able to pedal on the bike. When you need to go, you have the stronger legs. I had to change the training a bit, but in the race I did have much stronger legs for when I needed it."
"On the run I'd lost my watch in the swim, it got knocked off, so there was not really any pacing I could go off of. Because there were so many laps, Mikal the coach could tell me if I need to speed up / slow down and the splits, so I just went off the feel. When it's that hot, it's important to go off of feel. As soon as you core temp goes up to a critical point, there's no coming back down. With that in mind, I started as slow as I could go and then eased in towards the last lap. It was never about catching people, it was about pacing it the best that I could to have the fastest run of my day."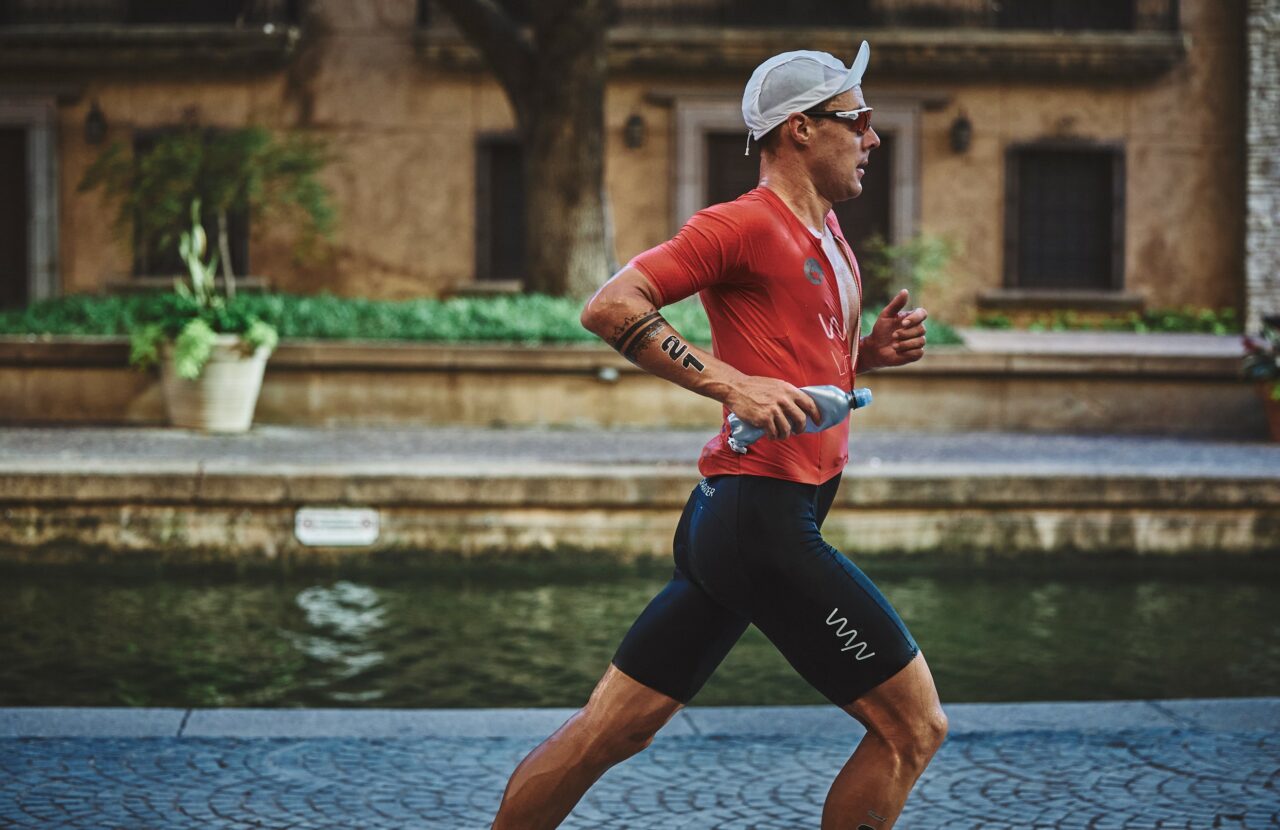 Watching the race at the time, Collin took the lead heading into the final run lap and as I wrote at the time, 'never looked like being headed as he powered away, laser focussed on the finish line'. Did he feel as good as he looked?
"Yeah, I felt good all day and I felt in control. It was probably some of my best running form which I've really been working on over the years, to improve the ability to be relaxed and running quickly. A lot of it is to do with the hips and I knew that as soon as you take the lead, you can't give your competitors any hope, so you have to go. For that last lap I went, and I kept the push on."
PTO praise
Chartier was full of praise for the PTO Tour events this year.
"Edmonton and Dallas are both special events in the season. The circuit is so different to what you may get at an IRONMAN or Challenge event. Usually they are out-and-backs, or quite boring courses.
"At the PTO events we have a lots of short laps and a great venue, and that makes a big difference. It maybe suits my strengths a bit more, having those short circuits. Hats off to the PTO and the events they put on, because I'll be going back next year and focussing on PTO events."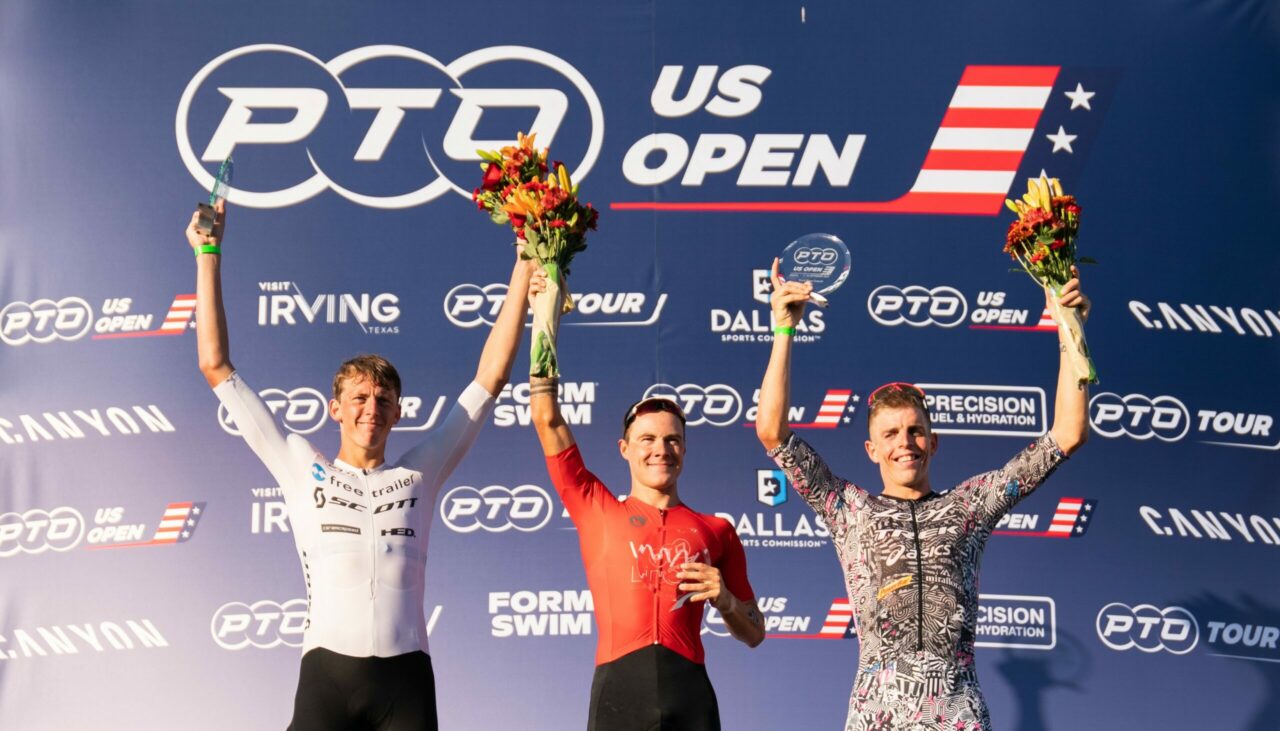 Kona – I think it's possible to win
"Dallas was a good confidence boost that I'm going in the right direction. As for Kona and my expectations – I don't have any expectations in Kona. This is my first time here and I've only started Ironman racing this season. I would like to go out and try to perform my absolute best on this course, on this day.
"I think it's possible to win… but again there's so many factors that go into it. I'd be happy to have a good race and see where that gets me as the outcome."
It's been a case of, 'so far, so good' for Collin in terms of his first experience of preparing for the big race on the big island.
"We've been in Kona for five days now. Yesterday I did the bike course, almost at full race pace effort, and then 27k's of the run course to Energy Lab and then back on the Queen K. I found it to be quite a nice course, it's a fast course and the sun is definitely oppressive. The temperature isn't perhaps so hot, but because of the humidity and the intensity of the sun, it's pretty draining.
"I love Kona and this island. It's a beautiful place, the lava fields, the ocean, the volcanoes."