Born and raised in the town, Sam Long finally took victory on Saturday at IRONMAN 70.3 Boulder 2021. He made light of a very average swim to destroy the field once on dry land.
On the final weekend of qualification for the Collins Cup, Great Britain's Emma Pallant-Browne took the opportunity to catch the attention of the Team Captains', with an impressive run which saw her pass middle distance debutant, Olympic silver medallist Taylor Knibb.
PRO MEN – 'Big Unit' rules
Something of a rarity in men's middle distance racing of late, the swim leg saw a solo leader build a significant lead. US-based Sam Appleton (AUS) set the pace (24:40), a full 50 seconds clear of a large chase group which included Martin Ulloa (CHI), Scott Haeberle (USA), Collin Chartier (USA), Justin Metzler (USA), Bradley Weiss (RSA), Tyler Butterfield (BER), five-time Boulder winner Joe Gambles (AUS), Kevin Collington (USA) and several more within 20 seconds.
Back in 26th position, 3:55 down, was the local favourite, the headline-grabbing Long. He's got some serious talent on a bike – and on this day he was going to need it. Long had performed superbly over double the distance recently at Coeur d'Alene, and would have a chance to up the speed here over half the distance.
Appleton is a class act too – he finished in the top-10 at the IRONMAN 70.3 World Championship four consecutive years, 2016 to 2019 – and he was not waiting around for that big chase group. He was riding faster than all of them… but not Long. By the midpoint of the bike, Appleton was still clear and solo in front, while Long had powered past everyone else into second place, two minutes in arrears.
Appleton (Internationals) and Long (USA) look set to be part of the debut Collins Cup – could this represent a preview of a potential matchup in Samorin?
Appleton and Long continued to be the fastest riders on course over the second half of the ride, with The Big Unit finally catching the Aussie in the last few miles of the 90km. The pair reached the dismount line at T2 just seconds apart, Long starting the run just 12 seconds ahead of Appleton after a rapid transition. Could he win his home race for the first time? His bike split was a impressive 1:54:50, a course record.
How far back were their chasers at T2? Chartier +3:31 (3rd), Metzler +4:45 (4th), Weiss +4:51 (5th), Butterfield +4:54 (6th), Ulloa +4:55 (7th) and Gambles + 5:08 (8th).
Long looked, quite appropriately, totally at home from the start and seemingly never in danger of anything else but a second major win of the 2021 season. Midway through the run, he had extended his lead over Appleton to 1:42, with Collin Chartier now five minutes back in third place. He'll have run the same paths hundreds of times in training and certainly looked very much at ease for the entire 21km.
Entering the final 5km, Long had extended his lead to two-and-a-half minutes and was on track to add the best run split to the fastest bike split too. Having given up almost four minutes in the swim, two out of three ain't bad, as Meat Loaf would say sing.
There would be no last-minute dramatics. Long finished with 1:12:01 run, and quite honestly looked as if he could have continued at that pace for another 10km if needed. A 3:37:35 finish time – after a very average swim – was very impressive, and in course-record time.
Appleton (1:15:15 run) and Chartier (1:14:00) ensured that the top three positions starting the run were the podium positions 13 miles later.
PRO WOMEN – Emma wins again
I noted in my race preview the unexpected addition of Olympic Games Mixed Relay silver medallist Knibb on the Boulder start-list… and that proved to more than a 'just in case' entry.
The winner this year at WTCS Yokohama led the way in the water, with just Pamella Oliveira (BRA) for company. They were a minute clear of Sonia Catano (USA) and Jeanni Metzler (RSA), with Great Britain's Pallant-Browne 1:43 down alongside Meredith Kessler (USA).
Knibb is best known for her powerful cycling, and while this may have been her first IRONMAN 70.3 start, endurance runs in the family. Mum Leslie Knibb Iis an ITU Long Distance Triathlon Age-Group World Champion and frequent middle and long-course athlete of some stature.
Having returned from Tokyo and with WTCS events in Montreal and Edmonton over the next two weeks, Knibb made no changes to her equipment – riding her regular Specialized road bike, World Triathlon legal clip-on bars and no disc wheel.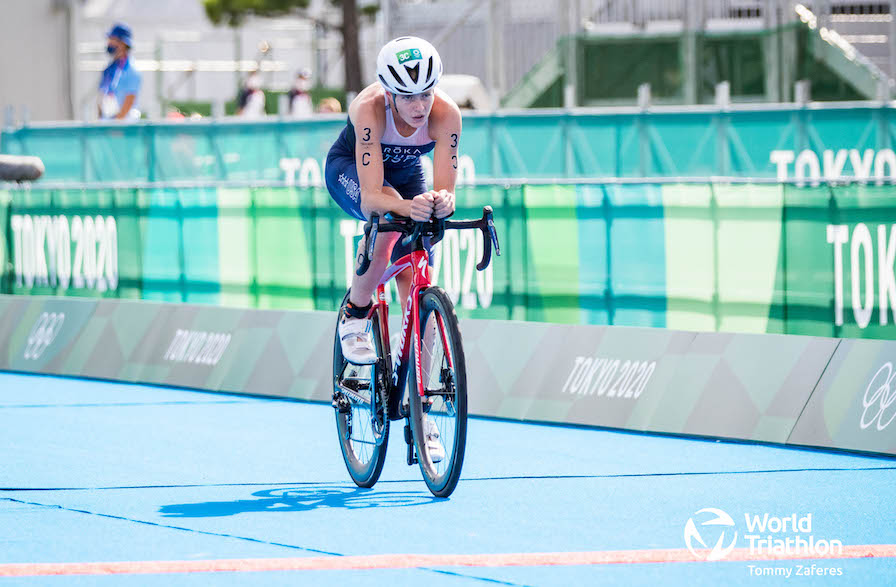 Her equipment choice (or simply lack of a TT bike?!) didn't seem to be impacting her on course too much. At halfway she was leading solo, with a trio of Metzler, Pallant-Browne and Oliveira around 1:40 back.
Oliveira was unable to hold the pace and continued to drift back, while at the front Knibb continued to lead. Metzler and Pallant-Browne started the run 1:22 and 1:34 back respectively. Skye Moench (who we featured on the site this week), was fourth into T2, 3:34 down on the 23 year-old race leader.
Pallant-Browne looked superb on the run from the get-go. She dropped Metzler within the first mile and headed off in search of Taylor Knibb at the front of the women's race, on the dirt roads which make up much of the Boulder course.
By five miles she had the U.S. athlete in sight, having made up all but 11 seconds from her deficit at T2. Less than a mile later the British athlete, who already has three wins on her C.V. this year, was in the lead.
Pallant-Browne continued to look fabulous, finishing with a 1:17:40 half-marathon. The fireworks were taking place just over two minutes behind, where Knibb and Metzler were battling for second over the last mile, the U.S. athlete fighting back after her training partner had caught her. Knibb will now go into full recovery mode before WTCS Montreal next week.
Six races and six podium finishes from Pallant-Browne this year. If she can maintain that sequence at the IRONMAN 70.3 World Championship in St. George next month, she will be very happy.
IRONMAN 70.3 Boulder Results
Saturday August 7, 2021 – 1.9km / 90km / 21.1km
PRO MEN
Sam Long (USA) – 3:37:35
Sam Appleton (AUS) – 3:41:00
Collin Chartier (USA) – 3:43:05
Bradley Weiss (RSA) – 3:44:14
Justin Metzler (USA) – 3:45:40
Joe Gambles (AUS) – 3:46:48
PRO WOMEN
Emma Pallant-Brown (GBR) – 3:59:54
Taylor Knibb (USA) – 4:02:20
Jeanni Metzler (RSA) – 4:02:32
Skye Moench (USA) – 4:09:43
Tamara Jewett (CAN) – 4:10:41
Chelsea Sodaro (USA) – 4:11:00