It was a weekend to remember for TRI247 columnist Dan Dixon at Super League Triathlon Malibu, the Northumbrian finishing fourth in the Elimination race.
The 20-year old finished 37 seconds behind winner Hayden Wilde, and was in an understandably buoyant mood when discussing his thoughts with TRI247.
'Amazing feeling'
"The race went absolutely awesome," said Dixon of his fine performance in Malibu, the third Championship Series event of the 2022 SLT season.
It's a pretty amazing feeling being at the front of a race of that standard
"It gives you a real buzz. You know there are not many things better than being at the front of a race, but being surrounded by that kind of company is world class.
"It's nice to make some pretty big money as well, and some good points for the team, so it was an exceptionally good day all round."
Dixon was bang in contention, especially after the second of three stages as he earned valuable points for the SLT Eagles.
He explained: "The first stage I started out pretty steady, I was in the mix, didn't lose any time but didn't gain any.
"But the second stage went really, really well. I put myself a bit further up the field and kind of eventually ended of coming out fifth to start the pursuit race, which was absolutely fantastic.
Grabbing the opportunity
"I was going in just behind Vasco Vilaca so pretty good feet to follow and that gave me a confidence boost, similar to that of the Arena Games actually in Singapore, I started about fourth there and kind of held that position.
"I knew it was going to be a pretty hard fight, but my third stage overall was absolutely exceptional, there were very, very few things that I could have done better. Having discussed with my coach [Ryan Bolton], I was really in that kind of flow, making subconscious decisions and tactically very, very on it all day.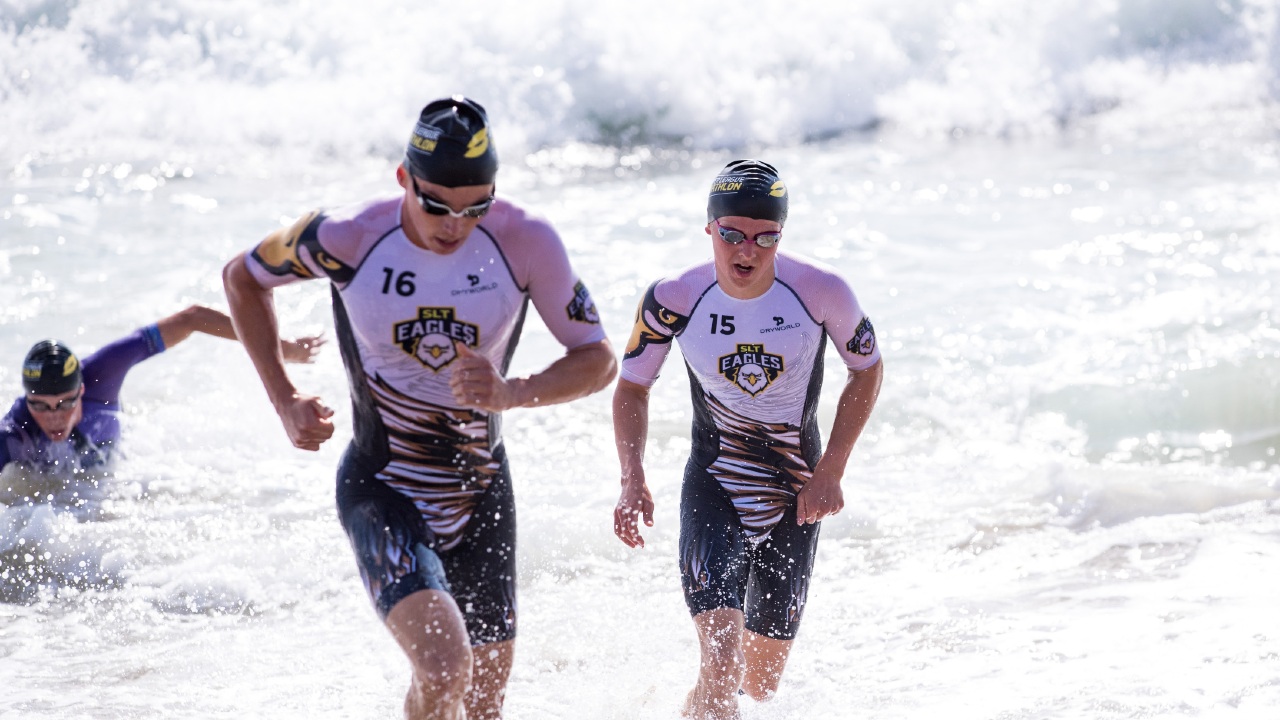 "That third stage, especially the swim, I came fifth into the water and came out joint-first, so that was a huge swim – I felt fantastic in the water this week which was good because I have been a little off for the last couple of races.
"And then technically, on the bike, I'm not entirely sure what is going on at the minute but I am riding very, very well, matching it with the best, I had one of the fastest splits again, the same as in Munich.
"That was cool, just being able to like almost feel in control on the bike around some exceptionally strong athletes – another huge positive.
"And then, I put together a really strong run, managed to pull it together and get a fourth, and I think fourth, at my age, in Super League is pretty awesome, I might be one of the youngest top fives, who knows, but it was fantastic.
Clear progression
"And to go 15th, eighth and fourth from the three races – the whole idea was to build through the series, and that's exactly what I have done."
Dixon now remains in the United States for a quick training block ahead of flying in to SLT Toulouse event in two weeks time, and is keen to absorb everything the SLT experience has to offer.
"This series, in a way it is the biggest thing since sliced bread, it doesn't really matter about your age I don't think, like I'm 20, but I think for athletes, especially younger ones, the amount you can learn, and the amount of experience you can gain is phenomenal.
"It's like three races in each event so I've pretty much raced nine triathlons against the best in the world in three weekends.
"You're not going to get the opportunity to do that anywhere else, so there is definitely something very unique about that, but I'm absorbing it all like a sponge at the moment and really trying to apply that learning which is really important.
"Now I am in Tuscon for 10 days or so, it's currently 36 degrees as I'm standing out here, it's pretty toasty, but I'm looking forward to getting some good work in. I'm back with Ryan my coach again, so that's been really good.
"Hopefully I'll get a good mini-block in before Toulouse, then I'll be back here for another month before Neom [SLT finale] so I'm looking forward to it.
"I'm loving it – travelling, racing, and I guess making a bit of a living is a big bonus."