On Saturday in St George 'The Angry Bird' was unquestionably back as Daniela Ryf surged to IRONMAN World Championship glory in St George.
The brilliant 34-year-old added a fifth World Championship at the full distance to the five she has at 70.3 – and in doing so she emphatically silenced the doubters.
Daniela struggled for form in the second half of 2021 – and afterwards admitted she had really battled with physical problems.
But when she finished 10th (later DQ) at IRONMAN 70.3 Oceanside in April some experts openly questioned whether she would return to the peaks which have categorised her career at elite level.
Famously now, she revealed that even her young godson had introduced her to his friend recently by saying "she used to be good at triathlon".
Ryf was in the U.S. early to acclimatise for this race, the competitive fire in her still burning bright. On Saturday she was absolutely back to her very best as she romped home almost 10 minutes in front of Britain's Kat Matthews.
Ryf on St George renaissance
The emotion as she crossed the finish line was clear – she had waited a long time for the chance to atone after losing her crown to Anne Haug in Kona in 2019.
She revealed: "Two-and-a-half years of waiting, I'm so happy. It was so brutal. The last 10k I just wanted to lie on the floor but to come to the finish with this crowd and my team here, I'm just so stoked to bring it together today.
"I think it brings me luck if I'm not leading after the swim, and on the bike Kat and I were both pushing and it was actually really fun. I even thought at that point that if I'm not going to win then I've had fun – and that's really important."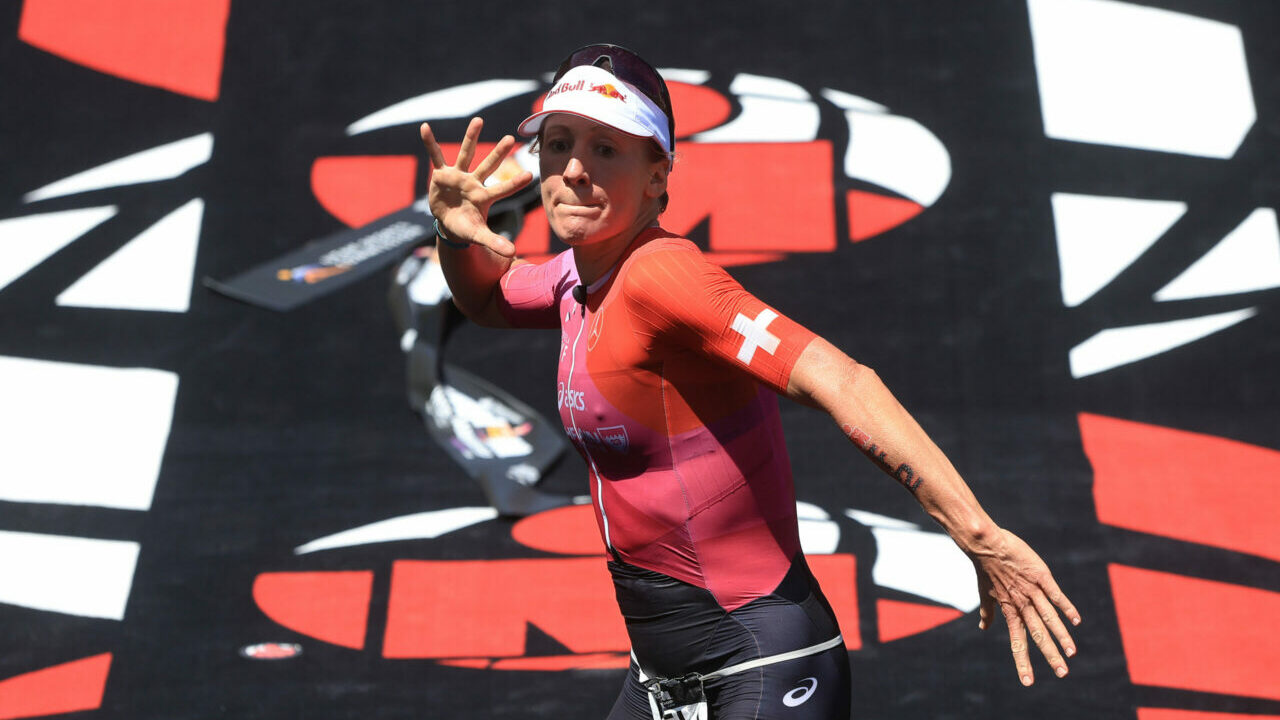 Daniela admitted the swim did not go quite as planned – she exited the water more than four minutes off the pace. On the bike though she simply obliterated the field – and her main rival Matthews – with an astonishing display of sustained power on a brutal course.
"Yeah, it felt really special today. It was not all under control," she explained.
"The swim was definitely not how I wanted it to be, but I tried to not get nervous. I got on the bike and actually did feel like, okay, I know I can ride well today. I did feel good when I got up this morning and to be able to bring it together on the day when it counts.
"And it did feel like it was a very long time that we had the last chance to race in an IRONMAN World Championship. It's been two-and-a-half years and it's definitely been a lot of work and it feels like a reward from this time. And that's why it felt so special."
Performance key for Daniela
While winning is obviously what will be seen as the difference between success and failure by many Ryf watchers, the superstar herself has a slightly different barometer.
"What is more important, I guess to me, is what I want to achieve in a race. And of course, if I go to a race, if I say I want to just see what I can do is a little bit yeah, it's not really the truth.
"Of course I would like to win if I go to race, but still you still have to then put the performance together. And that's why it's been a few races where I was not able to be as strong as I used to be. And today I did feel strong again."
Ryf and Matthews were locked together in brutal combat for a good portion of the 112-mile bike leg in the Utah hills – and Daniela absolutely loved it.
Ryf vs Matthews epic
"Actually to have Kat just pushing it so hard on the bike, it was really, really enjoyable. I was just thinking it's so great to actually feel strong again and also have her.
"I don't remember when it was maybe k 30 or 40. She passed me and she did seem like she wants to win this race. And I loved it because it felt like we're kind of going for it and still I felt like we're kind of working together because we wanted to get a move.
"And yeah, it's just these things where I just love to race and to be back, having this, battling it out there. I really enjoyed it."
There was much talk before Saturday's race about the sheer size of the challenge the course would present – a very different one to Kona.
St George memories banished
Daniela had extra reason to know she needed to be ready for anything, after trailing in well beaten her in the 70.3 World Championship last September.
"I never really understood if I had a headwind or a tailwind. It just constantly changed. So I think for the mind it was hard because also getting in that long hill, I was thinking it should be a tailwind, but then it was a headwind.
"When we started, it's like, 'oh, it's going to be a long hill if that's all the way headwind'. But then suddenly it changed up the hill. I don't know how that happens, but it changed.
"You have to be mentally ready for everything all the time. And I think for me today it helped because in September I had an absolutely shocking race here and I felt so bad. And to actually have this in my memory today, I felt so much better.
"I remember then when Taylor Knibb, I tried to pass her, I tried to catch her, and then she just took off…. I could not do anything. So yeah, to actually be in a strong body and push up these hills was definitely fun, but the bike course is brutal – and the run too."
The toughest of courses
With that memory fresh in her mind, Ryf had predicted beforehand that this race – so unusually early in the year and with a busy calendar ahead – would "destroy everyone". It did not seem like Saturday changed her view.
"I don't know if I ever want to do that again," she admitted.
"It's a fantastic race. Don't get me wrong, the support was amazing, the atmosphere was great, the people cheered so much. And also I felt personally so much support out there. I felt like people were happy for me that I had a good race, which made it even more emotional and also felt special to me.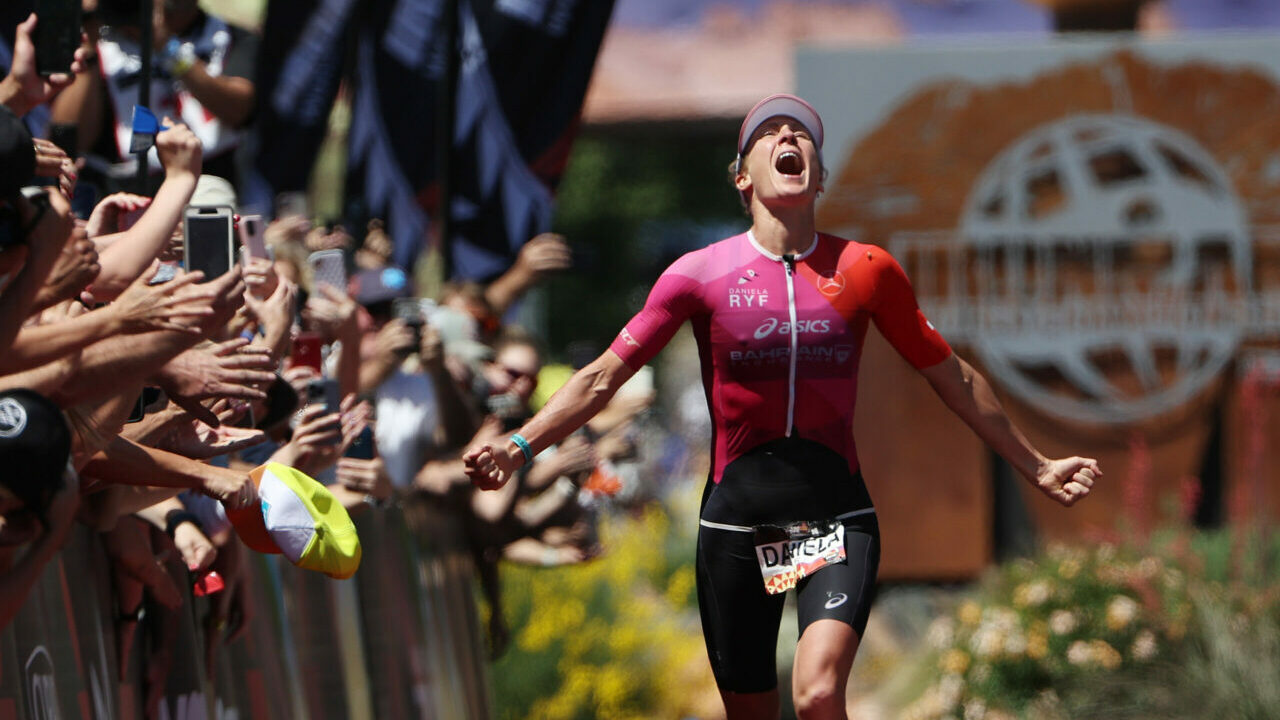 "So I definitely felt a lot of support, but it is brutal. My legs have never, ever been so sore after an Ironman. I don't have any injury soreness, just muscle soreness and I've never had that extreme. I can't walk stairs at the moment."
Angry, and fast
While Daniela did not make a big deal of silencing any doubters out there, the emotion she showed at the finish showed just how delighted she was to be back on top of her game. And 'The Angry Bird' is absolutely alive and well.
She said: "When I came down that finish line maybe it's also running down a finish line that makes it so emotional.
"But of course today was very special because it's been a long time, and I was struggling a lot with lots of things and I definitely felt also some people were doubting me and it was just kind of a little bit of saying like, well, don't underestimate angry birds because you make her angry.
"Yeah, if I'm angry, I'm really fast."