David McNamee talks Kona 2016 and future goals
Scotland's David McNamee (www.davidmcnamee.co.uk) has more than a fair claim to be regarded as Great Britain's best male IRONMAN athlete right now.
In his five IRONMAN starts to date, he's never been beaten by another British athlete. In his two starts at the IRONMAN World Championships, he's been the first British finisher in 11th (2015) and 13th (2016) respectively – and this year, his 8:28:05 in Hawaii was the fastest time ever from a British athlete at the biggest one-day event in the long distance calendar.
At 28 years of age, just two years out of the ITU ranks, the future looks bright – and yet David believes he "massively underperformed" in Kona this year. I asked him about his Kona race this year, what went wrong and why an event "where all your hopes can be crushed at any minute" is so attractive.
---
So David, has the body recovered yet from the race… and the after-party?!
I think so, however as the most active thing I have done since the race was a sprint to catch a train, I can't really say for sure. When I gradually get back into training next week I guess the body will let me know one way or another.
Your time of 8:28:05 is the fastest from a British athlete ever in Hawaii, and, for the second year you were the fastest Brit in Kona. On the other side of that, you were 13th this year against 11th last year. Having had a little time to reflect now on the race, what is your 'big picture' assessment of happy / disappointed (other?!) with your performance?
To be honest I am disappointed with what I produced in Kona. I have came away from the race feeling that I never delivered a performance that I should have based on my form going into the event.
Times of course are only a part of the story, but were you even aware of what the British record was in Hawaii before the race?
Not at all, I have never been motivated by times but only by performance. There are so many variables that you can't control that affect times so for me, I personally prefer to focus on the stuff in my control.
IRONMAN World Championship: British Sub-8:45 History
| | | | |
| --- | --- | --- | --- |
| Year | Finishing Position | Name | Time |
| 2016 | 13th | David McNamee | 08:28:05 |
| 2011 | 11th | Tom Lowe | 08:29:02 |
| 2015 | 11th | David McNamee | 08:32:27 |
| 2015 | 13th | Joe Skipper | 08:36:02 |
| 2015 | 15th | Tim Don | 08:39:05 |
| 1998 | 5th | Spencer Smith | 08:39:07 |
| 2013 | 17th | Paul Amey | 08:39:20 |
| 2000 | 8th | Spencer Smith | 08:43:05 |
You mentioned to me that you had 'hoped for better' this year – can you elaborate on that a bit more on what you felt were realistic goals for this year?
Based on my training going into Kona I should have biked a lot better; power does not lie and in Hawaii I massively underperformed. I think my big mistake was switching bikes too close to the race and my body not having time to adjust. The new bike was an upgrade on the past model and I felt comfortable on it beforehand, however I guess you never really know until you really push yourself on race day. Going up Hawi my legs started cramping and things never really got back to 100% until 5k into the marathon. I felt a realistic goal would have been a bike time about 10minutes quicker than I produced and a couple of minutes faster on the marathon.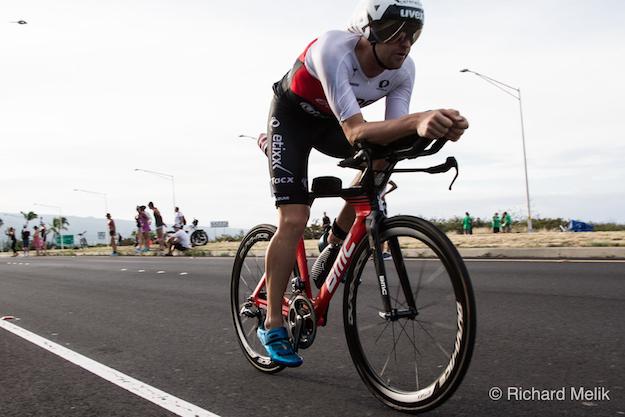 When you spoke to Joanne Murphy before the race, you talked about a different approach leading into the Kona this year (just one Ironman / less races generally). Do you feel that worked well for you and – points permitting – is it an approach you would apply in future years?
I think overall it worked well for me this year. Yes, I did not have the race I wanted to in Kona but I went into the race feeling like I had came to the island in peak shape, both physically and mentally. Maybe next year I will do two Ironman races before Kona, but overall I will keep the number of races low and focus on performing at each one.
You also talked about your focus / aims of improving your biking, to complement your swim and run abilities, to minimise any losses to the uber-bikers and thus finish significantly further up the field. Your bike split times were almost identical in 2015 and 2016, but can you tell us if you rode the race any differently and perhaps what you learned in the process?
I actually rode pretty similar races in that I decided to keep in the `Hawi` express for as long as possible. However in 2015 I got dropped because I was needing to push more power than my body was capable of, my legs gradually fatigued and I was dropped. This year I was feeling much better, I was at the front of the race for longer than in 2015 and feeling confident. However then my muscles decided enough was enough and I really struggled to produce any sort of power the entire way back to transition. I think the one thing that was really reinforced for me this year is that over this distance any oversight in your preparation really can derail your race massively.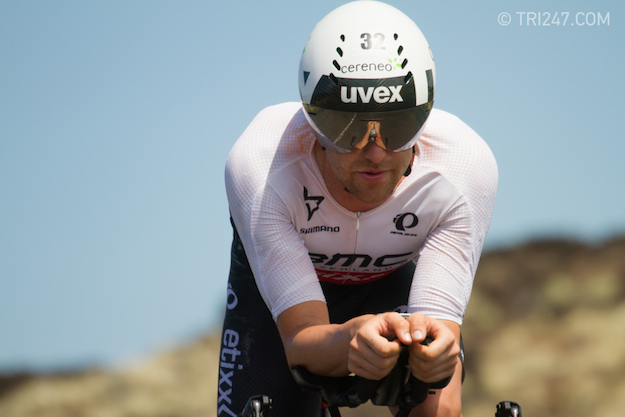 In your blog you talk about a 'spectacular' (!) explosion half way through the bike… in a strange way, given that you still matched your bike (AND run) times from 2015, does that give you confidence that there is a lot more to come from you, given you indicate that came completely out of the blue?
I certainly believe that I came to Kona this year in the best shape I have ever been in. I think matching my bike/run times from 2015 despite feeling like I underperformed shows that there is still a lot more to come in the next couple of years. However until I take that next step up in performance it really does count for nothing.
You came off the the bike outside the top 30, you are feeling terrible… how on earth do you approach that mentally to then go on and pass 20+ people out on the run course?
The first couple of kilometres were the worst, running out along Alii Drive my legs were a mess and mentally things were tough having forced myself through the second half of the bike. Thankfully as the kilometres ticked by my legs began to ease and I found myself in my usual running stride. Mentally as soon as my legs improved life became much easier. I may have been way out of contention but I felt like at least now my body was giving me a good chance to fight my way back into a respectable position. Kona is what matters in Ironman and I never want to leave that place feeling like I never gave it 100%. When I hit the Queen K on the run I fought like I was in contention for the podium and never stopped until I crossed the line.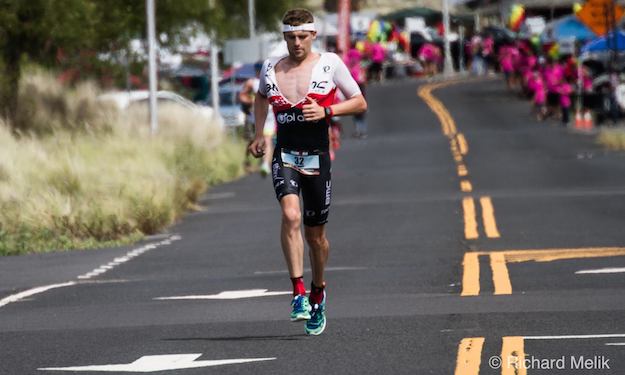 It's probably fair to say that Scotland isn't the optimal location and climate to create athletes looking to perform over an ultra-endurance challenge in high humidity and extreme heat, yet in two Kona outings – even with an explosion – you finished strongly with 2:49 marathons and circa 8:30 times both times. Have you always been able to perform in those conditions and do you put that down to any particular type of preparation / acclimatisation?
I have never struggled in the heat/humidity before, I actually sort of like it. I remember my first experience in similar circumstances, it was 2011 when the ITU World Series went to Yokohama, Japan in September. I had raced the World U23 championships the week before in Beijing and arrived in Japan knowing I had not recovered. In the race even though I felt average the whole day, when people started exploding on the run I was able to keep going and finished of with an ok result on very tired legs.
You've had a couple of years now of moving away from the road bike (ITU) to the Tri/TT format of long-course racing. Do you feel comfortable with that now in terms of position / aerodynamics etc, or is it still a work-in-progress for you?
I think Kona showed that I am still not 100% comfortable with time trial bikes. It is a work in progress but overall it is moving in the right direction. I have never had the best flexibility or core stability in the past and this season I have tried hard to improve this in order to improve my comfort/aerodynamics on the TT bike. Hopefully another winter of effort and I will be where I need to be.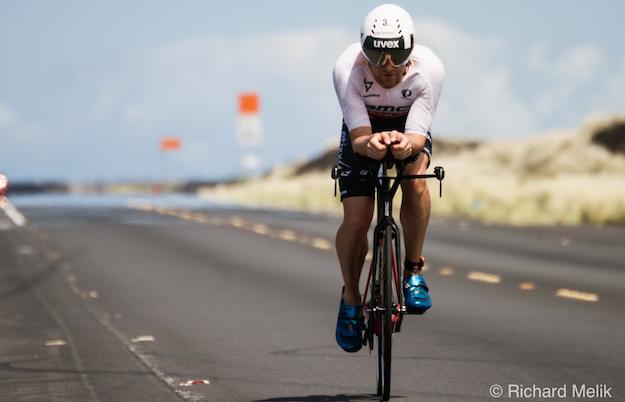 Taking everything into account from what you've learned from your two Kona races to date (and that your are still young at 28 in Ironman terms), do you look ahead and think that a Kona podium, or more, is a realistic goal over the next few years?
I really struggle when people ask this question. The easy answer is yes, however I have no idea what it will take to podium in Kona over the coming years. Therefore if I could produce a performance in the region of a 4:25 bike split followed by a sub 2.50 marathon then I would be happy no matter what place that gave me.
Almost every athlete (well, other than perhaps Daniela Ryf this year…), finishes in Kona and says how exceptionally hard and tough it is. Given that, is it an event and race that you can 'look forward' to?
I hope I will always look forward to the World Championships and measuring myself against the best in the World. Kona really is brutal, where all your hopes can be crushed at any minute. There is something wonderful about that very fact.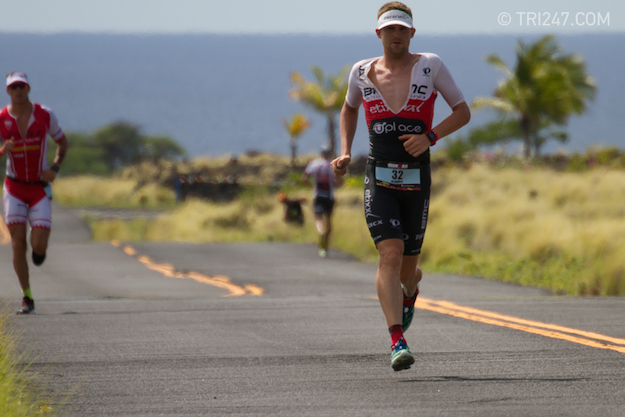 Any plans / thoughts in place yet as to 2017 races?
Right now, apart from Kona there is nothing concrete. I will sit down with my coach next week and plan out 2017. At some point I would love to get back to Bolton and try and win IRONMAN UK again, maybe 2017 is the year for that.
Thanks for taking the time to chat with us!
No problem at all.