Gold, Silver and Bronze at ETU Triathlon European Cup for Great Britain
Matthew Willis sprints to Junior victory
On an exceptionally busy weekend of racing, the latest ETU Triathlon European Cup event was held in the popular venue of Quarteira, Portugal. The event was over two days – Seniors on Saturday, Juniors on Sunday – and even included live streaming (if you could fit it in amongst all the other coverage available…).
Sophie Alden, the British Elite Triathlon Champion, got in an early breakaway on the bike after a great swim alongside WTS regular, Laura Lindemann (GER) and home athlete Vera Vilaca (POR). They built a significant lead by T2, at which point Lindemann soon disappeared up the road, while Alden as able to make good on her swim/bike efforts to take the Bronze, with only Emilie Morier (FRA) from the chase group able to bridge up and catch her.
From Bronze to Silver, as Ben Dijkstra continued his return from very limited racing in 2018 due to injury. He recently took a Bronze medal in Huelva, Spain behind Barclay Izzard (HERE), and went one better in Portugal, pushing the pace on the run before being passed at the end by the fast finishing Alberto Gonzalez Garcia (ESP).
After Bronze and Silver, the British Gold was claimed by 2018 ITU Junior Duathlon World Champion, Matthew Willis. Willis has been in fine running form in 2019, selected for Great Britain at the IAAF World Cross Country Championships in Aarhus – and he needed that speed on Sunday. As the header picture above shows, the race came down to a sprint and the best run of the day from Willis, earned him victory by just one second.
In the women's Junior race, Libby Coleman was the top Brit and finished in fourth position, just six seconds away from securing a GB podium presence across all four of the races.
Quarteira ETU Triathlon European Cup, Portugal – Saturday 27th April 2019
1.5km / 40km / 10km
ELITE WOMEN
1st – Laura Lundemann (GER) – 2:04:36
2nd – Emilie Morier (FRA) – 2:07:34
3rd – Sophie Alden (GBR)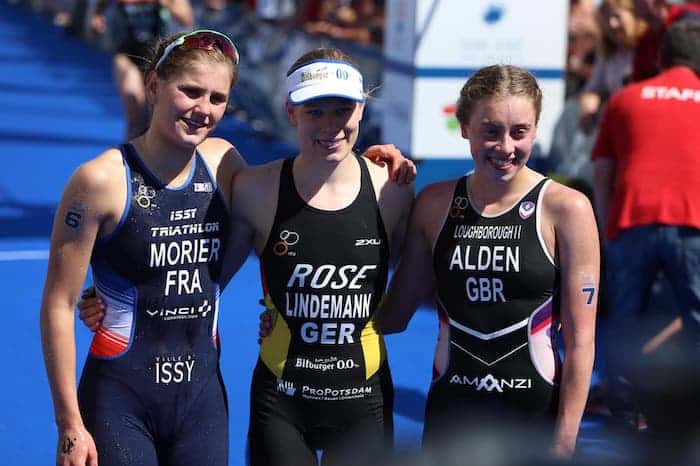 ELITE MEN
1st – Alberto Gonzalez Garcia (ESP) – 1:50:28
2nd – Ben Dijkstra (GBR) – 1:50:29
3rd – Vetle Bergsvik Thorn (NOR) – 1:50:31
15th – James Teagle (GBR) – 1:53:25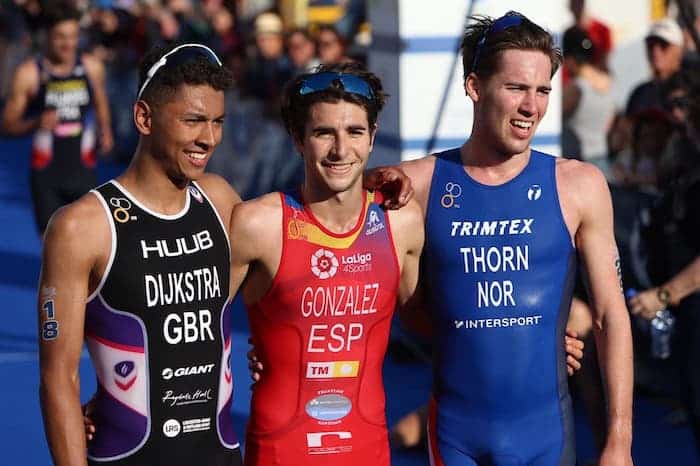 Quarteira ETU Triathlon European juNIOR Cup, Portugal – Sunday 28th April 2019
750m / 20km / 5km
JUNIOR WOMEN
1st – Beatrice Mallozzi (ITA) – 1:03:29
2nd – Gabriela Ribeiro (POR) – 1:03:41
3rd – Emilie Noyer (FRA) – 1:03:48
4th – Libby Coleman (GBR) – 1:03:54
14th – Sophie Green (GBR) – 1:05:29
17th – Emily Wallace (GBR) – 1:05:38
22nd – Sinead Clark (GBR) – 1:06:12
26th – Annabel morton (GBR) – 1:06:58
27th – Freya Thomson (GBR) – 1:07:21
36th – Rosie Allen (GBR) – 1:08:24
52nd – Rebecca Brayer (GBR) – 1:19:11
JUNIOR MEN
1st – Matthew Willis (GBR) – 57:51
2nd – Ricardo Batista (POR) – 57:52
3rd – Baptiste Passemard (FRA) – 57:55
8th – Marcus Dey (GBR) – 58:23
26th – Roberto Gibson (GBR) – 59:45
45th – Daniel Dixon (GBR) – 1:00:37
DNF – Noah Canby (GBR)