There was a strong British presence and plenty of medals for British athletes on Saturday at the Europe Triathlon Premium Cup Holten in the Netherlands.
The two Elite senior races yielded four of the six podium spots – but not quite gold. Spain and France took the honours there.
All class from Sergio
Spain's Sergio Baxter Cabrera showed his class and reiterated his name as one to watch in the coming years, taking control on the final 5km run.
The opening (non-wetsuit) 750m swim and the early stages of the bike had not been able to shape the race significantly, as two large bike packs came together, leaving around 30-35 athletes seemingly set for T2.
However, helped notably by the attacking efforts of Tom Bishop, Jorik van Egdom (NED) and a very welcome return of Ben Dijkstra, a late breakaway attempt was successful. Joined by fellow Brit, Jack Willis, plus Delian Stateff (ITA) and Baxter Cabrera, that was a strong group of six who started the run with a small, but significant advantage.
Willis – second recently at the European Cup round in Poland – was first onto the run, but it didn't take long for the Spanish athlete to take the lead. Fifth recently at the World Triathlon Cup in Huatulco, the former World Junior Duathlon champion is a class act and was justifying his #1 bib number. Despite looking behind several times in the closing kilometre, he was in control.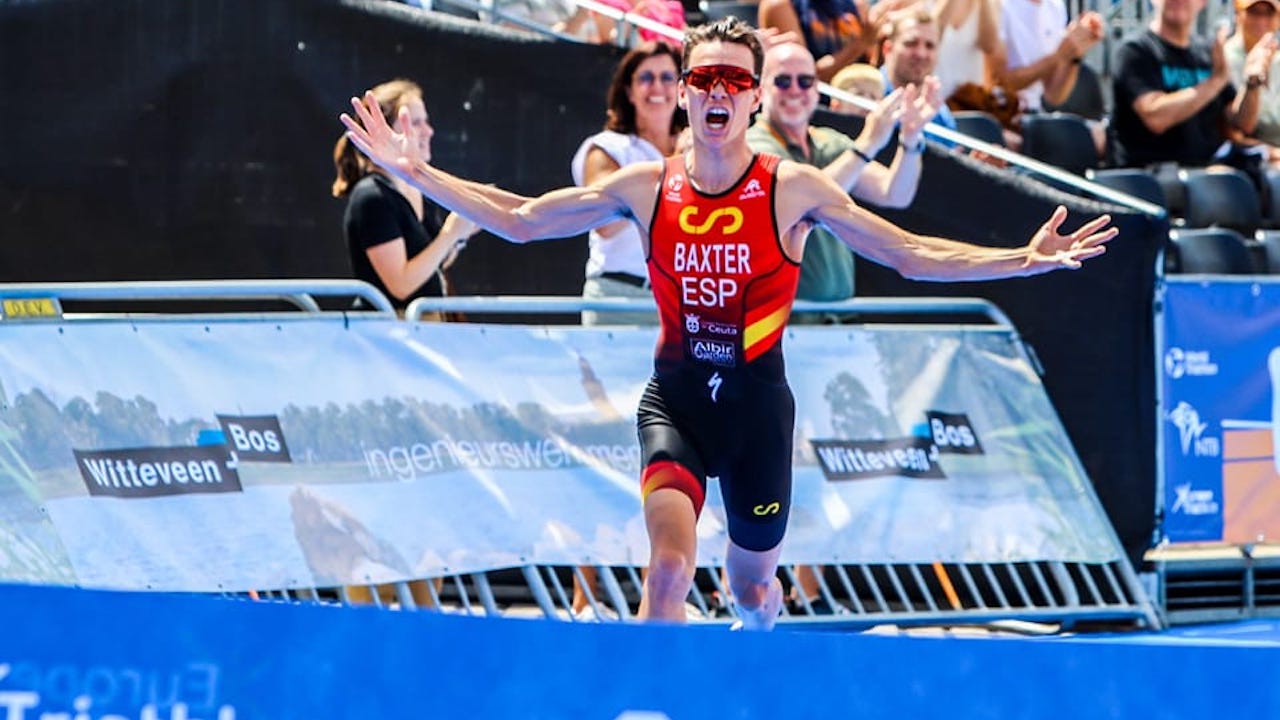 The only thing he couldn't control – and he wasn't the only one – was his finish, as he fell across the line and under the finish tape. Not sure what the issue was with the carpet or the flooring underneath it, but it could have been pretty painful. It was a little concerning seeing several athletes suffer a similar fate.
Behind, it was a British trio battling for two medals. Willis held second for most of the race, before Tom Bishop pulled clear of Dijkstra and seemingly looked set to pass Jack too. However, Willis was able to raise his pace in the final stages to add another second place. Bishop took third for what will be a very welcome return to an individual podium, after his second place as part of the British Mixed Team Relay in Leeds.
Ben Dijkstra completed the trio of Brits in fourth. Having missed racing for so long with injuries – he raced just one international event in 2021 – that was very encouraging for fans of British triathlon, having also been very active on the bike.
Breakaway wins the day
The Elite Women's race took a completely different shape to that of the men's an hour earlier. Emma Jeffcoat (AUS), Mathilde Gautier (FRA) and the British pairing of Olivia Mathias and Sophie Alden were the first out of Lake Dolemaar and (almost) never seen again.
Just a few seconds back from that quartet was six-time Holten winner, Rachel Klamer (NED). Fourth in the Olympic Games last year, Klamer has been struggling a little with form this year, and in the opening kilometres she found herself with just Anja Weber (SUI) for company, as the leading quartet were working well together. Unable to make that bridge which would have put her in prime position, she was going to have a tough day.
For a long time it looked as that foursome would never be caught, but Quinty Schoens (NED) can be commended for an impressive solo effort. Fully committed, she was able to catch them in the final kilometre, leaving five athletes arriving at T2 together.
Mathias seemed to have a terrible T2, perhaps missing her racking slot, which left her with some catching up to do. Gautier took the lead from the get go and was never headed, though her advantage was never huge or decisive. Into the second and final lap, and Alden and Mathias were just five seconds back and not out of winning contention.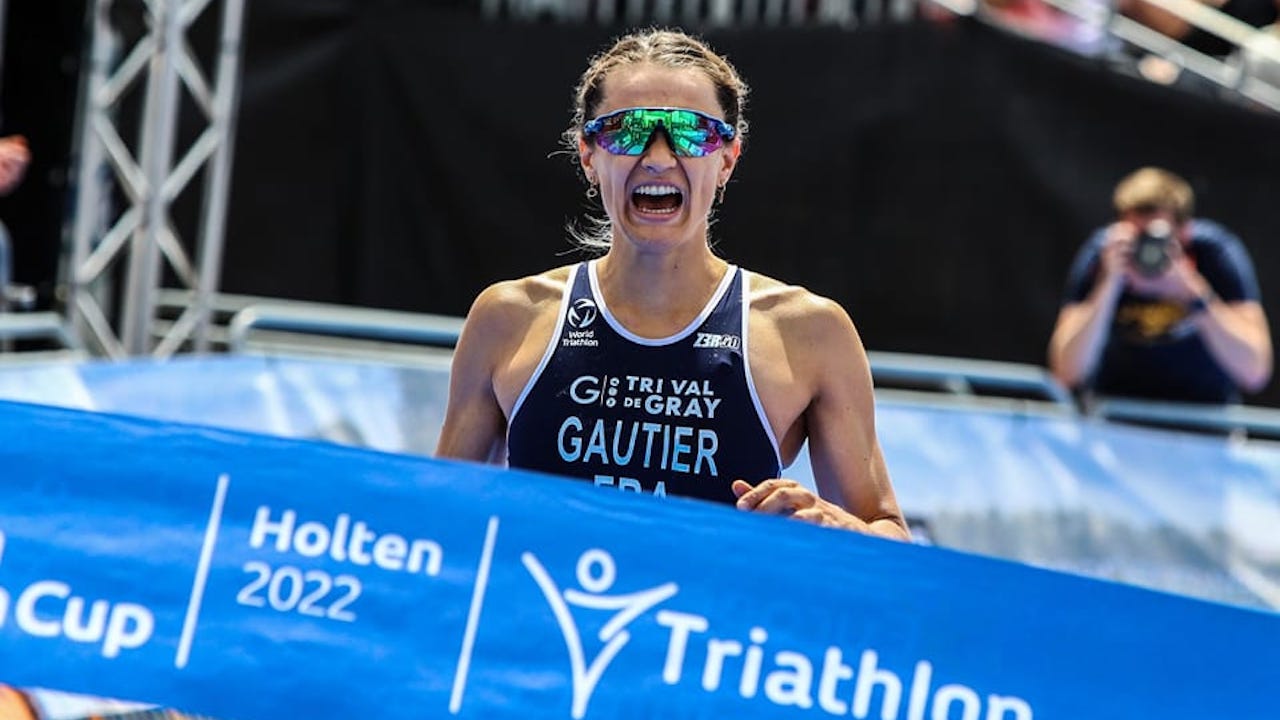 The French athlete held strong though to the finish to take the win, but as were Baxter Cabrera earlier, it was via another strange fall across the line. She looked in some pain however, so fingers crossed that she didn't do any significant damage in the process.
Sophie Alden won the battle of the British athletes to secure her best ever finish in senior Europe Triathlon Cup racing, with Mathias completing the podium. She will be heading off to Birmingham at the end of the month to represent Team Wales.
Europe Triathlon Premium Cup Holten 2022 Results
Saturday 2 July 2022 – 750m / 20km / 5km
ELITE MEN
1. Sergio Baxter Cabrera (ESP) – 53:27
2. Jack Willis (GBR) – 53:34
3. Tom Bishop (GBR) – 53:38
4. Ben Dijkstra (GBR) – 53:45
5. Jorik van Egdom (NED) – 53:50
ELITE WOMEN
1. Mathilde Gauthier (FRA) – 59:12
2. Sophie Alden (GBR) – 59:19
3. Olivia Mathias (GBR) – 59:33
4. Petra Kurikova (CZE) – 59:59
5. Emma Jeffcoat (AUS) – 1:00:07