For the second year in a row, the swims were cancelled at the European Paratriathlon Championships in Madrid on Saturday due to adverse weather conditions.
Instead it was a run-bike-run duathlon, with the swim replaced by a 2.5km run. But that didn't stop most of the big names coming out on top again.
Action replay
Jetze Plat (NED – PTWC), Alexis Hanquinquant (FRA – PTS4), Martin Schulz (GER – PTS5) and Susanna Rodriguez (ESP – PTVI) all successfully defended last year's European Championship titles from Olsztyn, Poland as they also added to their Paralympic Games gold medals from Tokyo.
British success
There was also a repeat British gold medal for Claire Cashmore (PTS5) who just got the better of Alisa Kolpakchy (UKR).
Speaking afterwards to British Triathlon, Cashmore said: "It was really special to win. I think this morning it was a little bit about who could be the most adaptable.
"Suddenly at 4am it changed into a duathlon and it's 'right, everything's up in the air' and a complete change of plan. That's one thing that Covid has really taught me, just to be as adaptable as possible and not let little things stress you out.
"I've had a bit of a rough year this year, been struggling with a bit of niggles, so to come here and actually put that performance together I am absolutely over the moon."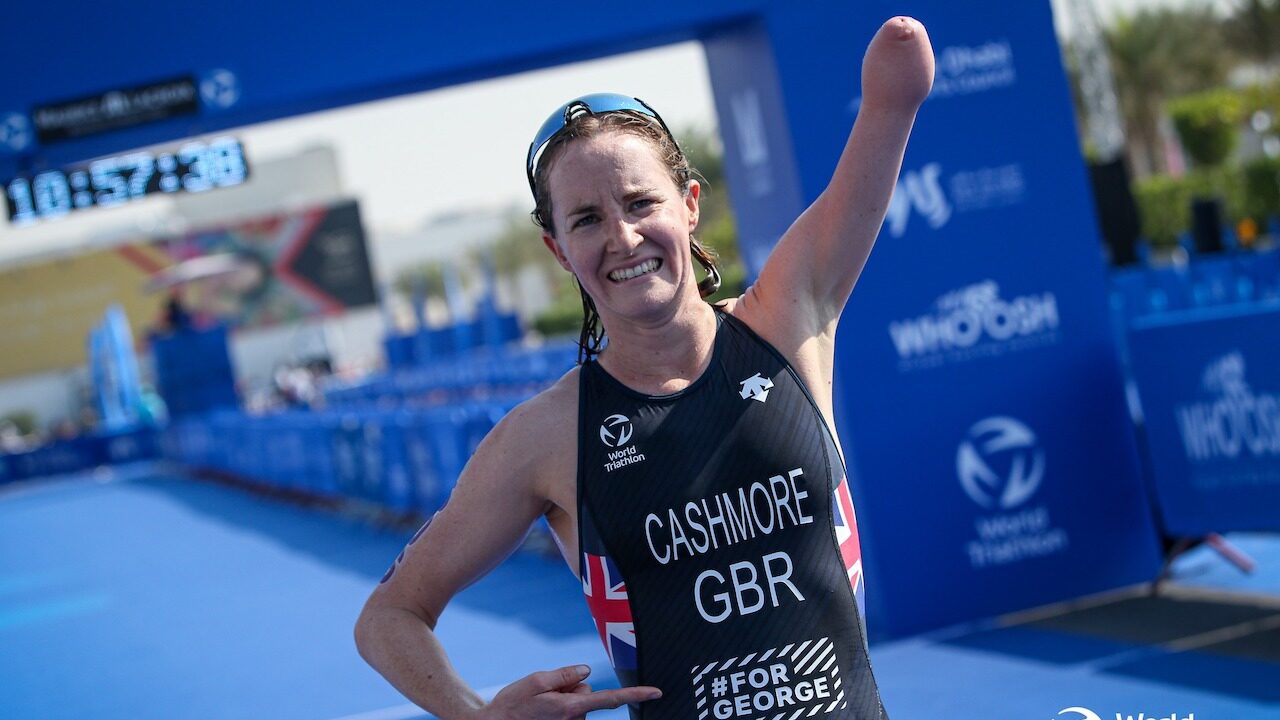 Fellow Brit Dave Ellis, again guided by Luke Pollard (with whom he won gold at the Commonwealth Games last year), notched silver this time in the visually impaired category behind Antoine Perel (FRA).
There was also silver for Melissa Nicholls (PTWC), who we spoke to in the build-up to the event, as she continues the remarkable start to her triathlon career.
A fourth Team GB medal came with a bronze for Michael Salisbury (PTS5), as Schulz claimed the win and Filipe Marques (POR) took silver. Hannah Moore (PTS4) matched that to make the tally to five.
Europe Triathlon Paratriathlon Championships Results 2023
Saturday 3 June 2023 – 2.5km run** / 20km / 5km
(** Event converted to duathlon format)
PTVI – Men
1. Antoine Perel (FRA) – 0:54:01
2. Dave Ellis (GBR) – 0:54:49
3. Thibaut Rigaudeau (FRA) – 0:55:53
PTVI – Women
1. Susana Rodriguez (ESP) – 1:02:49
2. Annouck Curzillat (FRA) – 1:06:37
3. Francesca Tarantello (ITA) – 1:06:51
PTWC – Men
1. Jetze Plat (NED) – 55:29
2. Florian Brungraber (AUT) – 1:00:27
3. Geert Schipper (NED) – 1:00:39
PTWC – Women
1. Eva Maria Moral Pedrero (ESP) – 1:12:58
2. Melissa Nicholls (GBR) – 1:17:21
3. Mona Francis (FRA) – 1:21:53
PTS2 – Men
1. Maurits Morsink (NED) – 1:03:33
2. Jules Ribstein (FRA) – 1:07:35
3. Gianluca Valori (ITA) – 1:08:10
PTS2 – Women
1. Cecile Saboureau (FRA) – 1:23:07
2. Neele Ludwig (GER) – 1:33:15
3. Rakel Mateo Uriarte (ESP) – 1:39:01
PTS3 – Men
1. Daniel Molina (ESP) – 1:07:49
2. Nico Van Der Burgt (NED) – 1:08:44
3. Max Gelhaar (GER) – 1:08:52
PTS3 – Women
1. Elise Marc (FRA) – 1:10:46
2. Sanne Koopman (NED) – 1:30:25
3. Liina Nuoranne (FIN) – 1:34:01
PTS4 – Men
1. Alexis Hanquinquant (FRA) – 0:56:54
2. Nil Riadavets Victory (ESP) – 0:58:00
3. Pierre Antoine-Baele (FRA) – 58:53
PTS4 – Women
1. Marta Frances Gomez (ESP) – 1:15:16
2. Elke Van Engelen (GER) – 1:18:36
3. Hannah Moore (GBR) – 1:22:57
PTS5 – Men
1. Martin Schulz (GER) – 0:54:40
2. Filipe Marques (POR) – 0:55:18
3. Michael Salisbury (GBR) – 0:56:13
PTS5 – Women
1. Claire Cashmore (GBR) – 1:05:09
2. Alisa Kolpakchy (UKR) – 1:05:27
3. Gwladys Lemoussu (FRA) – 1:07:35