Back-to-back World Championship titles for Spain's Mario Mola
Vincent Luis sprints to Rotterdam Grand Final victory
Wet conditions and a twisty, technical circuit for the Elite Men's race at the ITU World Triathlon Grand Final Rotterdam weren't enough to significantly split the Elite men on Saturday ahead of the final 10km run.
For possibly the first time this year, almost all of the key men were up at the front and all believing they could win, heading into the final 30 minutes of the race. Despite not feeling great all day Great Britain's Jonathan Brownlee tried to push the pace from T2, and while that certainly spread the athletes out behind him, it was far from a race-winning move.
A couple of kilometres in and a clear group of five had formed, comprising of Brownlee, Vincent Luis (FRA), Kristian Blummenfelt (NOR) and the Spanish pairing of Mario Mola and Javier Gomez. Gomez was in Rotterdam just six days after winning the IRONMAN 70.3 Championships in Chattanooga, while Mola was seeking a second ITU World Championship – and a fifth victory of the season. Given Mola 'only' needed fifth to secure the former, Gomez was not a championship threat at this point – so it would be a battle for Grand Final honours without having to be concerned with ranking points.
The Fantastic Dive! Bell lap! #RotterdamGF pic.twitter.com/t6LiuRAWHZ

— TriathlonLIVE (@triathlonlive) September 16, 2017
At various points in the final stages, both of the Spaniard's hit the front and pushed on the pace – but weren't able to get away. Brownlee was the first to crack, and then with 1500m to go, Blummenfelt pushed hard and showed little sign of wanting to back off. He was going for a long run for home rather than a sprint.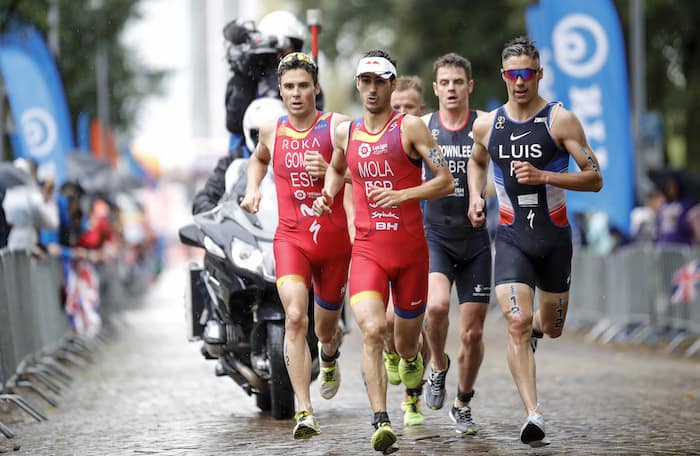 Surprisingly perhaps, the Spanish duo were the next to fall a few seconds off of the Norwegian surge, and it was Luis looking ominous. Into the last couple of hundred metres and Vincent made his move, Kristian tried valiantly to stay with him, but the victory would go to France. Mola completed the podium for third, followed by Gomez, Brownlee and Murray.
5th wasn't what @jonny_brownlee wanted today, hear what he had to say: pic.twitter.com/bdmNA3ijC2

— British Triathlon (@BritTri) September 16, 2017
Despite, by his standards, a disappointing season, fifth place meant that Brownlee finishes the season ranked in sixth place – despite being a race short in terms of points. First, second, fourth (twice) and fifth are his final 2017 WTS 'scores on the doors'. Plenty of athletes would settle for a 'poor' season like that.
Another solid race too from Thomas Bishop for tenth places, leaving him ranked seventh for the season. He should go into the winter period with huge motivation for the 2018 season. A solid race too for Marc Austin in his first WTS Grand Final, he was part of the lead pack at T2, before slipping back on the run to 22nd place. Plenty to build on from there for the young Scot.
Hard day out yesterday after a really tough few weeks. Hung on all day to cement a top 30 finish on the World Seires. pic.twitter.com/w9l7duoUKS

— Marc Austin (@marcja94) September 17, 2017
Rotterdam ITU World Triathlon Grand Final – Saturday 16th September 2017
1.5km / 40km / 10km
1st – Vincent Luis (FRA) – 1:51:26
2nd – Kristian Blummenfelt (NOR) – 1:51:28
3rd – Mario Mola (ESP) – 1:51:36
4th – Javier Gomez (ESP) – 1:51:41
5th – Jonathan Brownlee (GBR) – 1:51:52
6th – Richard Murray (RSA) – 1:52:06
7th – Pierre Le Corre (FRA) – 1:52:31
8th – Joao Pereira (POR) – 1:52:32
9th – Andreas Schilling (DEN) – 1:52:33
10th – Thomas Bishop (GBR) – 1:52:34
22nd – Marc Austin (GBR) – 1:54:56
24th – Adam Bowden (GBR) – 1:55:00
The #RotterdamGF Men's Podium! Huge respect for the performances by these men today, congrats to @vincentluistri @kristianblu & @mariomola pic.twitter.com/MF9sKqeDHn

— World Triathlon (@worldtriathlon) September 16, 2017
Final World Triathlon Series Rankings
Gold – Mario Mola (ESP) – 4728
Silver – Javier Gomez (ESP) – 4311
Bronze – Kristian Blummenfelt (NOR) – 4281
4th – Richard Murray (RSA) – 4010
5th – Fernando Alarm (ESP) – 3722
6th – Jonathan Brownlee (GBR) – 3685
7th – Thomas Bishop (GBR) – 3141
Ladies and gentlemen, our 2017 World Champions @floraduffy and @mariomola, both earning back to back titles #RotterdamGF pic.twitter.com/PlFUn0RyDE

— World Triathlon (@worldtriathlon) September 16, 2017
25th – Adam Bowden (GBR) – 1377
30th – Marc Austin (GBR) – 1262
45th – Gordon Benson (GBR) – 848
47th – Alistair Brownlee (GBR) – 800
65th – Grant Sheldon (GBR) – 546
122nd – Liam Lloyd (GBR) – 168
154th – Chris Perham (GBR) – 74
158th – Ben Dijkstra (GBR) – 68
191st – Douglas Roberts (GBR) -34