Despite playing down his fitness at the press conference ahead of Sunday's The Championship event at the x-bionic sphere in Samorin, Slovakia, not too many people were predicting anything other than a Gustav Iden victory. We certainly were not!
Two weeks on from his pre-race withdrawal from the IRONMAN World Championship in St George, it is a measure of the twice IRONMAN 70.3 World Champion's brilliance that on a far from perfect day, and with some unexpected adversity to deal with, he still won by a clear margin with seemingly more in the tank had it been needed.
He is, without question, the middle-distance king right now. And after this race, he might have found himself a new musical anthem.
You've got to pump it up…
Having once been a bass guitarist in a band, Iden found a musical inspiration on Sunday in the most unusual of circumstances:
"I didn't have a great swim, so I was ready to really, really push it in transition and go hard on the bike. As I took my bike off the racks, you know normally the bike kind of bounces on the front wheel… well it only did that very slowly. I realised that I didn't have a flat, but it was less than one bar – and for sure I pumped it up before the start – so I just screamed, "Give me a pump!". Luckily someone had a pump there right at the exit.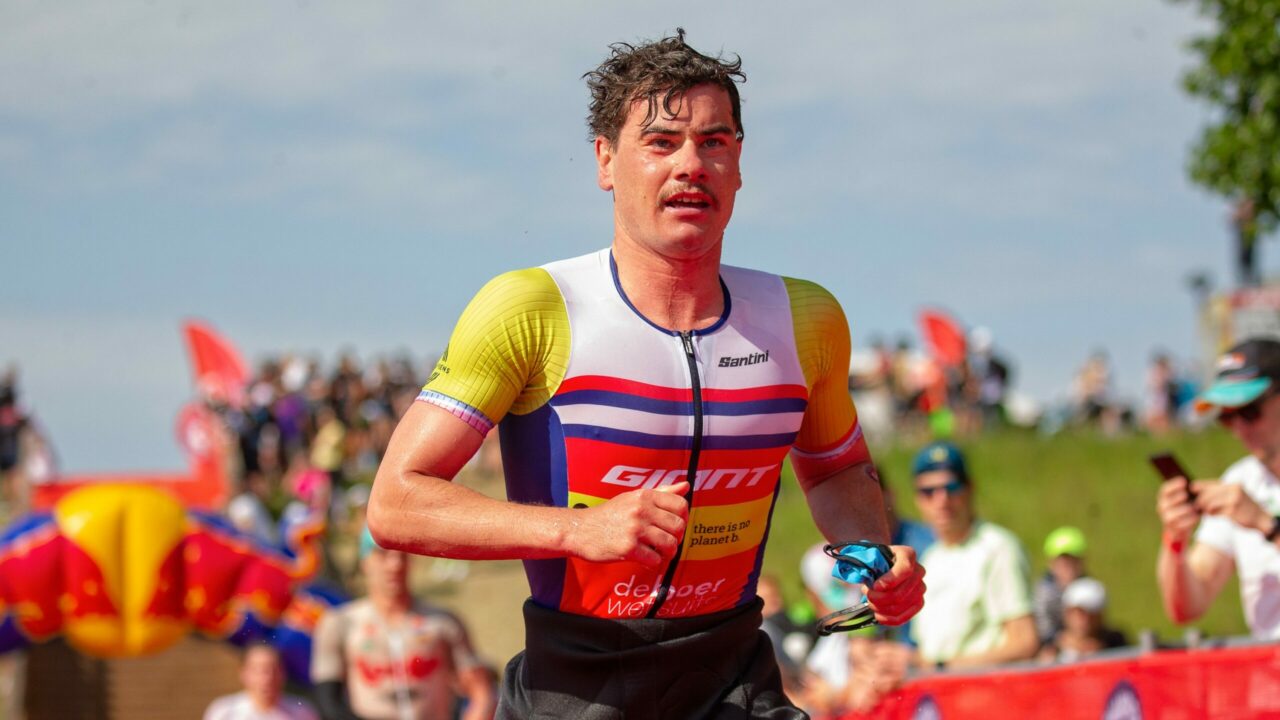 "I don't know exactly how much pressure I got, I think about five bar, but it was really good to make it to the finish.
"I pumped it up really quickly – I had that song in my head, 'you've got pump it up', so it wasn't that long!"
Hat's the way to do it
If you've been following the Iden story for the past three years, you'll likely have heard of the 'lucky hat'. In short, while in Japan shortly before the 2019 IRONMAN 70.3 World Championship, Gustav found a cap in the street. He wore it on the run in Nice, France and won. He's worn it in every middle / long distance race since, and won them all.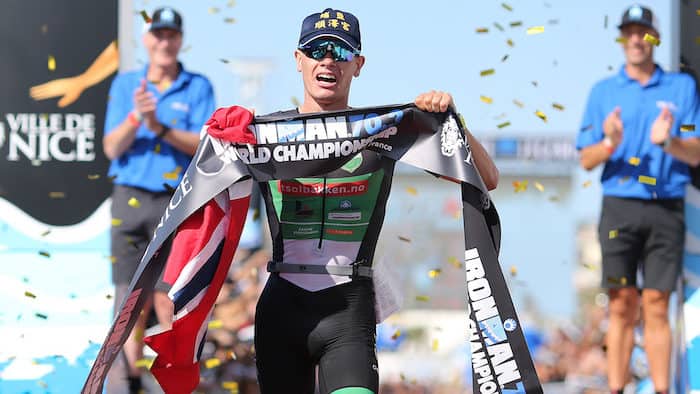 The hat turned out to be from the Puyan Shunze Temple in Taiwan, and images of Gustav (with hat) made him big in Japan Taiwan, as well as creating a huge spike in merchandise demand at the temple.
On the back of disappointment in St George, a mediocre swim to start the day and pumpgate, was the hat finally going to be defeated in Slovakia?
"When things are not going your way, you kind of always – and even though I'm a really positive person – it's really hard to fight your mind, when you know you are really far behind. You have to pump the tyre. You are not pushing the power you need and I was thinking, ok, I'll see if I can finish… but I'll not put the hat on in T2, because I've never lost with the hat. I can't break the magic of it.
"But then I thought, ok, now somebody has a shot to beat me it would be super disrespectful of me to not wear the hat, just because I thought I was going to lose. So just out of respect to the others who had a shot to beat me, I put the hat on… and yeah, it still has some luck left in it."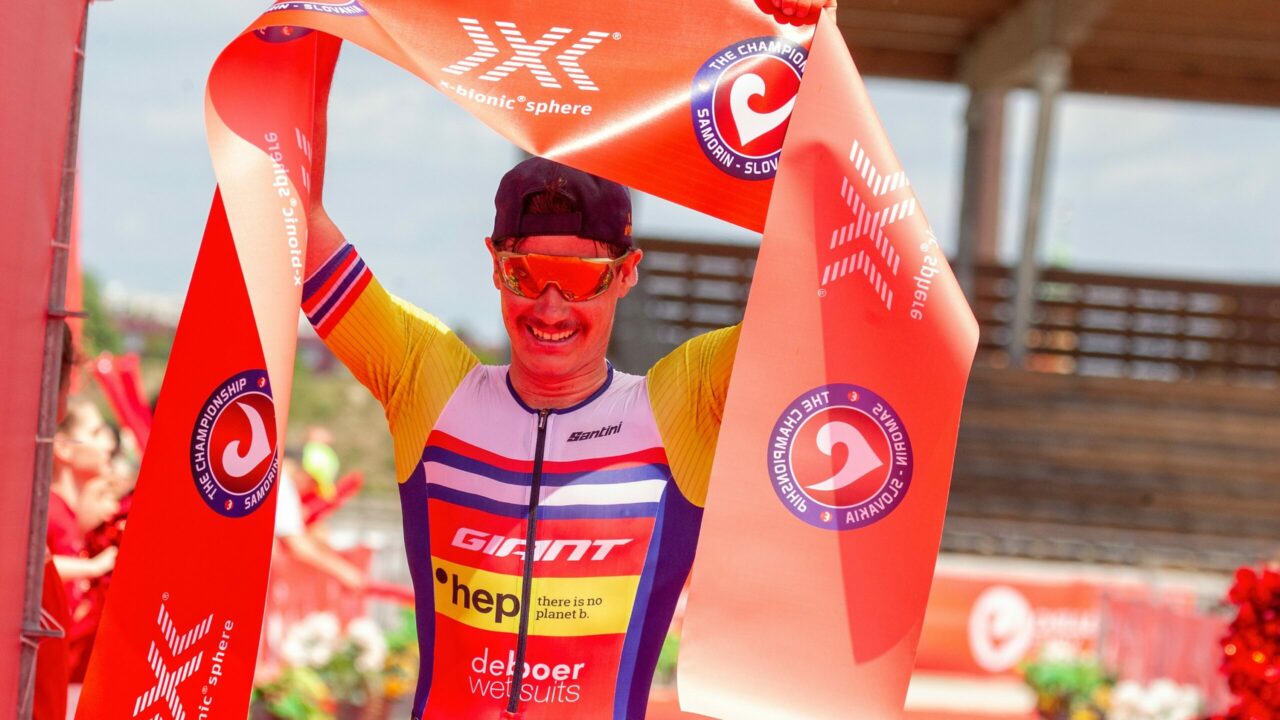 Secrets of Norwegian success
While Gustav and Kristian are household names in our triathlon world, Norwegian sport on a global scale has been in fine health. The likes of Karsten Warholm, Jakob Ingebrigtsen and their medal table topping Winter Olympians have brought notable success to the population of just over 5million.
Gustav doesn't feel there is one 'secret', but suggested that a contributing factor could be how the country operates on a more general level.
"It's a difficult question, because it's not like there's one group training together. I mean I'm on training camps (at the same time) with Ingebrigsten and we barely speak to each other. We kind of like have some conversations, but it's not like we are sharing too much information. I've basically never met the other guys (different sports) who are on the top level in Norway, so I don't think there is one thing that makes the sport good.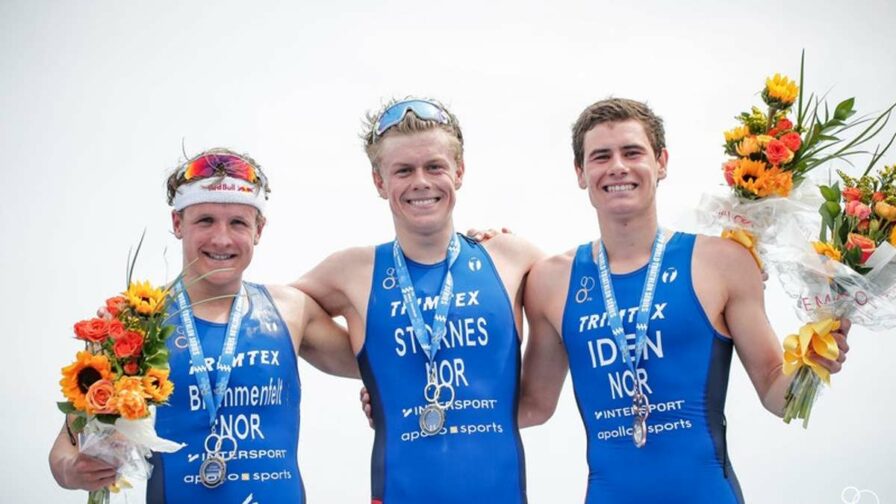 "I think one thing that is unique about Norway is, not to get too political, that I think Norway has a really good welfare system. If you fail at school and you want to do sports, you kind of can go all in because even if you fail, you still have access to this huge fund. So you can go years without a job without being poor in Norway.
"I think that means people are motivated to go all in, without fear of failing. In some countries I guess that if you miss one payment, you are kind of homeless, but you'll never be homeless in Norway if you try. I think that's one of the reasons that you can try, without fearing failing in life.
Outdoor lifestyle
"Also most Norwegians are staying outside in the mountains, not indoors, so when you are young that gives you a big base to do whatever you want. I mean even a footballer will have the advantage of being outside (growing up).
"I think most young people in Norway – although there are still a lot indoors on iPads – they still have a love for nature and being outside in the mountains. I think that just helps generally in life."
Competition can wait
Given the medal success at senior level, it might be surprising to find that competition at a young level in Norway is not the norm. Gustav recalled a funny story about not being old enough to do a race, but watching his older siblings doing so:
"When I was nine I had to watch my brother and sister race, and I was so mad. I used to climb up the light post and just hang at the top because my mother and father couldn't catch me there, because they couldn't climb up a pole. So I was not happy as a nine-year-old, but at 10 you can compete in Norway – without the result list – and then at 13 you get the ranked results.
"It's not forbidden to be a winner in Norway, but they try to include everyone. It's a nice way to do it."
'Still a short course athlete'
Despite his middle-distance success, Gustav has no plans to turn his back on short course, draft-legal racing.
"Yes, Paris is definitely on my mind. At heart I'm still a short course athlete – I don't know what it is about short distance that makes it more fun, but I really, really, really enjoy the short-distance racing.
"But I realise now that it's a bit too much of an ask to do the World Series racing over the summer, because most of them are either sprint or super sprint. To go from Ironman training for half a year and then doing Kona, even by Norwegian standards that's a little bit crazy to do a sprint in the middle of that."
Kona 2022 for Gustav? Absolutely
From no plans to go to Kona later this year, to leaving the door open, Gustav is seemingly now set on making his IRONMAN World Championship debut this coming October and defending his 70.3 crown too.
"For now I have my eyes set on Kona, St George and then luckily the two last World Series are Olympic distance in Bermuda and Abu Dhabi and they have a lot of Olympic points, so hopefully I'll be in shape to take some points there and then next year I'll have the full season of collecting Olympic points and then we build for Paris in 2024."