Pre-race favourite Gustav Iden is OUT of Saturday's IRONMAN World Championship in St George.
The 26-year-old from Bergen was ruled out of the race on Friday due to a respiratory tract infection.
Norwegians hit by colds
Iden's coach, Olav Aleksander Bu, revealed to TRI247 last week that both Iden and his fellow Norwegian – Olympic Champion Kristian Blummenfelt – had suffered interrupted preparations for Utah due to colds.
At that stage though it appeared Blummenfelt had been affected worst, with Iden less so. Fast forward a week though and the sad news emerged on Friday that Gustav will not bid to add the full-distance World Championship to his two 70.3 titles.
Olav told us: "Long story short: I've had the boys through everything from blood works, clinical examination and ECG, and had daily dialogue with the team doctor.
"We decided to make the final call today, and Kristian is recovered enough that he is considered healthy enough to start, while too many important markers are not good enough for Gustav yet."
Another star pulls out
Iden's withdrawal is the latest in a long line as the delayed 2021 Championship is hit by a string of high-profile injuries and illnesses.
The loss of Iden leaves Blummenfelt and fellow Olympic Champion Alistair Brownlee as the favourites heading into Saturday's race (0615 local time, 0815 Eastern, 1315 UK, 1415 CET).
Next in the betting before Iden's withdrawal were Canadian star Lionel Sanders, American Sam Long and 2014 World Champion Sebastian Kienle.
'Gutted for them'
Pro View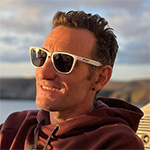 Tim Don
Tim is a triathlon and IRONMAN legend. And alongside Ian Dempsey he's created
Halo ID
, a global community for like-minded people with a love for triathlon and endurance sport – all about your next level, whatever that may be.
We caught up with Tim Don for his take on the breaking news and he told us: "It's such a hot and dry environment here. There's such a stress on your immune system, especially having come down from altitude and having had a long haul flight.
"The first line of defence is saliva for an upper and lower respiratory infection. [But] it's so dry here that your throat is always dry.
"Disappointed and absolutely gutted for them."