This week I was joined on the 'Road To St George' by double IRONMAN 70.3 World Champion Gustav Iden, one of THE favourites to add an IRONMAN World Championship title to his growing collection of honours come Saturday May 7. He told me about his preparations for Utah, and his plans for the remainder of 2022.
Gustav Iden gave a tantalising glimpse of his Ironman potential last November when he romped to a terrific victory at IRONMAN Florida.
The world appears to be the Norwegian's feet as he heads to Utah as one of the favourites for the most eagerly-awaited full-distance World Championship in years.
St George experience
While it was only over the 70.3 distance, Gustav does already have experience of racing and winning in St George – specifically his second World Championship win last September.
He told me: "It was a great day out there. I thought like everyone was expecting me to take the victory from the run but I wanted to show them something different, make it a hard bike, attack there and hold on for the victory to the end.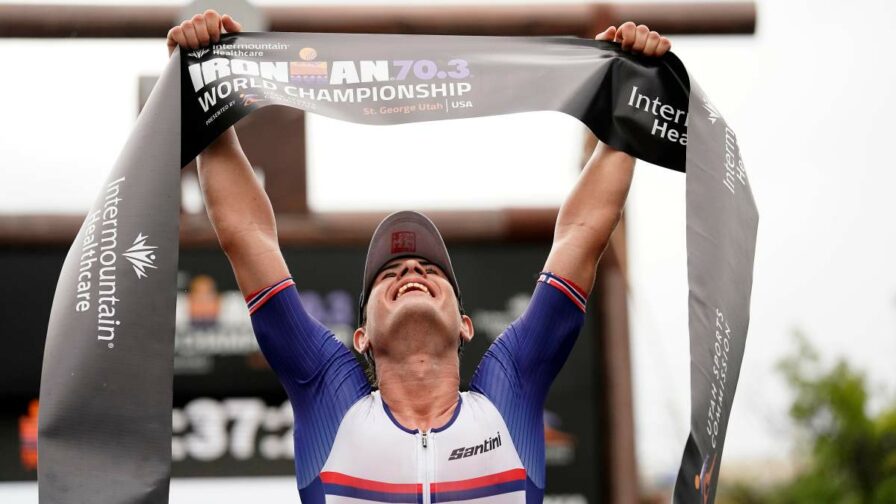 "I'm happy with how I performed but I think I have still some great improvements over the next few years to make me even more unbeatable."
The course in St George, with significant climbing lying in wait for the athletes, presents a unique challenge. Gustav has already taken note of areas where he can make gains.
"The course doesn't make it easier either. It's so easy to push too hard on the uphills without thinking about the run. You think maybe you can recover on the downhill, but what I learned from the St George race last year, maybe I shouldn't tell them.
Downhill racer
"I made a huge gap going down the last time actually when I was alone on the front. If you put not that much extra power going down, you can actually gain a lot of time because most people just think the downhill is going down, but as a cyclist I know how much you can gain from a good downhill and you can recover quite well if you do it correctly.
"But the bike is gonna make things interesting there for sure."
While that win in Florida was quite the Ironman debut for Gustav, he is quick to point out it was just one race, and he is still very short on experience over the full distance.
"I think for me the biggest difference is that I have such limited experience at full distance. I can't really speak even about a course because I've only done one and that was super-flat. So I have no idea what to expect out there really. So I think that's the big difference.
"For the half now, even though I haven't done too many, I really know how my body works and exactly how much to push without dying before the finish line. So now I'm a bit more worried that a hard course is going to make it even harder for me to make it a race where I can cross the finish line without exploding."
Gustav has clearly already played out the race in his own mind, and he has pretty firm view on the way things will go down on May 7.
"It depends on what stage you're looking at. In the swim it's carnage – everybody is gonna be there. I guess the start of the bike is gonna be kind of like a pack dynamic and towards the end of the bike it's maybe going to split up.
"But I think towards the end of the run it's going to be a few people and very split up time-wise I think."
Facing Frodeno
One of those "few people" is almost certain to be German superstar Jan Frodeno – the reigning IRONMAN World Champion and unbeaten in any race since 2017. Frodeno is now 40, and Gustav knows the chances to race against him, and possibly beat him, are limited. A fact which makes the opportunity even greater.
"It's exciting. It's like one of the last chances I can have to really race against him, I think we both know it that if he wins there he is truly like the master of triathlon – that's what everyone thinks going into that race and it really makes him the one to beat.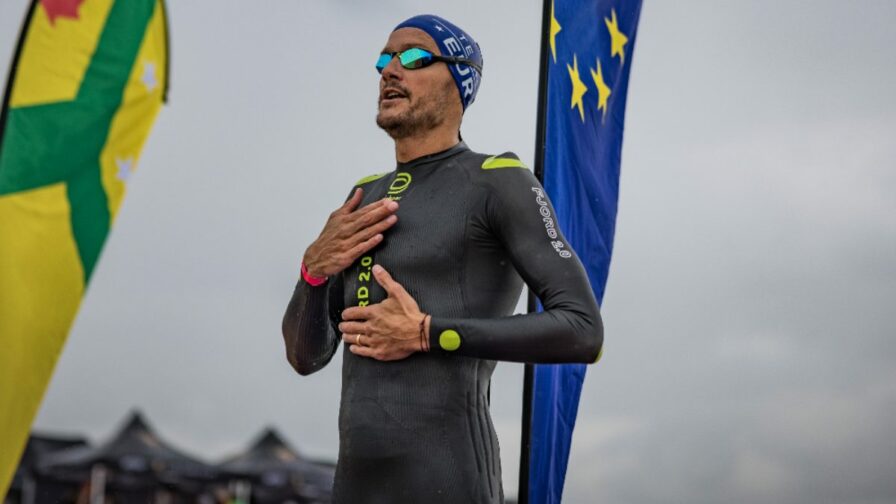 "If I win there then people have many more years to beat me. But for Jan it's the last chance and that makes it even more exciting I think."
For many full-distance elite triathletes of course the pinnacle is the 'Big Island' of Hawaii, and Gustav raised some eyebrows late last year when he said he would go to St George, but potentially not to Kona. He says the door is not closed completely though.
"I have said no, but the thing is that the 70.3 World Championship (October 28 and 29) is a bit too close to Hawaii in my eyes, and I have so little experience with recovering from a full distance so I said no just to be ready for the half in St George.
"But if I see now that if I'm feeling fit and ready within a bit more than a week after the race in May I am still hoping to race in Kona. But I don't get my hopes up too early because I know how hard it is to recover from the full."
Iden training numbers
While many athletes are taking in prep races for St George – including his compatriot Kristian Blummenfelt recently in Dubai – Gustav is heading straight for Utah.
He told me: "Right now I am in Sierra Nevada in Spain, an altitude centre with a lot of cyclists and swimmers and runners so it's really unique place to train. It's 2300m above sea level so you definitely feel your breath going!"
Before he signed off, Gustav had a couple more thoughts to share – ones which might make some of his opponents very afraid.
"I had a good preparation going into that race (IRONMAN Florida) but so many things didn't go as planned. I was sick a couple of times in altitude and I was also sick going down to California and yeah with the whole pushback thing for California and racing Florida and the whole preparation, so many things went wrong.
"If I just do a normal preparation everything should be much better. I'm in really good shape now, my running form is – some sessions have been incredible.
"Here the other day I had almost an hour on 20k an hour with 3.0 pace [Ed. 3mins/km], and with basically no breaks, and the lactate was super-low… obviously that's way over my ability in a race but for a training session it was good."
You can watch the whole of my interview with Gustav on the video embed below: