Emma Pallant-Browne (GBR) and Dylan Magnien (FRA) took the wins at IRONMAN 70.3 Aix-en-Provence on Sunday.
All eyes had been on the anticipated battle between Pallant-Browne and Tamara Jewett (CAN) in the women's race, two of the fastest runners in the sport, but it never quite materialised as the Brit held her rival at bay to win by just under a minute.
It was closer in the men's race though as Magnien and Belgian Bart Aernouts (winner at Challenge Fréjus last week), had a fantastic battle which was only settled late into the run with 29 seconds separating them on the line.
Pro Men – Magnien holds off Aernouts
Out of the water in the men's race, the French athletes gave the home crowd something to cheer, with Denis Chevrot and Gwenael Millot at the front of the main group that trailed runaway leader Matteo Montanari (ITA) out of the water by close to a minute.
Australian Charlie Quin was another athlete in that front pack, with South African duo Matty Trautman and Bradley Weiss, plus Brit Jack Hutchens, all in a good place coming into T1.
Onto the bike, Montanari quickly relinquished his lead as Trautman and Weiss blasted their way to the front off the field, opening up large gaps to the likes of Chevrot, Quin and Hutchens as Trautman came through halfway with a minute on Weiss and over +2:15 to the rest of the field.
In the second half of the bike, Aernouts began to quietly make his way through the field as Weiss caught Trautman at 71km. Aernouts also passed Trautman coming into transition with the leading trio within 20 seconds of each other coming off the bike.
Behind, a French trio of Chevrot, Magnien and Erwan Jacobi reached T2 +2:25 off the front, with Britain's Hutchens and Aussie Quin close behind to set up an exciting battle for the podium over the half marathon.
It was Aernouts who quickly put daylight between himself and the rest and he was 40 seconds to the good at the halfway point.
But Magnien was closing fast and the pair were locked together with 5km to go and it was only in the last couple of kilometres kicked clear for the win – a welcome return to form after DNFs in his previous two races this season – Challenge Fréjus last week and IRONMAN South Africa.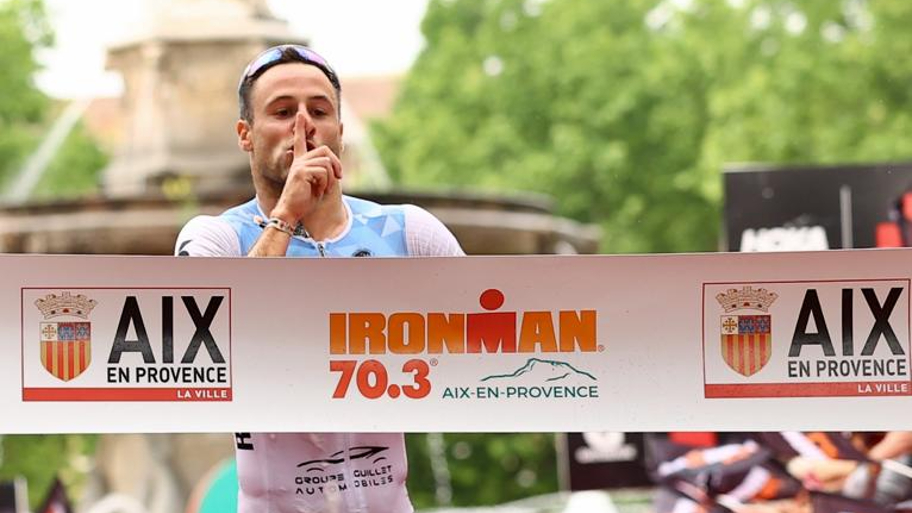 South African duo Weiss and Trautmann finished third and fourth respectively.
Pro Women – Pallant-Browne too strong
Out of the water, Britain's Katie Curran led with home favourite Emilie Morier alongside her, as Pallant-Browne had an excellent swim to exit in the front pack with Jewett also within 10 seconds of the lead at T1.
Morier, Jewett and Pallant-Browne – really the class of the field – pulled away from the rest of the competition early on in the bike with fourth-place Barbara Riveros almost two minutes behind at the halfway mark.
Over the final 20km, Morier made her break for the front, knowing that if she had any hopes of finishing on top of the podium, she would need a solid buffer over Pallant-Browne and Jewett.
By T2, the French favourite had +1:49 over Pallant-Browne, as Riveros and Alexia Bailly (FRA) moved past Jewett, with the Canadian coming off the bike way back in fifth, +5:49 from the front and almost a minute down on the podium.
But despite that big gap Jewett did indeed emerge as the closest challenger after Pallant-Browne had reeled in Morier inside the first 5km. The Canadian was now in third and at +3:40 at that point – it was +2:43 at halfway and just under two minutes with 5km remaining.
Pallant-Browne wasn't slowing down however and that was enough of a buffer to hold on, though the lead had been whittled down to 50 seconds by the time the line came, with Jewett clocking a 1:13:29 half to Pallant-Browne's 4:17:30.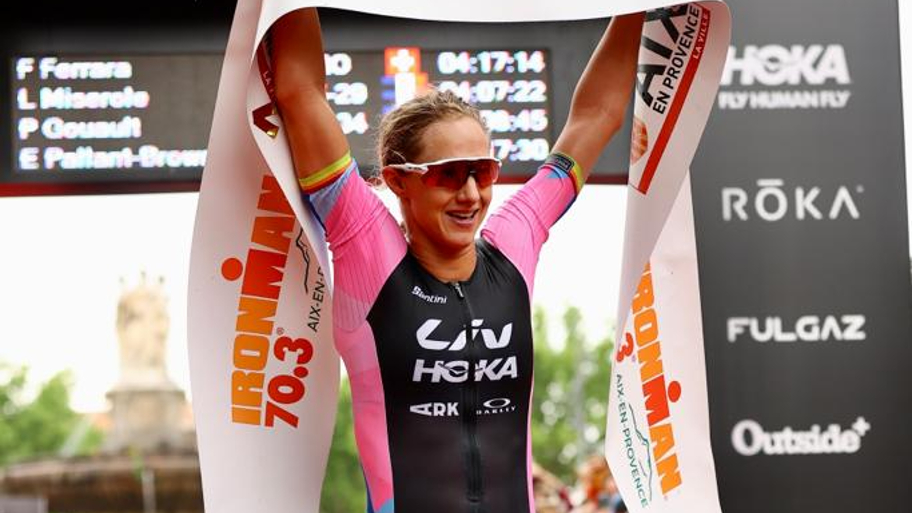 And afterwards, Pallant-Brown, who was crowned World Duathlon champion at the start of the month, said: "I had a good swim; I was a bit cautious on the bike and had a solid run. It was great to come out here and compete against these super strong girls.
"It is actually my first IRONMAN 70.3 race of the season, the last one I did was over six months ago, so it's been a while. Now I feel like my season has finally started and has kicked off in a good way."
IRONMAN 70.3 Aix-en-Provence 2023 results
Sunday May 21, 2023 – 1.9km / 90km / 21.1lm
PRO Men
1. Dylan Magnien (FRA) – 3:50:59
2. Bart Aernouts (BEL) – 3:51:28
3. Bradley Weiss (RSA) – 3:53:22
4. Matt Trautman (RSA) – 3:54:21
5. Denis Chevrot (FRA) – 3:55:15
PRO WOMEN
1. Emma Pallant-Browne (GBR) – 4:17:30
2. Tamara Jewett (CAN) – 4:18:20
3. Emilie Morier (FRA) – 4:26:03
4.
5.