Aussie star Ellie Salthouse and Frenchman Clement Mignon took top honours at IRONMAN 70.3 Andorra on Sunday.
The 28-year-old Salthouse held off the challenge of Germany's Svenja Thoes to take the women's PRO race, while Mignon did likewise as he came home just under two minutes in front of the chasing pack led by Michele Sarzilla.
PRO Women
Salthouse was first out of the water after the best swim split of the day in the women's race – her 27:03 giving her an advantage of 48 seconds over Switzerland's Emma Bilham. At this stage Thoes was 1:20 back in fifth place.
It was the bike leg which paved the way to victory for Ellie, as she again produced the best split with her 3:08:57 extending her overall advantage to almost two-and-a-half minutes to Bilham. Thoes was third now, but more than five minutes off the pace. [You check check out Ellie's Trek Speed Concept bike in our recent Pro Bike feature].
Svenja made a spirited bid to claw back that deficit on the run, but it was too big a gap to close. She did get within three minutes thanks to the best run split of the day (1:25:18) but could not get any nearer to her Australian rival. Salthouse's 1:28:21 – the second best run of the day – was enough to give her victory by a comfortable margin.
Bilham claimed the final podium spot, with Dutch star Els Visser claiming fourth and American Anne Kelly in fifth.
PRO Men
Mignon came out of the water in fourth place, some 30 seconds behind Italian pace setter Sarzilla. He then produced the second best bike split of the day, his 2:36:40 being bettered only by Aussie star and pro cyclist Cam Wurf (2:31:22).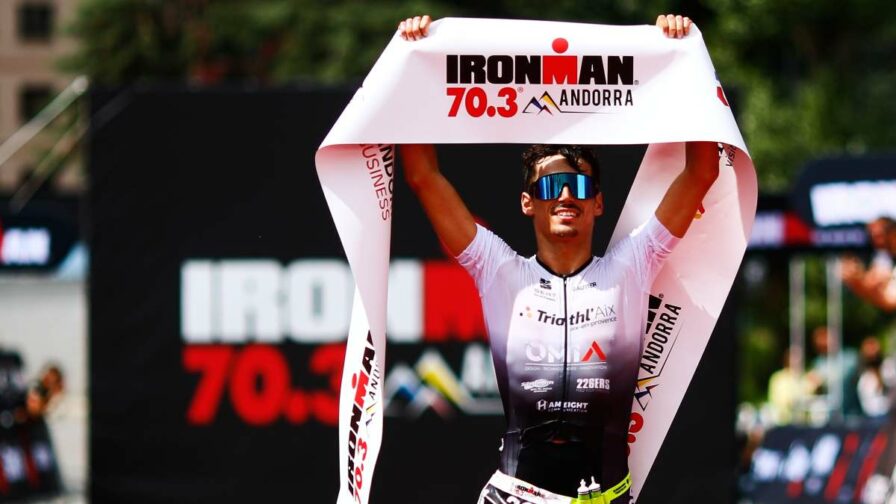 Wurf had a lead of more than two minutes heading into T2, but the consistent Mignon had too much for the Aussie on the run, overtaking him to come home just under two minutes clear of Sarzilla, who added the fastest run of the day to the fastest swim.
Third was Wurf, with Norway's Jon Saeveras Breivold in fourth and Frenchman Theo Debard fifth.
IRONMAN 70.3 Andorra results 2021
Sunday July 4, 2021
PRO Women
Ellie Salthouse (Australia) 5:10:01
Svenja Thoes (Germany) 5:12:47
Emma Bilham (Switzerland) 5:13:41
Els Visser (Netherlands) 5:17:56
Anne Kelly (United States) 5:30:58
PRO Men
Clement Mignon (France) 4:22:56
Michele Sarzilla (Italy) 4:24:47
Cameron Wurf (Australia) 4:25:53
Jon Saeveras Breivold (Norway) 4:27:23
Theo Debard (France) 4:27:38