Americans Sam Long and Taylor Knibb were unstoppable at IRONMAN 70.3 Boulder, as the pair blew the field away on the bike course to take commanding victories at altitude.
In the men's race, Canadian Lionel Sanders and American Chris Leiferman battled ferociously for second, with a similarly close finish in the women's race between Britain's Holly Lawrence and South African Jeanni Metzler.
Pro Men – No stopping Sam Long
In the men's race, defending champion Matthew Sharpe of Canada was first out of the water, as a strong trio of swimmers that also included American Braxton Bokos and Australian Sam Appleton emerged +0:40 ahead of the chase pack, which was led by debutant Andrew Shellenberger.
Pre-race favourite Long was out of the water +2:19 back alongside compatriot Leiferman after a very strong swim, with Sanders within seconds of the pair heading into transition, as in total a group of eleven men headed out on to the bike between +2:15-2:20 from the lead.
On the bike course, Long quickly began to claw back time after a rapid transition that saw him shake off everyone but Sanders, moving him to within 30 seconds of the lead at the 28km marker. At this point, Sharpe was alone at the front and whilst riding strong, looked in grave danger of being caught sooner rather than later.
By the 42km mark Sharpe was still in the lead, with +0:13 over Long, but by the time they came through the next checkpoint at 55km, Long had managed to put a remarkable +1:29 into Sharpe in the space of 13km and looked good, as he built up a buffer of over two minutes to the likes of Sanders and Appleton.
Coming off the bike, Long was in control, as defending champion Sharpe, joined by Sanders and Leiferman, rolled into transition close to four minutes down on the Boulder native.
Through the first half of the run, Long looked in control, as his lead remained intact and his competitors seemed more focused on the battle for second, with Sharpe and Sanders trading blows after dropping Leiferman, who despite losing touch with the Canadians had more than three minutes to his closest rival.
By 18.5km, Long had a five minute buffer and looked on course to take his third successive middle distance win, as Leiferman made his way back past Sharpe and up to Sanders, with the real battle between this duo as they made their way into the final couple of miles.
As Long took the tape after a dominant performance from the minute he stepped on to the bike, Leiferman dropped Sanders and looked to be clear, until Sanders grappled his way back on to the shoulder of the BMC athlete, with the pair neck and neck going into the finishing straight.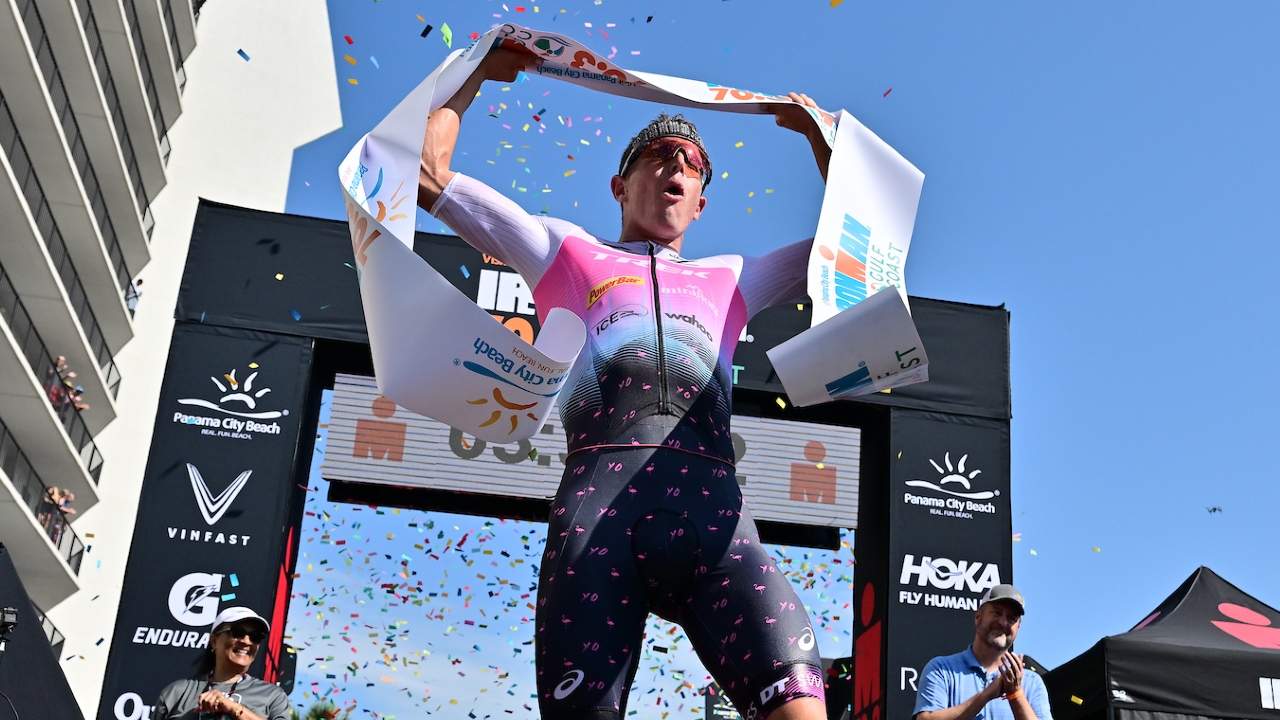 Misjudging the sharp corner into the finishing chute, Leiferman ceded the inside line to Sanders which proved to be a big mistake, as the Canadian prevailed in the sprint finish to take second place by a whisker, with Boulder based Leiferman celebrating his first race since Kona with a podium.
Pro Women – Knibb goes gun to tape
In the women's field, all eyes were on 2022 IRONMAN 70.3 World Champion Taylor Knibb, who in her return to non-draft racing after surgery had opted to race her first middle distance since the world championships at an event close to home, despite the focus for the American continuing to be the Olympic Games next year.
Exiting the water, Knibb was at the front of the race, having swam with fellow American Lauren Brandon, who came into transition alongside the reigning world champion. Behind, Kiwi Teresa Adam was next out at +1:32, with Rachel Olson hot on her heels and Lawrence at +1:53, with recent IRONMAN 70.3 St George winner Metzler at +2:11.
Despite taking her time to put socks on in transition, Knibb quickly reeled in Brandon who was first out of transition and powered past her compatriot to take the lead, building a gap of almost three minutes by the 28km mark with the rest of the field unchanged behind her.
At 42km, Knibb was clear, as Adams passed Brandon and Lawrence began to work her way up to the podium positions, gapping Metzler and Olsen. By 69km, with Knibb +5:19 to Adams, the race seemed to be for the remaining spots on the podium, as Lawrence flew past Brandon and started closing down on the Kiwi.
By the time they reached transition, Knibb had +6:36 over Lawrence in second, who had not managed to shake Adams over the last few kilometres of the bike, as both came into T2 within 10 seconds of each other, but crucially close to four minutes ahead of strong runner Metzler.
By the 7.7km time split, Knibb's lead had continued to grow, as Lawrence built a big buffer to third place Metzler, who was looking very strong but still had a three minute gap to make up on second place. By 13.7km, with Knibb clear, Metzler was keeping things interesting by continuing to reel in Lawrence, who was holding strong in second but losing time.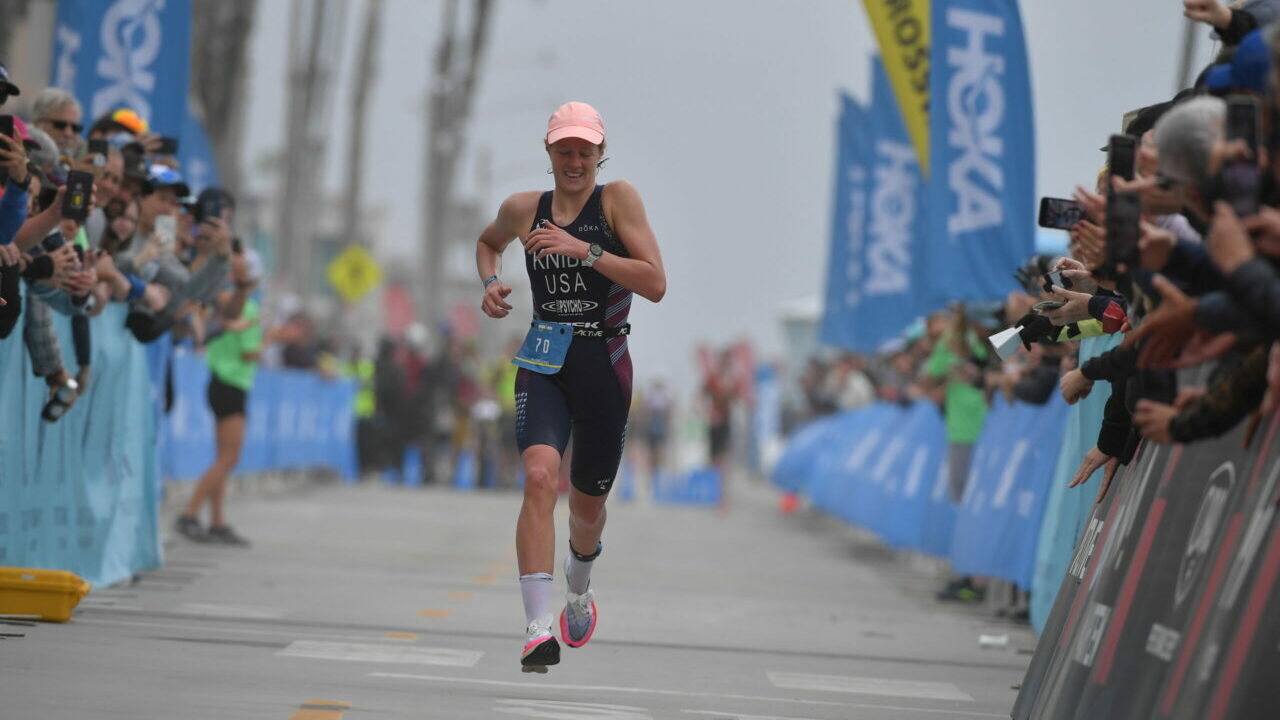 Over the final few kilometres, as Knibb took the tape in commanding fashion after a gun to tape win, Metzler kept chasing hard, narrowing the gap down to just +0:50 at 18.5km to set up an exciting finale between the pair. Lawrence, however, rallied to hold on to second, with Metzler coming through for third.
IRONMAN 70.3 Boulder 2023 Results
Saturday June 10, 2023 – 1.9km / 90km / 21.1km
Pro Men
1. Sam Long (USA) – 3:33:23
2. Lionel Sanders (CAN) – 3:38:13
3. Chris Leiferman (USA) – 3:38:14
4. Tomas Rodriguez Hernandez (MEX) – 3:39:23
5. Matthew Sharpe (CAN) – 3:39:35
Pro Women
1. Taylor Knibb (USA) – 3:56:34
2. Holly Lawrence (GBR) – 4:04:39
3. Jeanni Metzler (RSA) – 4:05:26
4. Lesley Smith (USA) – 4:12:57
5.