Third 12 months ago, Menno Koolhaas took his first 70.3 title on Saturday with a hard-earned victory at IRONMAN 70.3 Cascais. Once again, France's Mathis Margirier marked himself out as one to watch in the future, powering away solo on the bike and leading for almost all of the run.
It all came down to the run for the top six women, and an Italy vs. Great Britain battle saw Marta Bernardi get the better of Nikki Bartlett. After waiting seven years to top her first IRONMAN 70.3 podium, the Italian now added a second in a matter of months in what is turning out to be the best season of her career to date.
Pro Men
The opening 1.9km swim at Ribeira Beach in Cascais saw Menno Koolhaus (NED) stop the clock at a rather swift 20:33, suggesting either fast conditions or, perhaps, a slightly shorter course than advertised. He lead a group of five, closely followed by Joshua Lewis (GBR), Andrea Salvisberg (SUI), Mathis Margirier (FRA) and Tom Davis (GBR).
The French athlete had led for most of the day last week at IRONMAN 70.3 Venice-Jesolo, before finishing second. He excelled on the bike there; more of the same in Portugal?
The chasing swim group were almost a minute behind the leading quintet, while even further back were William Mennesson (FRA) +2:08, Rasmus Svenningsson (SWE) +2:58 and Bart Aernouts (BEL) + 3:49.
By the midpoint of the bike, Margirier was away and solo at the front, but there was now an increasingly large group just a minute behind him comprising 11 athletes. Davis was no longer there (+3:38 down now), but Mennesson and Svenningsson plus Germany's Sebastian Neef, were among those moving well, and their current pace, seemingly set to catch the leader before T2.
Margirier however was seemingly in no mood to give up his advantage, pulling away over the second half of the ride. His 2:07:34 bike split gave him a T2 advantage of 2:32 over what was now a group of eight. Commonwealth Games athlete, Josh Lewis, was still among them, but Mennesson and Salvisberg had lost a minute, and would start the run around three and a half minutes behind the leader.
Just as he did in Venice, Margirier started strongly on the run, with only Menno Koolhas – third last year in Cascais – making and significant gains over the opening 5km. By the midpoint of the run, the Dutch athlete had closed to within exactly one minute of the Frenchman.
By 15km that was down to 28 seconds and with the writing seemingly on the wall, Koolhaas took the lead around the 20km mark and pushed on for the first IRONMAN 70,3 title of his career.
The fastest runner on the course was Switzerland's double Olympian, Andrea Salvisburg, and while his efforts would be rewarded with a podium, it wasn't quite enough to take second place from Margirier. All three podium finishers however crossed the line within 60 seconds of each other.
Pro Women
As with the men, fast swim times saw Helene Alberdi (ESP) exit in 23:03, with a British duo of Kate Curran and Rosie Weston on her shoulder. Home athlete Raquel Rocha was just under a minute back, before the main chase group followed two minutes down on the leading trio.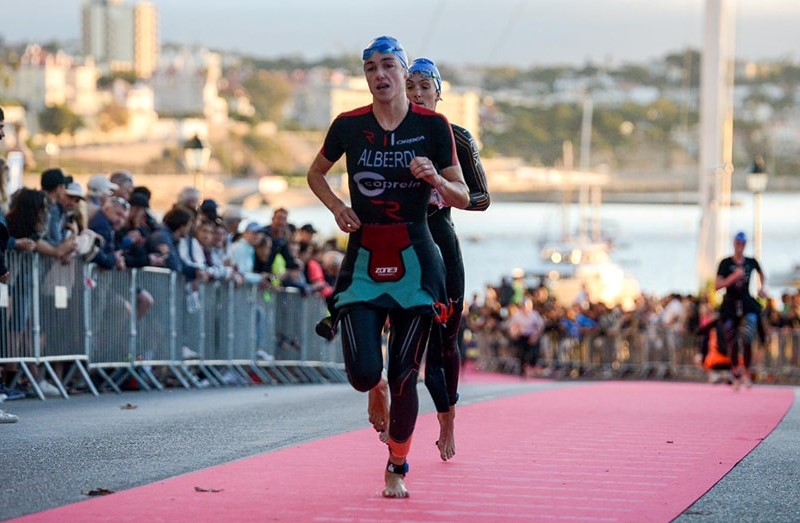 Further back was 2021 IRONMAN 70.3 World Championship ninth place finisher, Nikki Bartlett. That's not unusual however, and while 14th position doesn't look good on paper, her 2:58 deficit was far from putting her out of race-winning contention, with her bike and run abilities.
Midway through the bike leg and it was Alberdi, joined by Rocha, leading the way. Their lead was far from concrete however, with Nina Derron (SUI), Kate Curran, Jade Nicole Roberts (RSA), Marta Bernardi (ITA), Jeanne Collonge (FRA), Kaidi Kivioja (EST) and, as expected, Nikki Bartlett all with 80 seconds and moving well.
The trend continued over the remainder of the ride, the front of the field all coming together. Six remained together as the dismount line approached – Collonge, Derron, Bartlett, Alberdi, Roberts and Bernardi separated by just nine seconds. The run would decide this one.
Setting the early pace was Marta Bernardi, winner this year at IRONMAN 70.3 Les Sables d'Olonne. After a slow T2, surprisingly to us at least, Bartlett was the sixth of six through the 5km mark. Still only 18 seconds back on second place however, still plenty of racing left in this one.
At the halfway mark, Bernardi was still setting the pace and 1:14 clear of second, which was now Great Britain's Nikki Bartlett, who was second last month in Dresden. Was it going to be the same again, or could the British athlete fight back over the closing 10km?
30 seconds behind Nikki, Alberdi and Roberts were still in close contention for third place heading into the second half of the run.
There would be no late fade on the run for Marta Bernardi. Her 1:20:33 run (Bartlett 1:21:53) saw her finish 1:24 clear at the finish line, with Roberts completing the podium.
IRONMAN 70.3 Cascais 2022 Results
Saturday October 15, 2022 – 1.9km / 90km / 21.1km
Pro Men
1. Menno Koolhaas (NED) – 3:45:28
2. Mathis Margirier (FRA) – 3:45:43
3. Andrea Salvisburg (SUI) – 3:46:22
4. Rasmus Svenningsson (SWE) – 3:47:00
5. Joao Ferreira (POR) – 3:49:04
10. Tom Davis (GBR) – 3:51:56
12. Joshua Lewis (GBR) – 3:54:47
22. Will Munday (GBR) – 4:04:48
Pro Women
1. Marta Bernardi (ITA) – 4:18:51
2. Nikki Bartlett (GBR) – 4:20:16
3. Jade Nicole Roberts (RSA) – 4:23:15
4. Helene Alberdi (ESP) – 4:25:02
5. Nina Derron (SUI) – 4:26:02
8. Kate Curran (GBR) – 4:27:48
11. Lizzie Rayner (GBR) – 4:31:52
13. Rachel Brown (GBR) – 4:34:36
18. Rosie Weston (GBR) – 4:42:54