It's almost race time for Kimberley Morrison in Dubai
"I have sufficient training in my body to put a great performance together tomorrow"
So, here is the final (pre-race) update on IRONMAN 70.3 Dubai from Kimberley Morrison (www.kimberleymorrison.co.uk). You also catch up on part one (HERE) and part two (HERE).
"Excited" is the word. Race day in Dubai is tomorrow (Friday). When we next hear from Kimberley, it will be to found out how her race went.
---
#3 IM703 Dubai – The day before..
Three priorities for me the day before a race:
Swim some of the course, if possible
Complete race obligations earlier
Enjoy a good lunch and an afternoon doing absolutely nothing
The day stared well, very well! Mum got plopped on by a bird twice… good luck! This also happened before IRONMAN 70.3 Sweden last year.
We slept in and again enjoyed brunch (rather than breakfast), and I had my race morning breakfast like I always do the day before.. avocado and boiled egg rolls with a sprinkle of salt.
Ben and I then took a car over to the race venue and met Amy K. where my bike had a good nights sleep.. thank you Amy!
We all headed to the beach, I swam the last section of the course… swim skin on to get a good feel for the swim dynamics and got my focal points on dry land for the final stretch of the 1.9km swim. I also find a swim the day before good to kick any pre-race nerves as waters can vary dramatically when racing in different countries.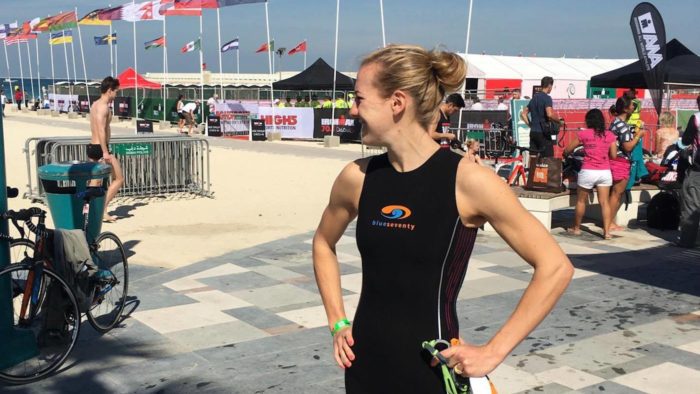 I then took the Pro queue into transition (this still makes me smile and yes, I got a photo of Gomez No. 1 as I walked by his rack!). I had a camera on me as I was deflating the tyres and assessing my marker to pick out my bike when sprinting through T1 in just 18hours time…
Once happy with the bikes' position, I kindly asked the camera man if he could use my phone to take a photo, he smiled and put his enromous video camera down! I was then escorted off with my T1 and T2 bags and shown exactly where spot 62 was – what a treat. I also found people taking photos of my Giant Trinity Pro. it is a very nice bike, thank you Johnny (Race Hub), excited to see how fast those wheels can roll in the morning.
We then had a relaxed lunch overlooking the swim start and headed back to our hotel for an afternoon of absolutely nothing… perfect! See you in the morning Race no. 1 of 2017.
Expectations?
When asked how are you feeling? My honest answer is excited.
I have sufficient training in my body to put a great performance together tomorrow. I will be up against some world class competition and I'm excited to see how close I can get. I am ambitious and will be fighting right to the line…