American Sam Long and Switzerland's Imogen Simmonds got back to winning ways with victories in their respective races in Poland.
It was a welcome return to the top spot of the podium for Long after what had been a mixed set of results on his 'European Tour'.
And even more so for Simmonds after a frustrating season which had seen her sidelined by injury.
Pro Men – Long blows rivals away
Sam Long, a multiple winner earlier in the season, has taken himself out of his comfort zone and featured in races he'd always wanted to try in recent weeks.
It didn't work out for him at Challenge Roth and then he was derailed by a challenging gearing setup for the Alpe d'Huez Triathlon – but all went to plan today.
It was no surprise at all to see uber swimmer Richard Varga (SVK) out of the water first, with Long having three minutes to make up.
But equally things went to script on the bike as Long cut his way through the field. He'd overhauled Varga by halfway, though just eight seconds separated them coming out of T2.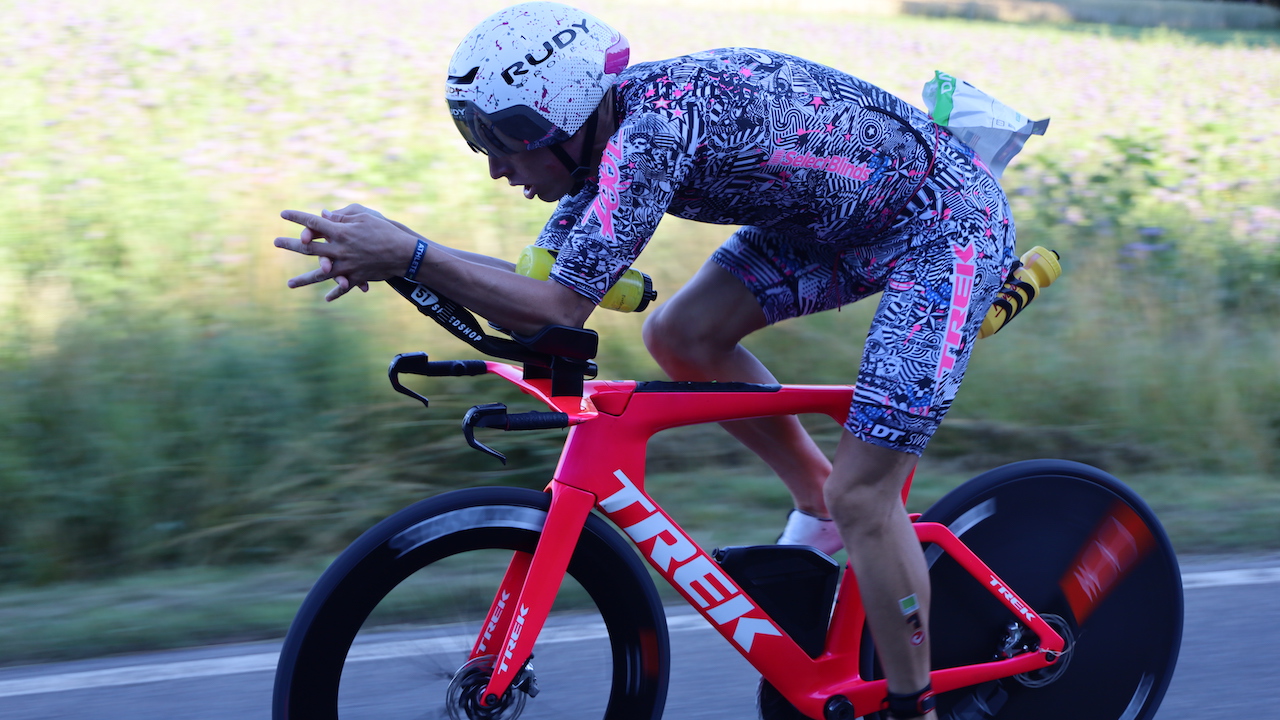 But 'Yo Yo Yo' put the issue to bed on the run. He was over two minutes ahead after 10km and had more than doubled that when the line came, winning in 3:37:55 with a 1:09:31 half marathon.
Varga kept on well for second, 4:10 back, with Fabian Reuter (GER) rounding out the podium a further 21 seconds back.
Pro Women – Simmonds back in style
It's been a long road back for Imogen Simmonds since she posted on Instagram six months ago: "Rather impromptu operation on the hip to repair a tear in the labrum and a femoroacetabular impingement, with a few weeks on crutches. Apparently there's a reason behind the biomechanical problems we've spent the last two years managing, it just took a while to pinpoint it."
She had been scheduled to return to a PRO startline at 70.3 Dresden a week ago but when that was cancelled it forced a late change of plans.
And it's fair to say that things worked out well in the end.
She was in a lead group of three on the swim alongside Caroline Pohle (GER) and Rosie Weston (GBR).
But Simmonds forged clear on the bike and coming into T2 she'd opened up a lead of nearly four minutes on Pohle.
And she was never threatened from that moment onwards, crossing the line in 4:07:38.
Sara Svensk (SWE) moved up to second, 2:20 back, while a best-of-the-day 1:17:10 half marathon from Aleksandra Jedrzejewska (POL) was enough to seal the final place on the podium and relegate Pohle to fourth.
IRONMAN 70.3 Gdynia Results
Sunday August 7, 2022 – 1.9km / 90km / 21.1km
Pro Men
1. Sam Long (USA) – 3:37:55
2. Richard Varga (SVK) – 3:42:05
3. Fabian Reuter (GER) – 3:42:26
4. Kacper Stepniak (POL) – 3:43:39
5. Jan Stratmann (GER) – 3:44:26
Pro Women
1. Imogen Simmonds (SUI) – 4:07:38
2. Sara Svensk (SWE) – 4:09:58
3. Aleksandra Jedrzejewska (POL) – 4:11:21
4. Caroline Pohle (GER) – 4:12:11
5. Maja Stage Nielsen (DEN) – 4:14:31