Great Britain's James Teagle took the win against a strong domestic field at IRONMAN 70.3 Staffordshire.
Finishing 14th at the IRONMAN 70.3 World Championships last year in St George, Teagle was the strong favourite, but was pushed all the way by second place finisher Josh Lewis, as Benjamin Goodfellow rounded out the podium in third.
Swim
Out of the water, it was no surprise to see Lewis at the front of the race, as he came into transition just trailing Britain's Thomas Davis, with the pair enjoying a lead of +1:30 to Teagle, as Will Crudgington was the only other athlete within two minutes of the front at +1:42.
Further back, William Draper, representing the Isle of Man was at +2:24, with Will Munday of Great Britain at +2:43 and Polish professional Michal Grabowski at +2:45, just ahead of Goodfellow as they headed out on to the bike.
Bike
By the 20km mark, Lewis had dropped Davis and opened up a gap of over a minute to his early companion, who by that point had been reeled in by a fast moving Teagle, with the PTO World #47 closing the gap to the front down to +1:11.
However, despite looking likely to close down on Lewis early on, Teagle quickly stopped making headway, and by the 57km mark, Lewis had managed to open up a gap of almost three and a half minutes to the chasers, with Davis holding strong alongside Teagle.
As they made their way into the latter stages of the bike, Davis started to falter and Teagle pushed on, narrowing the gap to +2:45 by the time they reached transition, with Goodfellow in third alongside Crudgington and Davis, with the two battles looking likely to be the ones for the win and the last spot on the podium.
Run
Early doors, Lewis was running well, but Teagle was closing fast, bringing the deficit to under a minute by the 5km mark and to just +0:30 by 9km, as behind Goodfellow and Crudgington managed to shake Davis in the battle for third.
At 11km, Teagle made the pass and moved into the lead for the first time in the race, quickly dropping Lewis as Goodfellow also managed to gap Crudgington to open up a little daylight between the pair in the race for the last spot on the podium.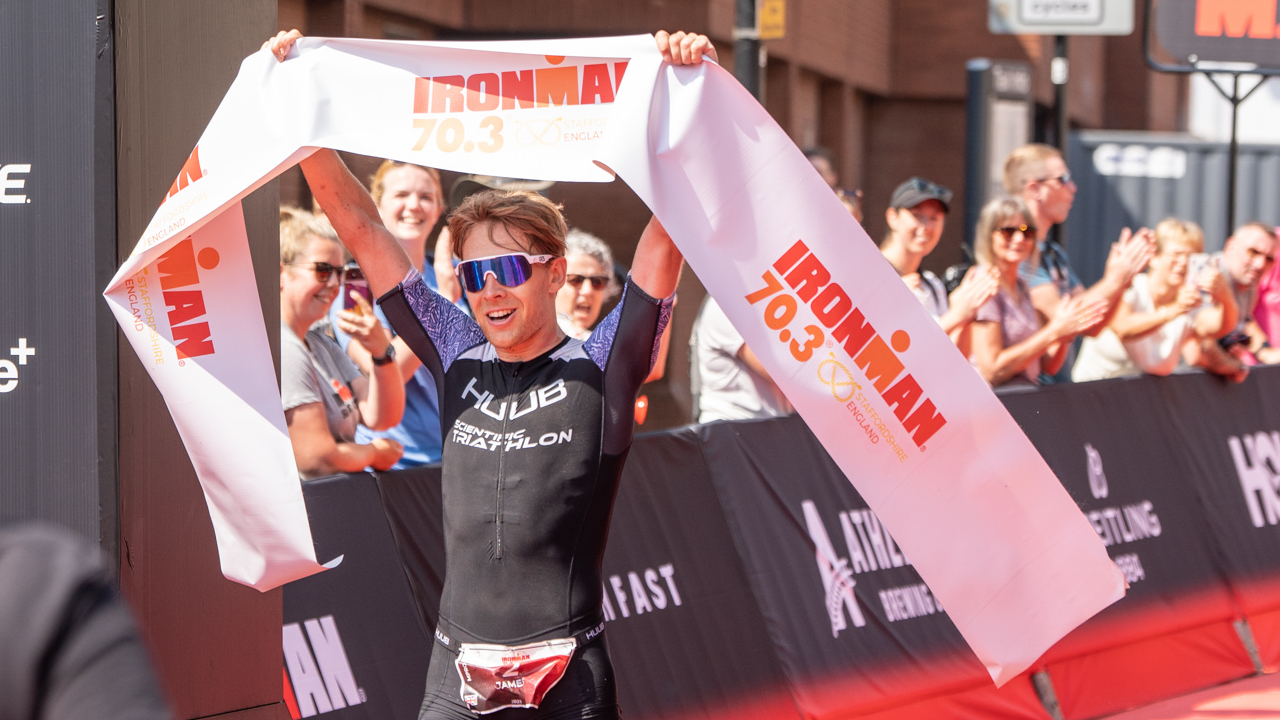 Over the final 5km, Teagle was unstoppable, building a buffer of +2:36 back to Lewis, who despite working so hard on the bike, kept things together to finish second and secure a spot to the IRONMAN 70.3 World Championships in Lahti, with Goodfellow staying away from a fast finishing Grabowski to take third.
IRONMAN 70.3 Staffordshire 2023 results
Sunday 11 June 2023 – 1.9km / 90km / 21.1k – (Pro Men only race)
Pro Men
1. James Teagle (GBR) – 3:53:54
2. Joshua Lewis (GBR) – 3:56:31
3. Benjamin Goodfellow (GBR) – 3:58:31
4. Michal Grabowski (POL) – 3:59:24
5. William Crudgington (GBR) – 3:59:46