'Cream rises to the top' is a statement which pretty much sums up Sunday's winners at IRONMAN 70.3 Switzerland 2021.
Daniela Ryf had won the last six editions of this event – and rarely loses any race – and so her topping the podium, as I highlighted, was never really going to be in doubt.
Rudy Von Berg has won plenty of races in his career, but unusually was still waiting for his first victory in 2021. Normal service was removed here.
Daniela Ryf in a different league
A 24:54 swim saw the five-time IRONMAN 70.3 world champion emerge from the water first, with Germany's Katharina Kruger just a few seconds back. Line Thams (DEN) and Julie Derron (SUI) followed less than 30 seconds down.
The Angry Bird did have the company of Thams for the first half of the ride, as they built a five-minute lead over Derron, before turning up the power and pulling clear to a four minute-buffer starting the run. With Derron now over eight minutes back in third place, 21km of running was unlikely to create much jeopardy in terms of where the win was heading!
While Thams soon faded (and would eventually finish fourth, more than 16 minutes down on the Swiss legend), Ryf could enjoy a 1:23 half marathon and a seven-minute winning margin. Derron made it a Swiss one-two while Anne Reischmann (GER) completed the podium.
Seven in a row for Ryf at 70.3 Switzerland, that's a sequence which you feel has more additions to come.
Back in the winners circle – Von Berg dominates
Following Sam Long's win on Saturday in Boulder, it was another strong performance from one of Team USA's squad heading to the Collins Cup later this month.
Tokyo 2020 Olympian Andrea Salvisberg led the way out of the water, 50 seconds clear of the chasers lead by Von Berg.
Rudy set off in chase of the Swiss athlete, making the catch within the first 25km on the bike and then riding in close contention for the middle third of the 90km, his experience showing. By T2 he was 1:46 clear of Salvsberg, and more than six minutes clear of the chasing five of Ruedi Wild (SUI), Gabor Faldum (HUN), Gregory Barnaby (ITA), Nils Frommhold (GER) and Malte Plappert (GER).
While Salvisberg faded all the way back to 14th with a 1:25:32 run, Von Berg was under no pressure at all. A 1:13:06 completed his race, a winning margin of more than six minutes and a welcome return to the top step of the podium. Expect him to be a factor once again at the IRONMAN 70.3 World Championship in Utah next month.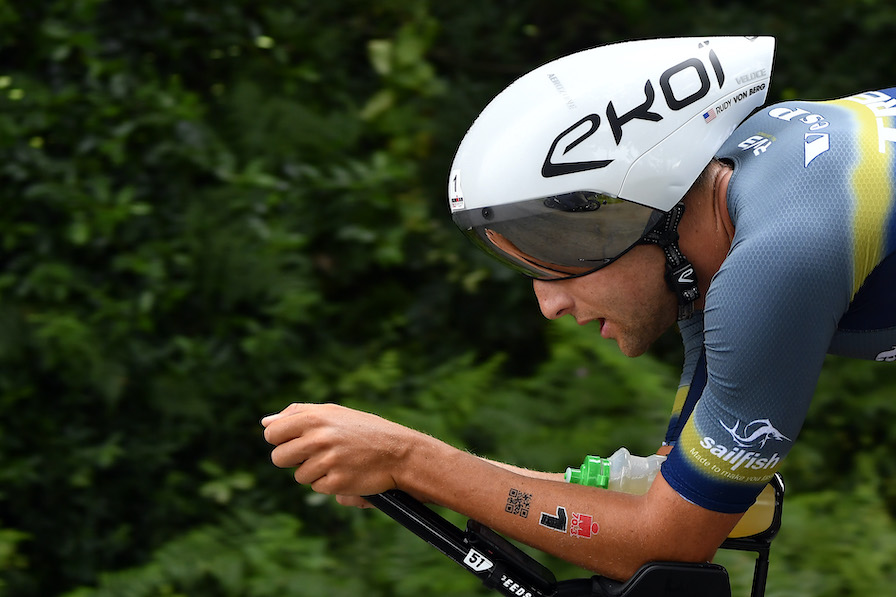 Twice a previous winner, Ruedi Wild took second, while a race-best run from Germany's Felix Hertschel allowed him to run through the field to complete the podium.
IRONMAN 70.3 Switzerland 2021 Results
Sunday August 8, 2021 – 1.9km / 90km / 21.1km
PRO MEN
Rodolphe Von Berg (USA) – 3:42:18
Ruedi Wild (SUI) – 3:48:20
Felix Hertschel (GER) – 3:49:16
Gregory Barnaby (ITA) – 3:49:47
Malte Plappert (GER) – 3:52:53
PRO WOMEN
Daniela Ryf (SUI) – 4:09:35
Julie Derron (SUI) – 4:16:38
Anne Reischmann (GER) – 4:21:16
Line Thams (DEN) – 4:25:48
Alexandra Tondeur (BEL) – 4:26:00