While the Women's Pro race at IRONMAN 70.3 St. George, Utah on Saturday didn't have the edge-of-the-seat drama of the men's, we shouldn't let that take away from the the fact that in Daniela Ryf, women's triathlon has a champion of incredible quality.
With five IRONMAN 70.3 World Championship titles on her impressive C.V. already, racing at the venue of this year's championship which will be held in September, she must be an early and very short-priced odds favourite to make that six later this season.
(Header image photo credit: Donald Miralle Photography)
The writing may well have been on the wall from the swim. Haley Chura (USA), set the pace, solo, through the opening 1.9k, her 23:51 time only 42 seconds shy of men's swim leader, Sam Appleton.
50 seconds back, a quality group of five followed in close order – Fenella Langridge (GBR), Pamella Oliveira (BRA), Jeanni Metzler (RSA), Ryf and Paula Findlay (CAN). The surprise absentee was Holly Lawrence, twice a winner on the St. George course, who was 1:37 back on the leader and solo in seventh place. Typically so strong in the water, it was not going to be her day, commenting after the race that she thinks she had an asthma attack.
Ryf, who is possibly the strongest rider we've ever seen in women's triathlon, was soon alone in second place and grinding the big gears on the uphill roads in Utah. She was in the lead within 10km, and would never be seen again, building a commanding margin of six minutes by T2.
After losing 2:17 in the water, Great Britain's Emma Pallant was having a strong day on the bike, building on her recent win at IRONMAN 70.3 Florida. Working her way through the field, Emma has always preferred the tougher / rolling courses to a TT-special, she was second on to the run, followed by a chasing trio of Skye Moench (USA), Metzler and Findlay.
Ryf wasn't the fastest runner on the day (1:22:16), but she didn't need to be, and never looked threatened in terms of victory. That honour went to Metzler (1:19:32), who moved passed Emma (while she was in a bathroom!), but the Brit also ran well (1:21:25), for a strong and well deserved final place on the podium.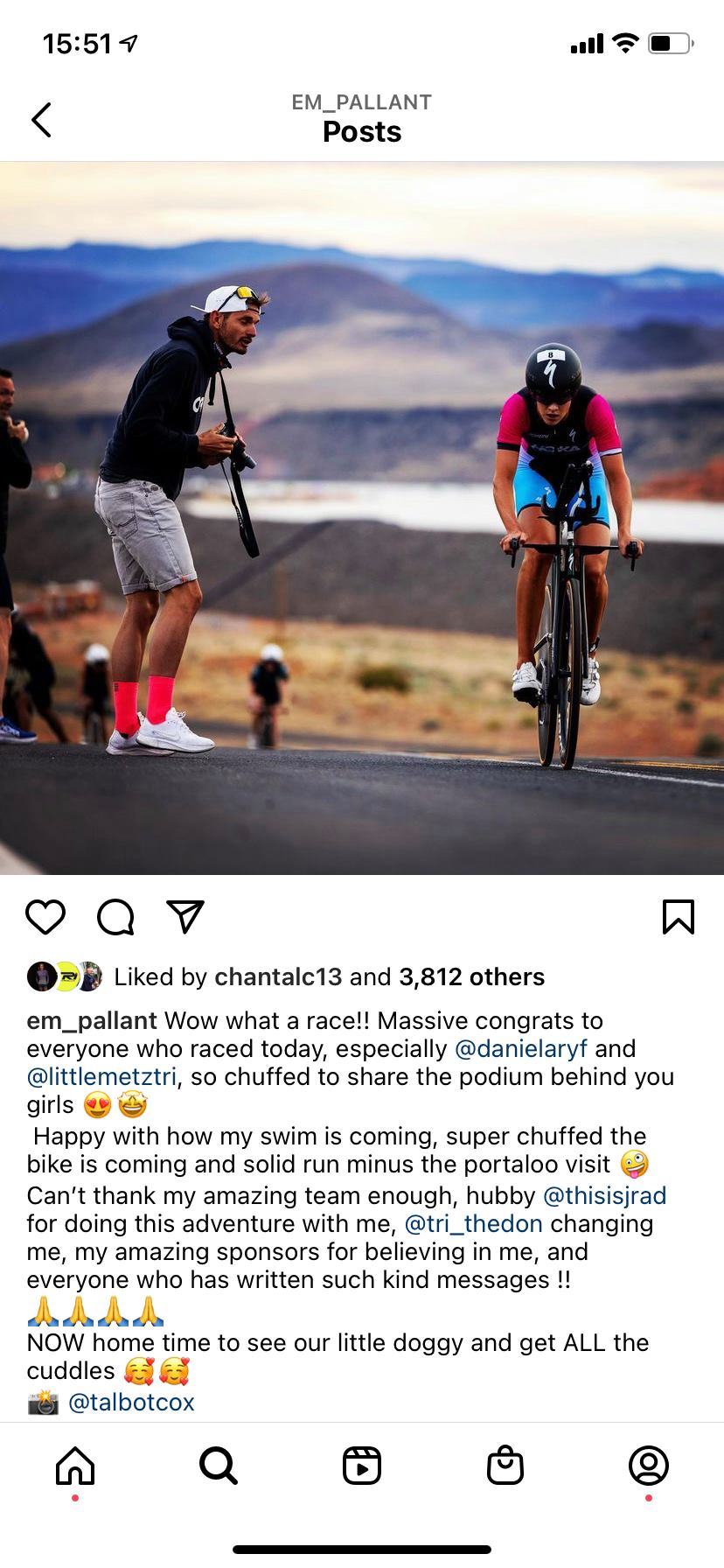 Sixth starting the run, Lawrence ended up in the same position, as 4th /5th / 6th were separated by less than a minute.
Daniela Ryf adds St. George to her win earlier this year in Dubai. How do you beat her? That's the question that everyone else needs to answer.
"It was really tough today, conditions were tough – warm, humid – the course is absolutely stunning but also brutal. That run is really killing your legs.

"It feels incredible – the field was super strong today and I knew I had to really show my best. I took quite a bit of risk, I went really hard on the bike and i didn't know if I could run after that. I'm super happy with my performance today."

Daniela Ryf
"This is one of the hardest run courses in a 70.3 that you'll ever get… but I absolutely love it. I've been training hard in the hills, but it still challenged me as I pushed hard on the bike. It wasn't easy, but I was able to push all day so I'm super stoked.

"Congratulations to Daniela Ryf – as you can see, the gap is still there so I still have some work to do so I'll keep working hard to close that gap."

Jeanni Metzler
"I got off the bike and I definitely felt my legs in the first bit of the run, it was so tough. It was a really tough race but I really enjoyed it. I can't say I saw much of the views, but I'm sure they were out there!"

Emma Pallant-Browne
IRONMAN 70.3 St. George, Utah – Saturday 1st May 2021
1.9km / 90km / 21.1km
PRO WOMEN
1st – Daniela Ryf (SUI) – 4:05:47
2nd – Jeanni Metzler (RSA) – 4:10:15
3rd – Emma Pallant-Browne (GBR) – 4:11:03
4th – Paula Findlay (CAN) – 4:14:07
5th – Skye Moench (USA) – 4:14:24
6th – Holly Lawrence (GBR) – 4:14:48
7th – Sophie Watts (USA) – 4:16:44
8th – Jackie Hering (USA) – 4:18:15
9th – Carrie Lester (USA) – 4:22:48
10th – Sarah Crowley (AUS) – 4:25:22
DNF – Fenella Langridge (GBR)