Great Britain's Emma Pallant-Browne continued her positive start to the season on Sunday, adding another victory to her C.V. with victory at IRONMAN 70.3 Florida. That follows success on (new home) soil recently at the South African Triathlon Championships. Sixth last week at IRONMAN 70.3 Texas, Belgium's Bart Aernouts stepped up five places, to top the men's standings, holding off a fast finishing Matt Hanson.
A minute down on Sonja Catano (USA) through the opening 1.9km swim at Lake Eva Park, a typically swift transition followed for Pallant-Browne who didn't take long to move to the front of the race early in the bike leg. Her 2:17:54 90km split saw her arrive at T2 solo, with a 1:43 buffer over Heather Jackson, the fastest rider of the day (2:17:26).
With her strongest discipline ahead, only the humidity would provide the biggest challenge to the Brit, who negotiated what has been an achilles heel for her in the past, to secure a clear win by more than four minutes. Lesley Smith (USA) set the fastest run time of the day, to leap-frog Jackson to the second step of the podium.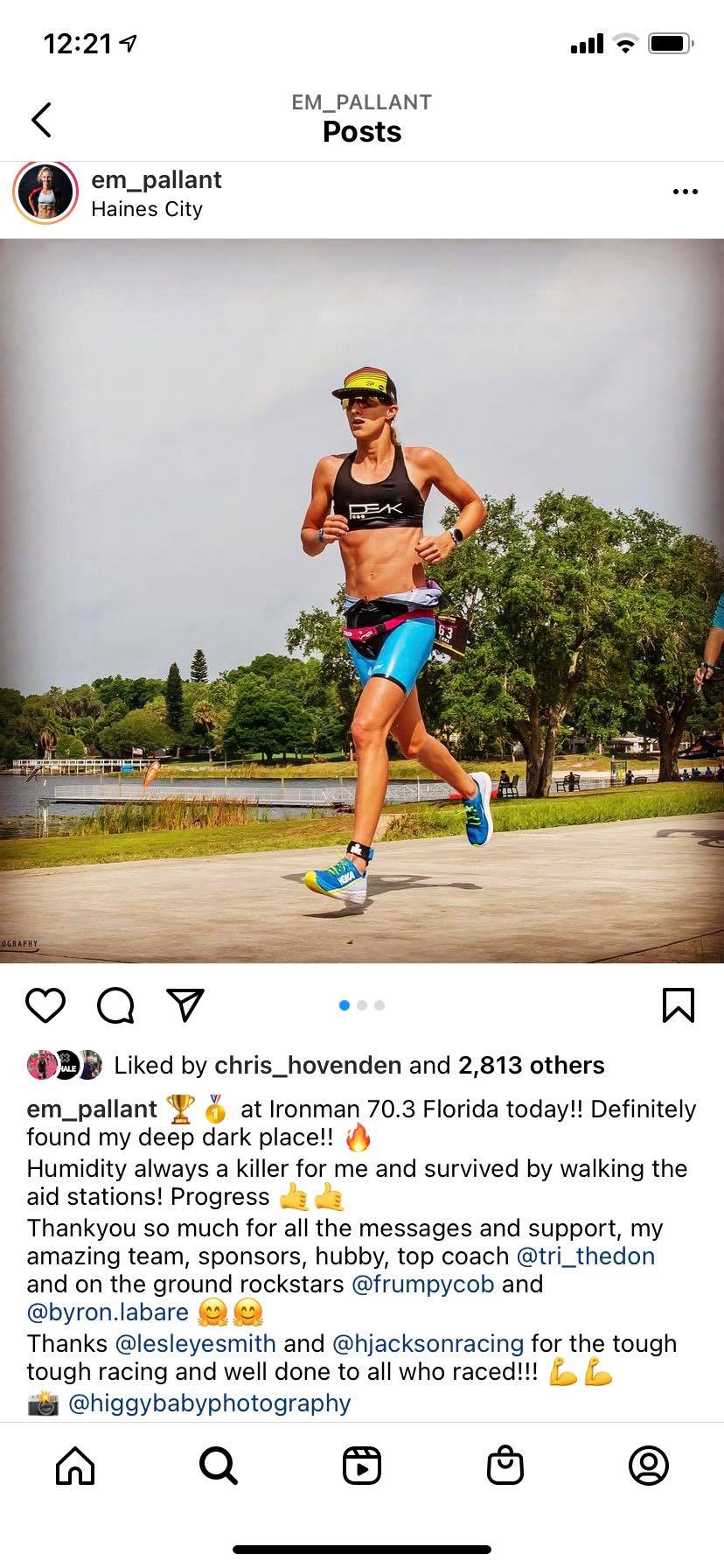 Aernouts never makes racing easy for himself, though because of that, exiting the water to find an almost three minute deficit to the leaders will not have come as a particular shock. That said, you don't really want to give up two minutes to cyclists of the calibre of Andreas Dreitz (GER ) – check out his bike HERE! – and more than a minute to Joe Skipper, who himself was well outside the top-10 when entering T1.
The bike saw fireworks, with Dreitz setting the fastest time (1:58:38) to reach transition alone, and with a three minute lead. Chasing him were Aernouts (1:59:47) and Skipper (2:00:43). Matt Hanson (USA) was more than six minutes back at this stage, but his run performances of later have been such that you cannot rule him out of contention.
Andreas held the lead until well into the final 5km of the run, before the Belgian finally made the catch and pass at around the 11-mile mark. Aernouts was himself being hunted down though, and the hunter was indeed Hanson. The American was able to finally catch Dreitz inside the final mile, but would eventually come up 38 seconds short of taking the win, despite his race-best run performance of 1:10:38, versus the 1:13:02 of the former World Duathlon Champion.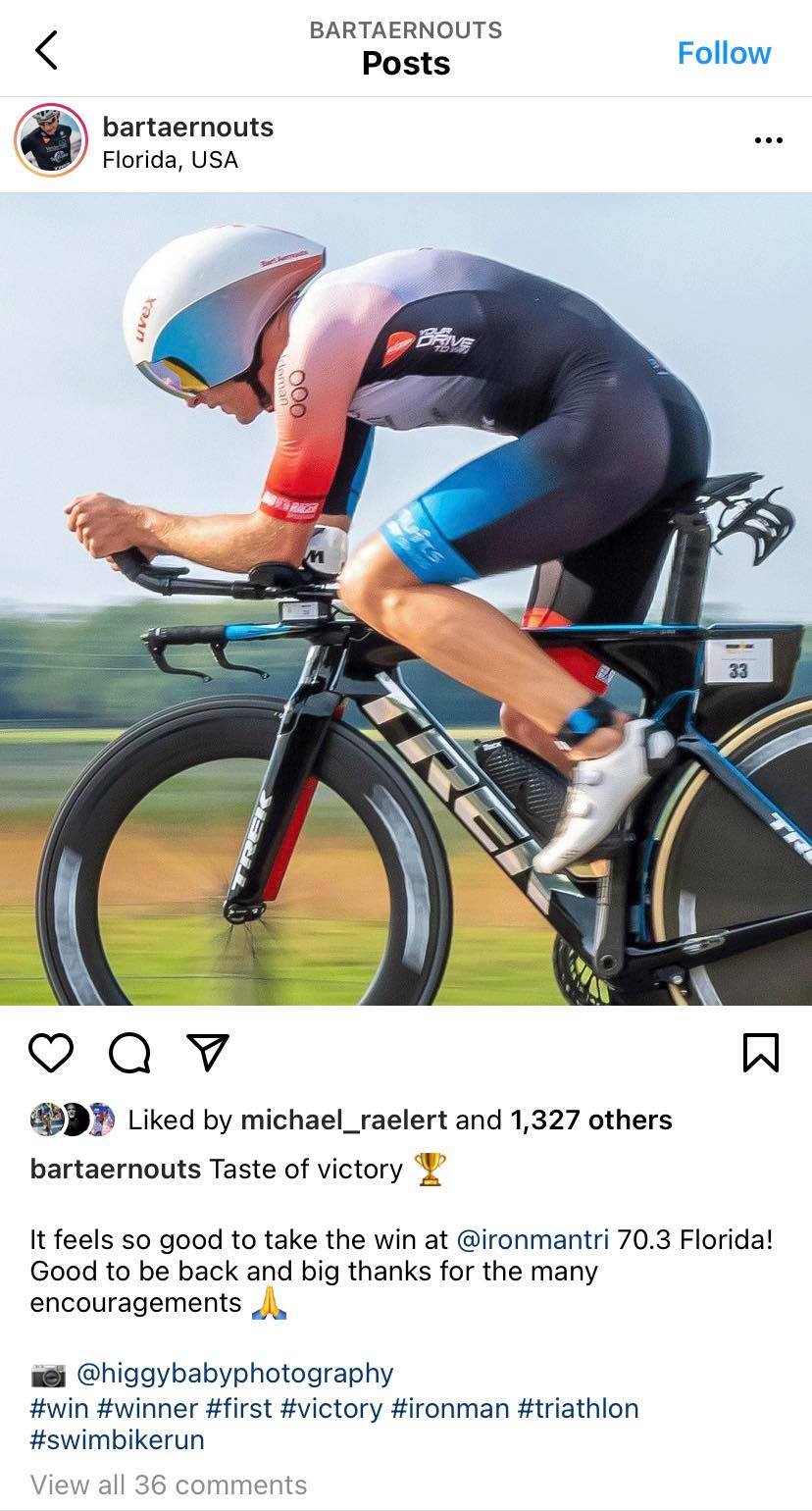 IRONMAN 70.3 Florida, Haines City – Sunday 18th April 2021
1.9km / 90km / 21.1km
PRO WOMEN
1st – Emma Pallant-Browne (GBR) – 4:18:48
2nd – Lesley Smith (USA) – 4:23:05
3rd – Heather Jackson (USA) – 4:27:42
4th – Mollie Hebda (USA) – 4:31:57
5th – Simone Mitchell (GBR) – 4:33:17
14th – Tara Grosvenor (GBR) – 4:58:17
PRO MEN
1st – Bart Aernouts (BEL) – 3:47:42
2nd – Matt Hanson (USA) – 3:48:20
3rd – Andreas Dreitz (GER) – 3:49:04
4th – Jackson Laundry (CAN) – 3:51:20
5th – Bradley Weiss (RSA) – 3:52:36
9th – Joe Skipper (GBR) – 3:58:54