A great field and close racing today at IRONMAN 70.3 Texas, Galveston.
At least, that's what the results sheets are indicating… and with little else to go on, don't be too harsh on me if some of what follows turns out to be #FakeNews…
---
PRO MEN
Second at the 2017 IRONMAN 70.3 World Championship in Chattanooga, the USA's Ben Kanute clocked 25 minutes on the nose to reach dry land alone after his 1.9km in the water. That gave him a 15 second buffer over a trio of chasers, all from the USA; Andre Kelly, Justin Metzler and Michael Arishata (a.k.a. 'the guy that tried swimming in his Vapourfly's at Super League Triathlon Malta').
Matt Hanson – second at the PTO 2020 Championship – was 53 seconds back on Kanute in 13th, while pre-race favourite Lionel Sanders was 15th (+1:37), with Andreas Dreitz (+1:46) and Joe Skipper (+1:47) in close order. At a little over 90-seconds deficit against a top-tier swimmer such as Kanute, represents a more than solid swim for Sanders on a course he said pre-race was all but designed for his strengths. Would it be game over? Also in a great position starting the bike, would Joe Skipper's pre-race confidence be justified?
Big moves were expected on two wheels – and that's what happened. Significantly back after the swim, Sam Long ("the strongest legs in triathlon' – love him or hate him, you are going to have to learn to notice him), set about making up even more swim deficit than Sanders and Co. He duly did that with the only sub-2 hour split of the day, which saw him lead in to T2 a group of six (including Sanders, Dreitz, Skipper, Kanute and Germany's Marcus Herbst), before three minutes elapsed to their chasers. That group included runners such as Matt Hanson and Bart Aernouts (BEL), but surely the winner would come from that leading six with, perhaps, a podium spot the best that they could hope for? 21 km to find out.
Fast-forward to halfway through the run, and Lionel Sanders was in a familiar position in front. Despite his efforts on the bike, the Big Unit, Sam Long was showing few ill-effects and was within 30 seconds of the Canadian, with Ben Kanute holding third place a further 40 seconds down. Matt Hanson was indeed leading the charge from behind, but was still more than two and a half minutes down on Sanders, and seemingly 'running out of Real Estate' as 'they' like to say in some quarters.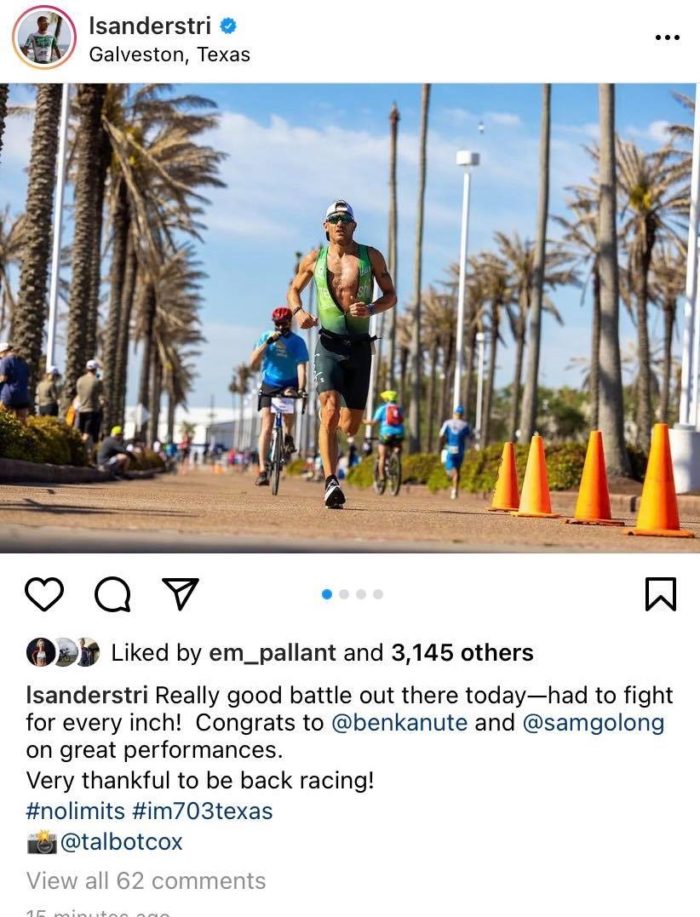 Sanders held strong at the front over the second half of the run too, clocking a 1:11:11 half marathon and a winning margin of just over a minute, from Ben Kanute who battled Sam Long all through the run, making the pass in the last half mile to reach the line just five seconds ahead of the fast-improving youngster. Neither could relax, with Matt Hanson's best of the day 1:09:16 leaving him just nine seconds short of a podium finish.
(At the time of writing, I'm not 100% sure what happened to Joe Skipper – seemingly a DNF at some point during the run, but I will update in due course with more information. [UPDATE] – you can get the full update on Joe's race from his Instagram post (CLICK HERE).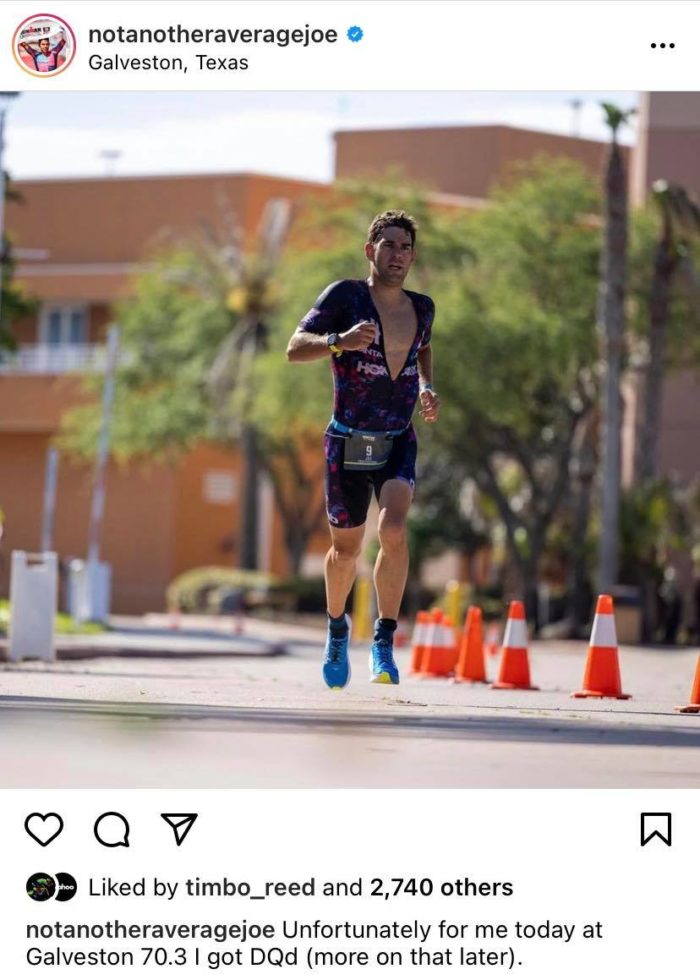 Big shout out to Talbot Cox (@TalbotCox) for the race image above – Talbot is the man behind many of the great YouTube videos you'll (I hope) have seen, including the Lionel Sanders Channel. Talbot, alongside Lionel, produced a great Race Week series countdown to the race (in which Joe also featured). Keep up the great work Talbot, much appreciated.
PRO WOMEN
Typically only ever seen beaten in the water by Great Britain's Lucy Charles-Barclay, in her absence, it was business as usual for Lauren Brandon (USA) over the 1.9km swim. Her 25:55 clocking less than a minute slower than men's pace-setter Kanute.
40 seconds back, Rachel Olson (USA) and Pamella Oliveria (BRA) were her closest chasers. Kimberley Morrison (winner of this event back in 2017) was eighth after the swim, two minutes down on Brandon, while 2019 IRONMAN Wales winner, Simone Mitchell, was a further two minutes back. They would both be looking to make significant gains on the bike – something both are quite capable of.
The Galveston course is a good one for the TT specialist – step forward Kim Morrison. From eighth in the swim, she soon found her way to the front of the race on her Scott Plasma, setting the fastest split (2:15:58) in the process and heading into T2 1:44 clear of Dede Griesbauer, with Skye Moench a further minute down.
Moench, who won the memorable IRONMAN European Championship, Frankfurt as Sarah True faded in the final stages in the heat ran a strong 1:20:43. While that gave up more than five minutes to the speedy feet of Jeanni Metzler (RSA), it was enough to take the win. Sophie Watts (USA) completed the podium, ahead of Heather Jackson and Morrison, who finished the day in fifth.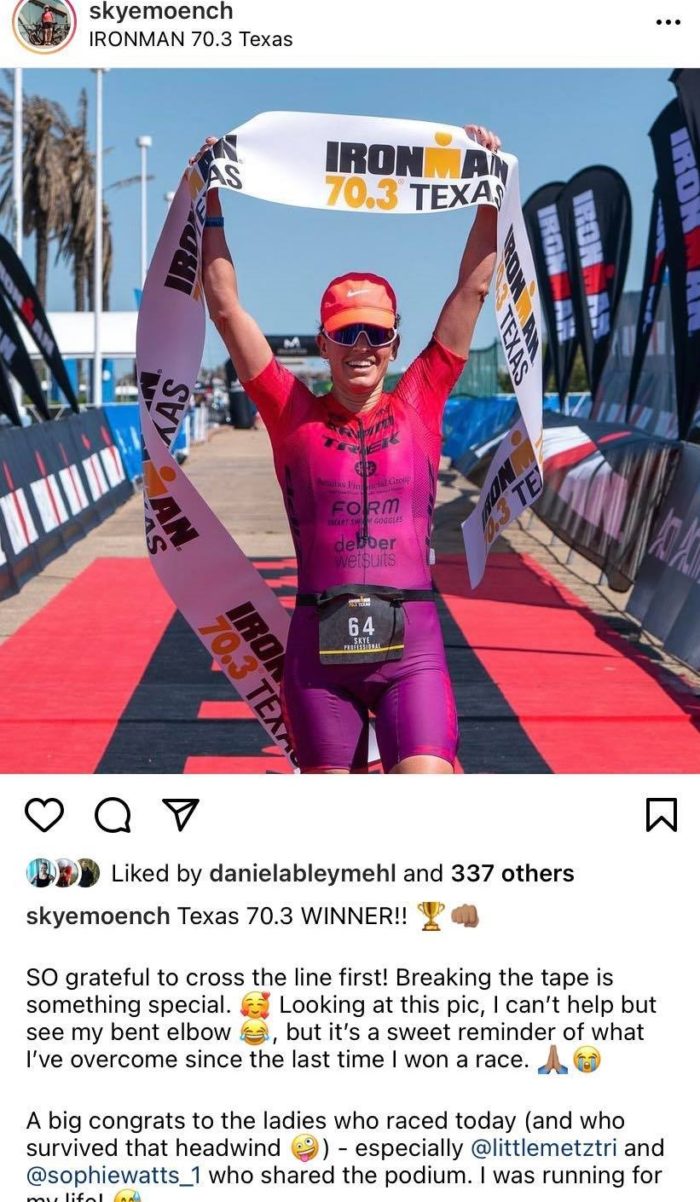 IRONMAN 70.3 Texas, Galveston – Sunday 11th April 2021
1.9km / 90km / 21.1km
PRO MEN
1st – Lionel Sanders (CAN) – 3:42:20
2nd – Ben Kanute (USA) – 3:43:21
3rd – Sam Long (USA) – 3:43:26
4th – Matt Hanson (USA) – 3:43:36
5th – Andreas Dreitz (GER) – 3:45:35
PRO WOMEN
1st – Skye Moench (USA) – 4:10:01
2nd – Jeanni Metzler (RSA) – 4:11:18
3rd – Sophie Watts (USA) – 4:13:00
4th – Heather Jackson (USA) – 4:15:06
5th – Kimberley Morrison (GBR) – 4:16:14
9th – Simone Mitchell (GBR) – 4:23:13