First Pro wins and course records for Mitchell and Guilloux in Tenby
It was all change at the ninth edition of IRONMAN Wales in Tenby on Sunday. While 2018 saw previous winners repeat, it was the new kids on the block this year. In the case of the new female champion – Great Britain's Simone Mitchell – that was also her first Pro start after a distinguished Age-Group career.
One thing that didn't change, was the monumental crowd support. Perhaps it did change… the best ever? This was my third year working on the event in Tenby as part of the announcing team (which is why this report is later than normal…!), but the many athletes I spoke to, including a lot of Tenby veterans, could talk of nothing but the staggering number of people and the energy all over the course. Tenby truly embraces IRONMAN Wales.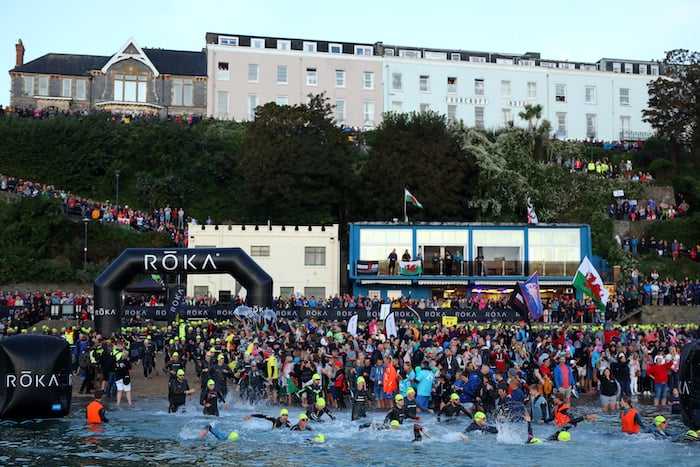 PRO WOMEN
Having spoken pre-race to Simone Mitchell (you can watch that HERE), she certainly had sights on a podium finish on Sunday – but the victory made that debut a very sweet one.
#IMWales
The race has started now for the pros. Great audience, great show – great race day! pic.twitter.com/GeLTqgYiWy

— IRONMANLive (@IRONMANLive) September 15, 2019
New Zealand's Rebecca Clarke lead the swim out as expected, almost five minutes clear of Manon Genêt (FRA), with Mitchell and Maggie Rusch (USA) just 30 seconds down (58:29) on the athlete who last week finished eighth at the IRONMAN 70.3 World Championship in Nice. Laura Siddall (1:01:36) and Lucy Gossage (1:03:55) had time to make up – but the previous results and experience to show that they were far from out of contention.
Once on the bike, Genêt, Mitchell, Siddall and Gossage were proving their class on two wheels, covering the first half of the course within three minutes of each other's splits – but it was Simone setting the pace and moved to the front, with Genêt in seconds and Siddall matching Mitchell's bike pace to hold third, just over three minutes behind.
What a moment. 🙏

Simone Mitchell is racing for the win at the #IMWales – but when a young spectator offers you a high five, you take it.

📺: https://t.co/xo0tukX89x pic.twitter.com/JN3pKFR4oG

— IRONMAN Triathlon (@IRONMANtri) September 15, 2019
By T2, Mitchell had ridden her way to a 5:25:21 split. That was inside the course record of 5:28:36 from Gossage last year, something Genêt also managed, while Siddall was only seven seconds short of that mark. The top three were riding well, and that meant that the two leaders were in the change tent together and started the run separated by just 28 seconds.
#IMWales – Top 5 women bike: @simone_mitch 6:28:41, @ManonGent +0:53, @lmsiddall +6:31, @lucygoss +14:31, Clarke +25:49 pic.twitter.com/ZPIVmKL5XN

— IRONMANLive (@IRONMANLive) September 15, 2019
Siddall was six minutes down heading out on to the marathon, but Lucy was now 15 minutes behind and it would need a very special run to get back into podium contention. She was still enjoying the race however!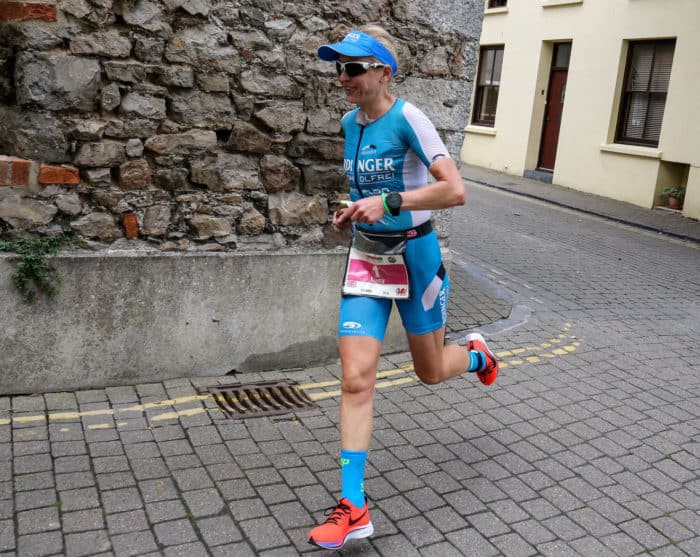 Mitchell hit a good stride and pace on the run – but Genêt was going even quicker, took the lead and at the halfway mark was approaching two minutes in front. That was as big as the lead ever got however – too much, too soon? Mitchell held her pace and started to claw back time, and with 10km to go, the pair were shoulder-to-shoulder. Those early efforts caught up with Genêt, Mitchell regained the lead pulled away and soon after the French athlete was walking, losing almost five minutes over just 4km.
Mitchell's metronome style continued to the finish with a 3:10:46 marathon, adding the overall course record (previously 9:45:09) and a winning margin of more than 10 minutes. Genêt kept moving (3:20:53 marathon) for second, with Laura Siddall (3:22:24) completing the podium. I spoke to Laura about her race on Sunday morning:
After three previous wins in Tenby – and a further eight IRONMAN titles, plus another three iron-distance wins – Lucy Gossage came home in fourth place to an emotional and joyous finish, summed up in her post-race comments below. What an athlete and ambassador she has been and, I'm sure, will continue to be.
Finally I feel I'm ready to let go. (Pics 2+4 @Sameoldsmiths) pic.twitter.com/uI0RnE0H51

— lucy gossage (@lucygoss) September 15, 2019
PRO MEN
When Dylan Mcneice (NZL) races, predicting the first swimmer out of the water is typically a simple task – and IRONMAN Wales would be no different**.
#IMWales
The top 5 men after the 3.8km swim: 
1 @dylanmcneice (NZL) 00:47:27
2 Alfaro, Peru (ESP) 00:50:49
3 @PhilipEGraves (GBR) 00:50:52
4 @RomGuillaume (FRA) 00:50:55
5 Niederreiter, Daniel (AUT) 00:51:57

— IRONMANLive (@IRONMANLive) September 15, 2019
(** Of note, Andrew Horsfall-Turner topped the swim time of Dylan from the AG wave, with a split of 47:03, versus the 47:27 of the Kiwi).
Mcniece rode strongly and held the lead well into the second half of the race. His swim advantage was being reduced by the pace of Philip Graves, Arnaud Guilloux (FRA) and Romain Guillaume (FRA), along with the known bikers of Joe Skipper and Bryan McCrystal (IRL), who were making light of their deficit at the swim exit and bridging up to the front of the race.
#IMWales @dylanmcneice is almost being caught at km 108.6:
​1 @dylanmcneice (NZL) 03:50:30
2 @PhilipEGraves (GBR) +00:39
3 @RomGuillaume (FRA) +00:41
4 @Noaveragejoe88 (GBR) +00:43
5 Guilloux, Arnaud (FRA) +00:50

— IRONMANLive (@IRONMANLive) September 15, 2019
Skipper was in fine form, soon hit the front of the race and took over the lead. Having had a running injury for much of the summer, we knew his bike legs were in great form based on some of the time trial efforts he has been putting in over that period out of triathlon racing. Having finished second for the past three years, Philip Graves went with his fellow Brit.
Around the 140km mark, Joe's chances of victory were hit hard with a puncture while leading the race. He would eventually lose around 30 minutes, leaving Graves with a narrow lead at the front of the race as they approached the final 20km.
#IMWales – Some crowd-supported-tailwind for @PhilipEGraves – he is in the lead with only a few kilometers to on the bike https://t.co/7SlcgQ0ZXF

— IRONMANLive (@IRONMANLive) September 15, 2019
Also moving quickly through the field was ex-Pro cyclist Stefan Schumacher, and that pairing would reach T2 together, just a minute clear of Arnaud Guilloux, who was having a great day so far. Swim leader Mcneice was still in contention just three minutes back, with Maximiliian Hammerle (AUT) fifth at the dismount, around seven minutes down on the leaders.
It didn't take long for Guilloux to make his move on the run course, moving into the lead and running away from the field in impressive style. He closed out a great race in 2:56:48, to set a new IRONMAN Wales course record and earn his first Pro victory.
https://www.facebook.com/IRONMANnow/videos/2426234997697321/
Despite coming into the race in his best fitness and slimmest for a long time, Graves was unable to continue his consistency in Tenby but battled on to finish the race in ninth, while Hammerle took second, 9:51 behind the French winner. Germany's Fabian Rahn, with a 2:53:02 marathon, was able to run through the field and pass Schumacher in the final couple of kilometres to complete the podium, ahead of Schumacher, after finishing ninth (2018) and 7th (2017).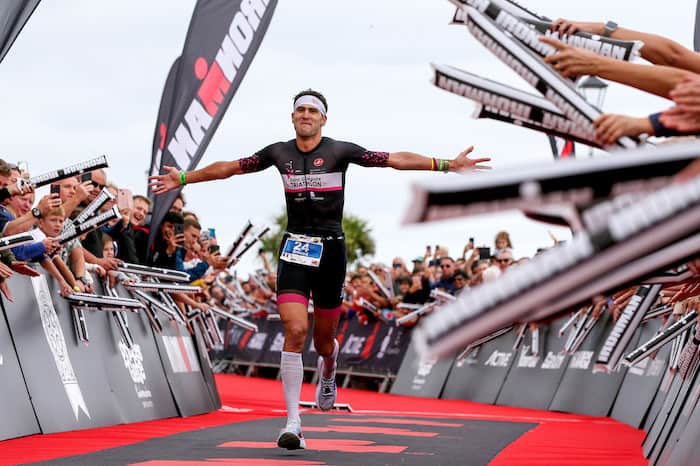 Despite his problems on the bike, Joe Skipper did continue and completed the run (in the fastest time of the day), crossing the line in sixth, though ultimately he was disqualified for littering on the course.
https://www.instagram.com/p/B2eqEGHBWV-/
With live coverage this year, course records, fantastic weather and perhaps the best crowds in the history of the race, the 10th anniversary of the race in 12 months time will surely be the most popular yet. If you want to be part of it, I would strongly recommend getting your entry in early.
IRONMAN Wales, Tenby – Sunday 15th September 2019
3.8km / 180km / 42.2km
PRO MEN
1st – Arnaud Guilloux (FRA) – 8:48:06
2nd – Maximillian Hammerle (AUT) – 8:57:58
3rd – Fabian Rahn (GER) – 9:00:09
4th – Stefen Schumacher (GER) – 9:02:11
5th – Dylan Mcneice (NZL) – 9:10:37
9th – Philip Graves (GBR) – 9:38:11
DQ – Joe Skipper (GBR)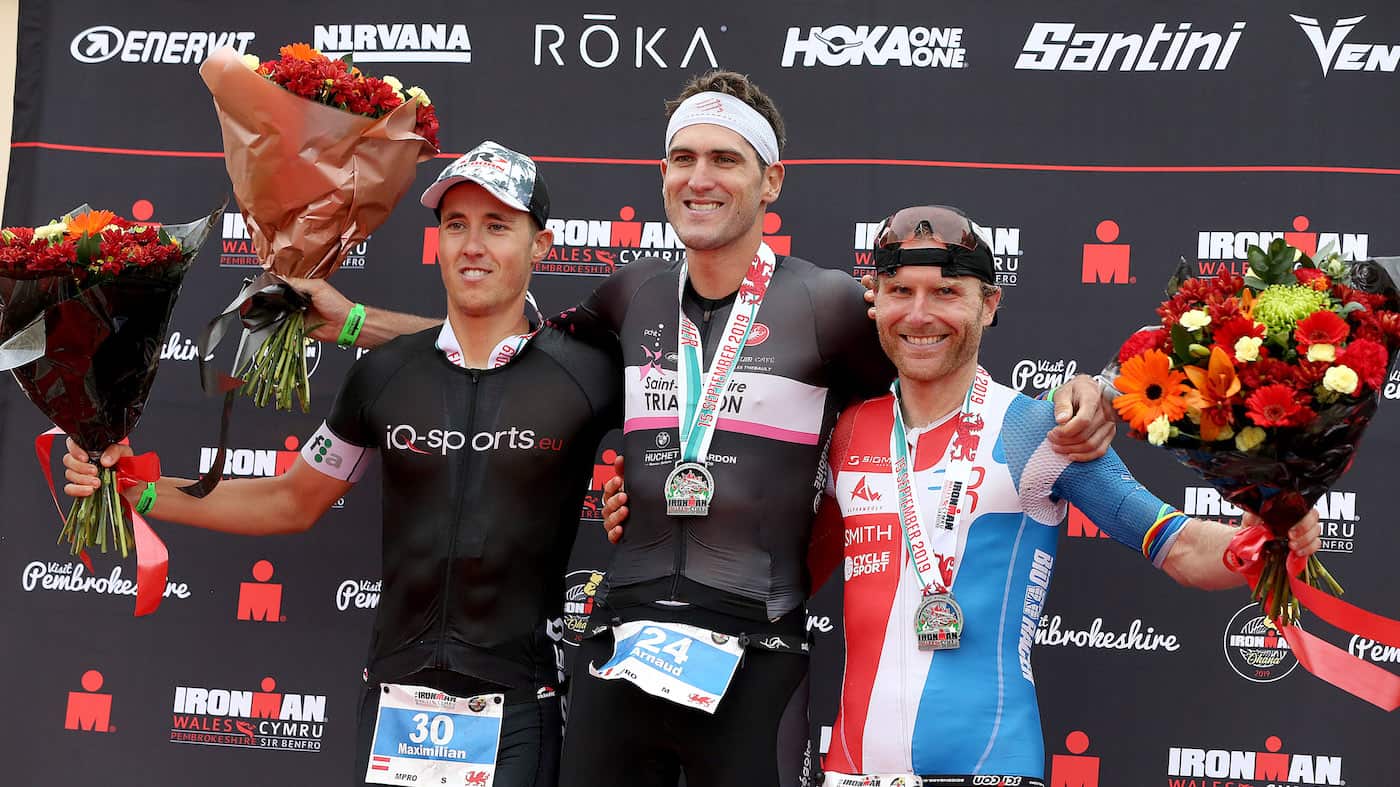 PRO WOMEN
1st – Simone Mitchell (GBR) – 9:41:52
2nd – Manon Genêt (FRA) – 9:52:28
3rd – Laura Siddall (GBR) – 9:59:36
4th – Lucy Gossage (GBR) – 10:06:20
5th – Sabrina Harpaintner (GER) – 10:50:48