Repeat winners at IRONMAN Wales 2018
The Captain and the Duracell Bunny take victory in Tenby
(Header photo credit: Huw Fairclough for IRONMAN)
Four years ago South Africa's Matt Trautman won IRONMAN Wales. Less than two and half years later he was in a hospital bed being told his career was all but over, having broken his back after being hit by a car during training. Spinal fusion surgery followed and his next task was being taught to walk again.
Did he ever think he would win another IRONMAN race? "Yes, that was the goal and motivation" was what he told the audience at Monday's Awards Ceremony in Tenby. His memories of IRONMAN Wales and in particular the support on the course was what had brought him back to what would prove to be a successful return, making him the first man to win IRONMAN Wales more than once.
https://www.instagram.com/p/BnhJ6mSllKQ/
The opening swim was lead out as expected by Matt Leeman and Philip Graves (48:48), with Trevor Wurtele (CAN) and Trautman next back to the beach 2:21 later. Former Pro cyclist, Gustavo RodrIguez Iglesias (ESP) was a further two and a half minutes back in fifth. Graves pulled clear of Leeman and Trautman left Wurtele – and soon enough, it was Graves and Trautman away and clear at the front of the race. There was little between them for the next 150km and they reach T2 together, 10 minutes clear of Iglesias with Henry Irvine (fourth at IRONMAN UK), now up to fourth, 14:13 down on the leading pair.
Top 5 men bike: @MattyTrautman 5:52:13, @PhilipEGraves 5:52:13, Rodriguez +10:19, @henryirvinetri +14:13, @VictorDelCorral +17:03 #IMWales – @MattyTrautman ran straight to the front in T2 pic.twitter.com/ssCQFw0vmh

— IRONMANLive (@IRONMANLive) September 9, 2018
The South African was swift through T2, started the run with a lead of 50 seconds and would not give up that position for the next 42.2km. Trautman gradually extended his lead over Graves to seven minutes over the first 30km and pretty much maintained that for the final lap of the course, which featured incredible crowd support.
Graves is no stranger to Tenby – second for the past two years – and it would be a case of 'bridesmaid, not the bride' again, though he can be content with another strong race and his fastest time on the course to date. Trautman clocked a 2:59:25 marathon, with Graves running 3:05:27. Look out for Phil's post-race report coming your way on this website very soon.
No stopping Goss the Boss
At the end of 2016 I did an interview with Lucy Gossage, entitled "don't write me off yet!". Lucy was about to return to part-time work as an oncologist, and in response to several people who assumed that she would no longer be as competitive as she had previously been, she said, "I think anyone that writes me off the Pro scene just yet is wrong to do that!"
She was quite correct. Lucy has won her last SIX IRONMAN starts. IRONMAN Wales was her 11th IRONMAN victory and her 12th in total over the distance, having also won Challenge Barcelona (which has since become IRONMAN Barcelona…), in 2012. Check out her full stats below.
Lucy's pre-race prep for Wales was a little different this year, featuring an intensive six hour exam on Wednesday, but she was in relaxed mood and these days races without any negative pressures and for the enjoyment that it provides her. That is a tough combination which makes her very difficult to beat.
Tomorrow might be the last time I get to start as number one.Triathlon has taken a bit of a back step with exams the last few months.But honestly, no matter how I perform tomorrow, I know I'll be smiling. Not many people ever get to wear number 1. I will be wearing it with pride. pic.twitter.com/0e2j6dmFOH

— lucy gossage (@lucygoss) September 8, 2018
Denmark's Camilla Pederesen – another athlete who has recovered from the brink of death – powered through the swim in 51:44, catching most of the male Pro athletes that started a minute ahead of her. Canadian duo Heather Wurtele and Melanie McQuaid were next, 4:15 back and then another four minutes passed before it was a British pairing of Gossage and Nikki Bartlett. A significant deficit, but an entirely expected one  – indeed, Lucy told me post-race that she was very happy with her swim (despite this comedy entry at the start of lap two!).
Even the best of the best have their "whoops" moments! VERY glad you recovered from this one yesterday @lucygoss Damn those sneaky Welsh waves! 🤪 pic.twitter.com/2nLQLK7f0L

— Dream Team TV (@dreamteam_tv) September 10, 2018
While McQuaid lost significant time over the first 90km, Pedersen, Wurtele, Gossage and Bartlett were moving at quite similar speeds. The British pair had made some ground, but were still in 3rd/4th and almost seven minutes behind Pedersen starting the second half of the ride. Over the next 30km the gaps started to fall, and by 125km the Brits had passed Wurtele and just two and a half minutes behind the Dane.
Lucy was able to maintain her efforts and by the time that T2 arrived was leading, alone, by 2:53 over Pedersen and 4:07 on Bartlett. Wurtele – who has been training for 70.3 races solely this year (11th last week at the World's) – lost time over the second half of the ride to be more than eight minutes back at T2.
Top 5 women bike: @lucygoss 6:35:26, @allimactri +2:54, @NikkiBartlett1 +4:08, @TeamWurtele +8:19, @racergirlmel +27:02 #IMWales pic.twitter.com/XAYCNRunyR

— IRONMANLive (@IRONMANLive) September 9, 2018
Quickly through T2, Lucy was already waving at the crowd for energy within the first 100 metres of the run course – there was surely no chance she was going to lose the lead today on a course and at a race that she loves. While Gossage pulled clear, Bartlett was having a real battle with Pedersen for second. She closed her T2 deficit, passed the Dane, then was overtaken again and having given everything, eventually had to tough it out over the closing miles to hold on to third place.
https://www.instagram.com/p/BnjiSrjFReE/
How special is IRONMAN Wales to Lucy Gossage? Well, not too many people say, post-race of any IRONMAN that "I just didn't want the run to end." (Images: Huw Fairclough for IRONMAN)
Today I just didn't want the run to end. Tenby, you were incredible. I was truly humbled by the roars of support. I hope I've bottled the memories. Thank you. https://t.co/vThFqElvgA

— lucy gossage (@lucygoss) September 9, 2018
And of course, there was the infamous #DoingALucy dancing on the red carpet. Will ever we get to see it again, if her 'retirement' plans are carried? That is in the hands of the Duracell Bunny. She is a class act in every regard – and should that prove to be her final Pro IRONMAN victory, what a way to go. Lucy has already achieved far more than she could possibly have imagined when she started her first Pro race back in 2011 and if the end of 2018 is to be the time to call time on this aspect of her life, she can do so with no regrets at all.
Just look what it means to be an @IRONMAN_Wales winner! 🙌

An incredible effort from @lucygoss once again.

Here's a full-round up of #IMWales 👉 https://t.co/Q7qSV3DD8V pic.twitter.com/5QEToI0GTw

— BBC Sport Wales (@BBCSportWales) September 9, 2018
Lucy Gossage Pro Iron-Distance Career
| Event | Year | Position |
| --- | --- | --- |
| Challenge Barcelona | 2011 | 3rd |
| Challenge Barcelona | 2012 | 1st |
| IRONMAN UK | 2013 | 1st |
| IRONMAN Wales | 2013 | 1st |
| IRONMAN South Africa | 2014 | 2nd |
| IRONMAN Lanzarote | 2014 | 1st |
| IRONMAN Hawaii | 2014 | 32nd |
| IRONMAN South Africa | 2015 | 2nd |
| IRONMAN UK | 2015 | 1st |
| IRONMAN Hawaii | 2015 | 10th |
| IRONMAN New Zealand | 2016 | 2nd |
| IRONMAN South Africa | 2016 | 3rd |
| IRONMAN UK | 2016 | 1st |
| IRONMAN Hawaii | 2016 | 9th |
| IRONMAN Lanzarote | 2017 | 3rd |
| IRONMAN UK | 2017 | 1st |
| IRONMAN Wales | 2017 | 1st |
| IRONMAN Italy (Emilia-Romagna) | 2017 | 1st |
| IRONMAN Lanzarote | 2018 | 1st |
| IRONMAN UK | 2018 | 1st |
| IRONMAN Wales | 2018 | 1st |
IRONMAN Wales, Tenby – Sunday 9th September 2018
3.8km / 180km / 42.2km
Pro Men
1st – Matt Trautman (RSA) – 8:53:21 (Accepted Kona slot for 2019)
2nd – Philip Graves (GBR) – 9:00:13
3rd – Gustavo RodrIguez Iglesias (ESP) – 9:09:50
4th – Victor Del Corral (ESP) – 9:16:56
5th – Diego Van Looy (BEL) – 9:17:40
6th – Henry Irvine (GBR) – 9:21:19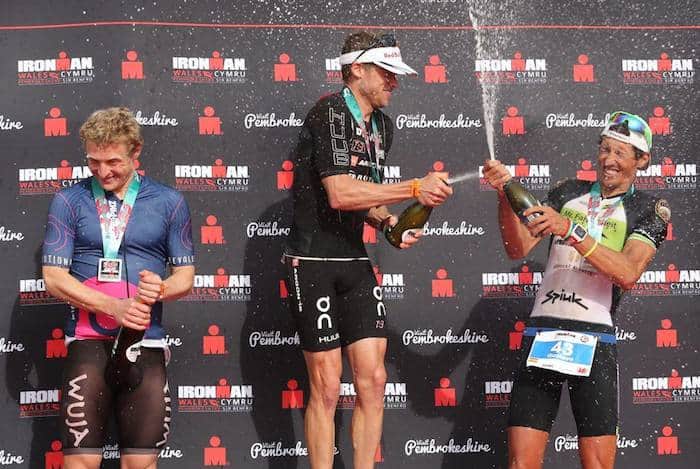 Pro Women
1st – Lucy Gossage (GBR) – 9:52:37
2nd – Camilla Pedersen (DEN) – 10:05:41 (Accepted Kona slot for 2019)
3rd – Nikki Bartlett (GBR) – 10:14:43
4th – Heather Wurtele (CAN) – 10:18:48
5th – Jenny Schulz (GER) – 10:32:46
6th – Melanie McQuaid (CAN) – 11:02:32