A fifth win for the Duracell Bunny on her last (?) appearance in Bolton
Joe Skipper finally tops the IRONMAN UK podium
After the never-ending (and often pointless…) pre-race chat about the enforced shortened bike course at IRONMAN UK this year, Sunday's race went ahead – and despite initial fears, the swim went ahead too.
With 2018 being, perhaps, the final professional racing season of Lucy Gossage, her domination of this event continued and a fifth IRONMAN UK title brings her M-Dot full distance victory total to ten and career iron-distance wins now up to 11 from 20 starts. Eight of the others were podium finishes too. Now that is consistency.
For Joe Skipper, it's taken a little longer to reach the top step in bolton. Third in 2013, second in 2014 and third in 2015, just two weeks after his fourth place at Challenge Roth he took his first M-Dot full-distance victory after four second places and two third places previously. That adds to iron-distance wins at Challenge Weymouth 2014 and Challenge Almere (ETU Championships) in 2017.
Pro Women
In truth, as a 'race' the women's Pro race was disappointing, with just three starters. Lucy – who went on to have a great day – was not going to let that impact her however, and lead the non-wetsuit swim (for Pro athletes) out in 1:02:26, a lead of 2:26 over Angela Naeth (CAN) and a whopping 26:48 over Camilla Lindholm Borg (SWE).
Lucy would lead the whole way – reaching T2 with a 10:25 advantage over Naeth and 37 minutes on Lindholm Borg. The Brit looked in total control through the run, very comfortable and unchallenged. A 3:14:26 marathon resulted in a huge margin of victory as Naeth faded to a 3:46:33 marathon, while the Swede ran 3:10:45 to take second place. Lucy's winning margin was almost 33 minutes – and she could almost certainly have gone quicker if needed.
Three athletes or 33, Lucy would have been tough to beat today.
[UPDATE – It is worth adding that Angela was diagnosed in early 2018 with Lyme Disease, a tick-borne illness which can cause – amongst a range of symptoms – unexplained muscle pain and fatigue. It can be very difficult to detect, with blood tests often returning 'negative' results during the early stages of the disease. Angela has written bout this is her blog (HERE), with further advice and information in a follow up piece (HERE) as Lyme often goes undetected and awareness of it is relatively low. The sooner it is identified, the better the prognosis and treatment available.]
Thanks to Paul Burton for highlighting this to us via Twitter, and continued best wishes to Angela in her recovery.
You IRONMAN UK 2018 Female Champion! Lucy Gossage 🍾🍾 #IMUK pic.twitter.com/STXqW1IqsG

— Ironman UK (@Ironman_UK) July 15, 2018
"It's just a fun race and it's really special racing it. The support is incredible. I'm quite sad because I don't think I'll be back next year, but it makes it all the more special. I thought Angela [Naeth] was catching me on the bike, so I was biking really hard. It's a tough run course but the support was absolutely amazing. I've done a lot of IRONMAN racing but Bolton will always be very special to me," said Lucy.
Pro Men
Balasz Csoke (HUN) was a clear leader in the swim, his 50:57 giving him a lead of more than two minutes over Simon Cochrane (NZL) with Will Clarke emerging another 30 seconds later. Fraser Cartmell – who like Jo Skipper raced Challenge Roth two weeks ago – clocked 55:59, with Joe 56:35. 2016 IRONMAN Wales winner Marc Deulsen (GER) was on the shoulder of Cartmell and would soon begin to make his mark.
After second place last year, this was a huge target for Will Clarke, but it would not prove to be his day:
Rode 8mins off course on the bike, then stuck in my biggest gear, GI problems on the run. Tried my very best to get around but after 25k running just couldn't do it anymore. Devastated. Greggs and holiday now and then I'll figure out what's next. 😩

— Will Clarke (@Theclarke) July 15, 2018
By the midpoint of the bike Deulsen had worked his way to the front, with former champion Fraser Cartmell in second, Joe Skipper third and Ironman debutant, Henry Irvine, in fourth. They were 2:30, 4:30 and 5:30 back respectively, still very much in contention.
By T2, Deulsen still held the lead, now 3:22 ahead of Skipper with Irvine just over five minutes behind. Cartmell had lost a lot of time of that section – 12:30 was his deficit starting the run – though whether there was any mechanical issue contributing to that, we are not sure as at the time of writing.
Our lead Pro Athlete, Marc Duelsen, has nearly completed the bike course and is about to take on the run course! #IMUK pic.twitter.com/gtQBpZyg76

— Ironman UK (@Ironman_UK) July 15, 2018
Joe has typically been very consistent (and quick) during his Ironman marathons, and just over three minutes was not a huge lead for the German. Deulsen was running strongly, giving up very little over the first 10km, but eventually the pressure started to tell and Skipper started to close, eventually making the decisive pass at around the 25km mark. There would be no fight back or drama – like Lucy in the women's race, Joe was looking strong and in no danger of hitting the wall today.
A 2:45:56 marathon split brought him home to a seven minute victory margin over the German, while behind, Fabian Rahn (GER) ran well (2:53:17) to stop Henry Irvine securing a podium finish on his first attempt at the distance.
And we have our first pro male home! Congratulations to Joe Skipper 🍾 #IMUK pic.twitter.com/HlOT4sRApb

— Ironman UK (@Ironman_UK) July 15, 2018
"When I got off the bike and I was three minutes down, I felt today was going to be my day. The support I had was absolutely incredible, I was blown away. I felt good, I didn't think I was going to blow up and I was doing the maths in my head. I was pretty sure I had [the win] with three miles to go."
More to come from Bolton tomorrow, including a look at some very impressive Age-Group performances.
IRONMAN UK, Bolton – Sunday 15th July 2018
2.4miles / 95miles / 42.2miles (Bike course shortened due to fires)
PRO MEN
1st – Joe Skipper (GBR) – 7:55:34
2nd – Marc Deulsen (GER) – 8:02:54
3rd – Fabian Rahn (GER) – 8:18:23
4th – Henry Irvine (GBR) – 8:19:51
5th – Simon Cochrane (NZL) – 8:21:17
6th – Erik Simon-Strijk (NED) – 8:28:03
7th – Fraser Cartmell (GBR) – 8:36:24
8th – Domenico Passuello (ITA) – 8:46:19
9th – Eneko Elosegi (ESP) – 9:02:47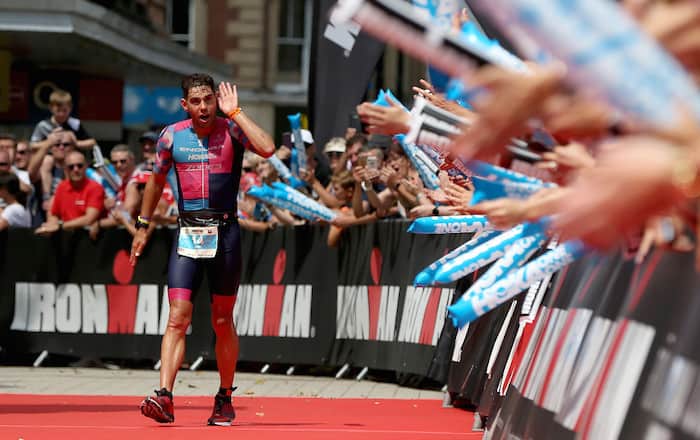 PRO WOMEN
1st – Lucy Gossage (GBR) – 8:51:18
2nd – Camilla Lindholm Borg (SWE) – 9:24:16
3rd – Angela Naeth (CAN) – 9:33:49