Steve McKenna won a thrilling men's race while Kylie Simpson overcame a huge deficit in the swim to take the women's crown at IRONMAN Australia in Port Macquarie, New South Wales.
Both Aussies were racing the event for the first time, having enjoyed plenty of success elsewhere in their home country.
McKenna had stood on the podium at his last four races, including a win at IRONMAN 70.3 Melbourne while Simpson won both IRONMAN Cairns and IRONMAN Western Australia in 2021.
Pro Men – Down to the wire
The swim set the tone for a close race as Sam Appleton was first out of the water, with Nick Kastelein and McKenna hot on his heels in what was an all-Aussie affair throughout.
Just 10 seconds covered the top three out of the water, with Mitch Kibby and defending champion Tim Van Berkel a further three minutes behind.
And on the bike, three became four as Van Berkel got into the mix.
He reached T2 just two seconds ahead of Kibby, with McKenna and Appleton just behind in third and fourth.
The top four swapped positions on numerous occasions across the bike leg, making their way along the new course which took in country roads west of Port Macquarie.
The pattern continued on the run as Van Berkel and McKenna ran together for the first 30km at which point they were joined by Appleton.
But finally the break came with less than 10km remaining as McKenna pushed clear and that proved enough to take the win – and he crossed the line doing a 'robot' celebration!
Van Berkel kept on well for second as Appleton faded back to third and Kibby was a distant fourth.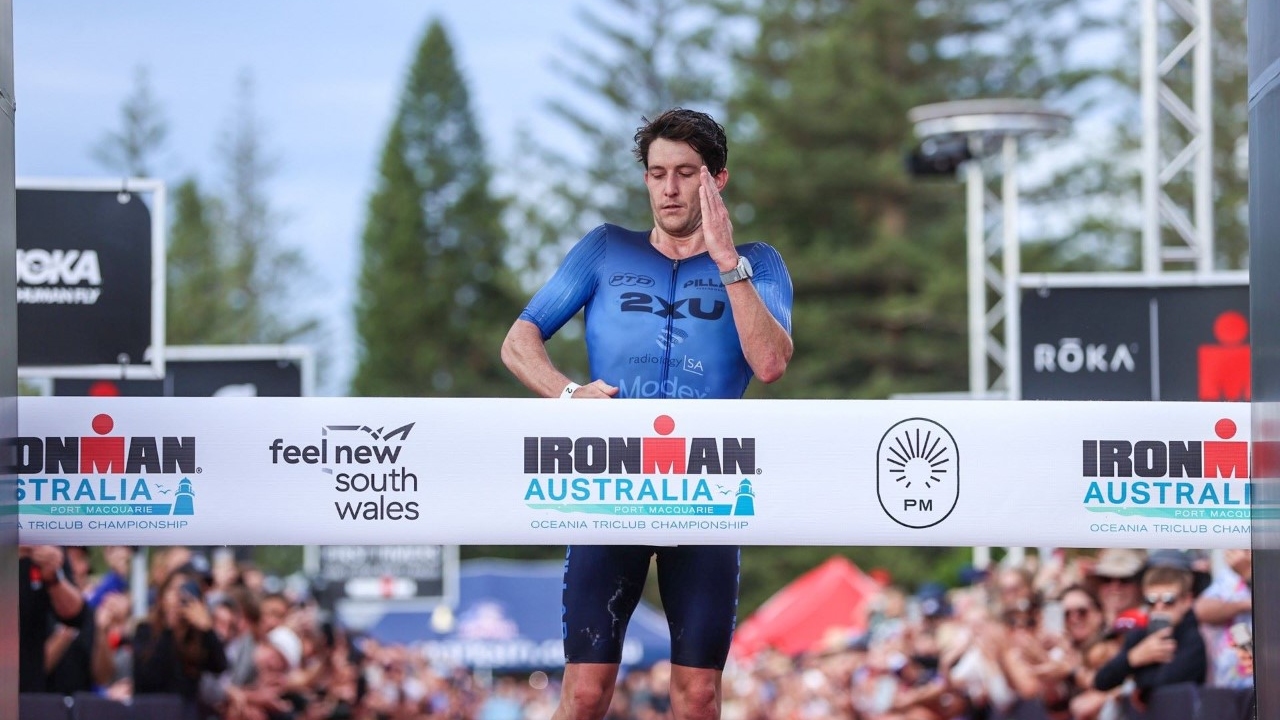 'Awesome' day for McKenna
The win was McKenna's first IRONMAN title, and meant a lot to the Adelaide-based athlete.
"Everything in my life is triathlon now so it's amazing, you go through dark patches in these races and you think I'm going to work for free today and not get paid but it was awesome," said McKenna.
"Everything goes in to trying to win an IRONMAN, it's so much more prestigious than winning other races and I've never done it, I've come second three times, it's amazing.
"In the swim Sam Appleton took it out really hard and it was a battle, it was real hard to hold on and then on the bike it was pretty comfortable but towards the end those hills really started hurting and the run it was just shoulder to shoulder with someone the whole time, I just thought the only way I can win this is I make a break with 10km to go and I did and I just held on."
Pro Women – Simpson turns it around
The women's race could hardly have been more contrasting.
Radka Kahlefeldt kicked clear early in the swim, opening up a lead which she continued to extend.
Kahlefeldt exited the water in 52:47, more than five minutes clear of Fiona Moriarty and Meredith Hill. Chino Iwabuchi was four minutes behind third, while eventual winner Simpson was seventh and last at that point, over 13 minutes down.
But it was turned on its head on the bike – Kahlefeldt leading for much of the 180km before being caught in the final 30km by Simpson who then powered away and had an advantage of 4:32 starting the run.
And she never looked in danger from that point – her lead tipped over 10 minutes shortly after halfway and she crossed the line in 9:16:45 after a 3:14 marathon, eight minutes to the good.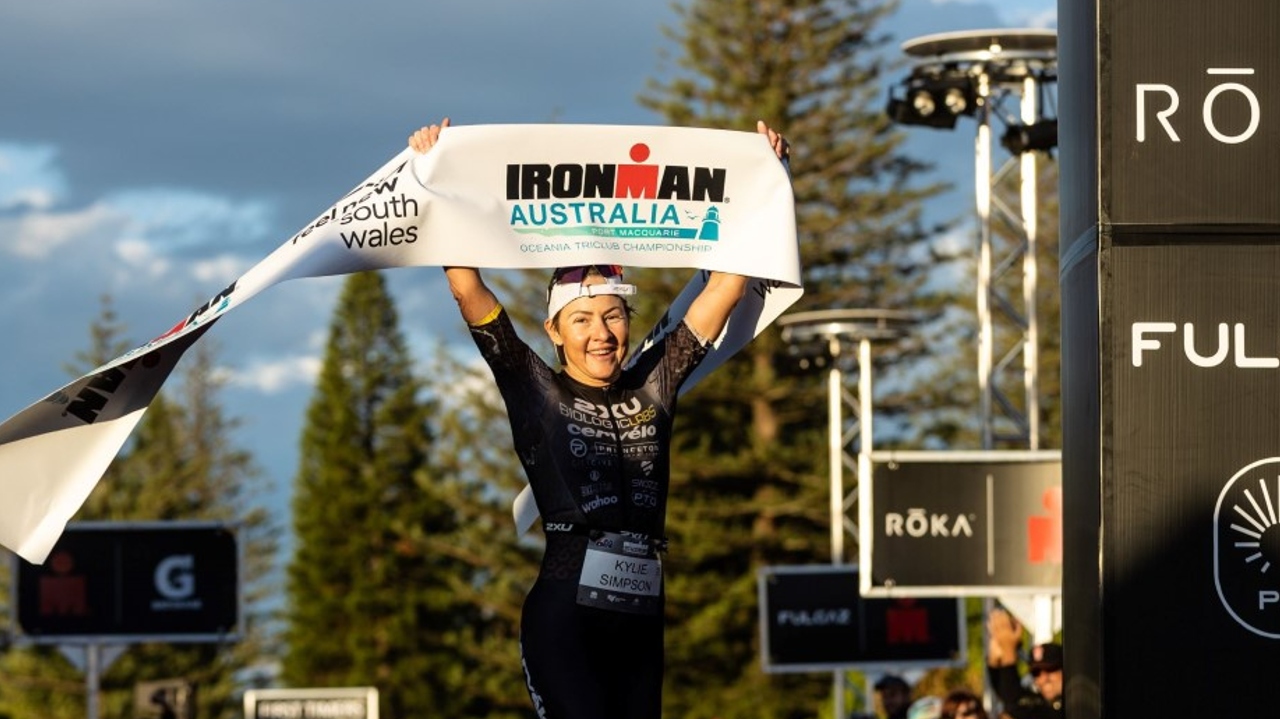 'Confidence booster'
Afterwards she said: "It's been a great day, the swim I came out of the water 13 minutes down, so that's actually good for me.
"I wanted to take control of the race so getting on the bike I executed that fairly well and managed to come off the bike first, and then the run, that is definitely a strength of mine but it was tough today, that wind was picking up and I managed to hold on for the win.
"With the bike course being two laps out on the new part and then one lap of the old course I could see where the girls were and I could see I was putting time into them and I caught three of four girls pretty quickly so that was a bit of a confidence booster."
On completing the IRONMAN Australia / Western Australia / Cairns treble, she added: "It's pretty special to now have all three under my belt.
"I haven't raced Port Macquarie before and everyone was telling me about the crowd support so I was excited to experience that today and it was great, there wasn't really any part of the course that you didn't have someone there."
IRONMAN Australia 2023 Results
Port Macquarie – Sunday 7 May 2022 – 3.8km / 180km / 42.2km
PRO Men
1. Steve McKenna (AUS) – 8:06:16
2. Tim Van Berkel (AUS) – 8:07:02
3. Sam Appleton (AUS) – 8:08:46
4. Mitch Kibby (AUS) – 8:20:43
5. Benjamin Hill (AUS) – 8:31:35
PRO WOMEN
1. Kylie Simpson (AUS) – 9:16:45
2. Radka Kahlefeldt (AUS) – 9:25:04
3. Fiona Moriarty (IRL) – 9:33:15
4. Meredith Hill (AUS) – 9:39:57
5. Chino Iwabuchi (JPN) – 9:56:18