Jodie Robertson and Chris Leiferman claimed excellent home victories at IRONMAN Coeur d'Alene 2023 on Sunday.
Robertson was too strong for Haley Chura in the women's pro race while Leiferman got the better of Matthew Marquardt in the men's event.
Pro Women – Robertson just too good
There were zero surprises early as Chura yet again showcased her swim power to blast out to a lead of more than five minutes from Canada's Melanie McQuaid. Eventual winner Robertson was just under nine minutes off the pace at this stage.
Chura continued to lead throughout the bike leg, but behind her Robertson was starting to make a move in the second half of that 180km leg. By the time the field headed towards T2 the gap at the front was down to less than two minutes and Robertson was now in second place. She had also clocked the day's best bike leg in 4:54:36.
Onto the run and Robertson continued to gain ground on Chura, before she eventually made the pass well over seven hours into proceedings. Jodie was looking extremely fresh and Haley had no answer to her injection of pace.
Robertson's pace saw her build a lead of almost 12 minutes by the time they entered the final six miles, with Chura a distant second and McQuaid in the final podium position.
Robertson continued to dominate in the closing stages to come home just under 10 minutes in front of Chura, with McQuaid claiming third at the age of 50.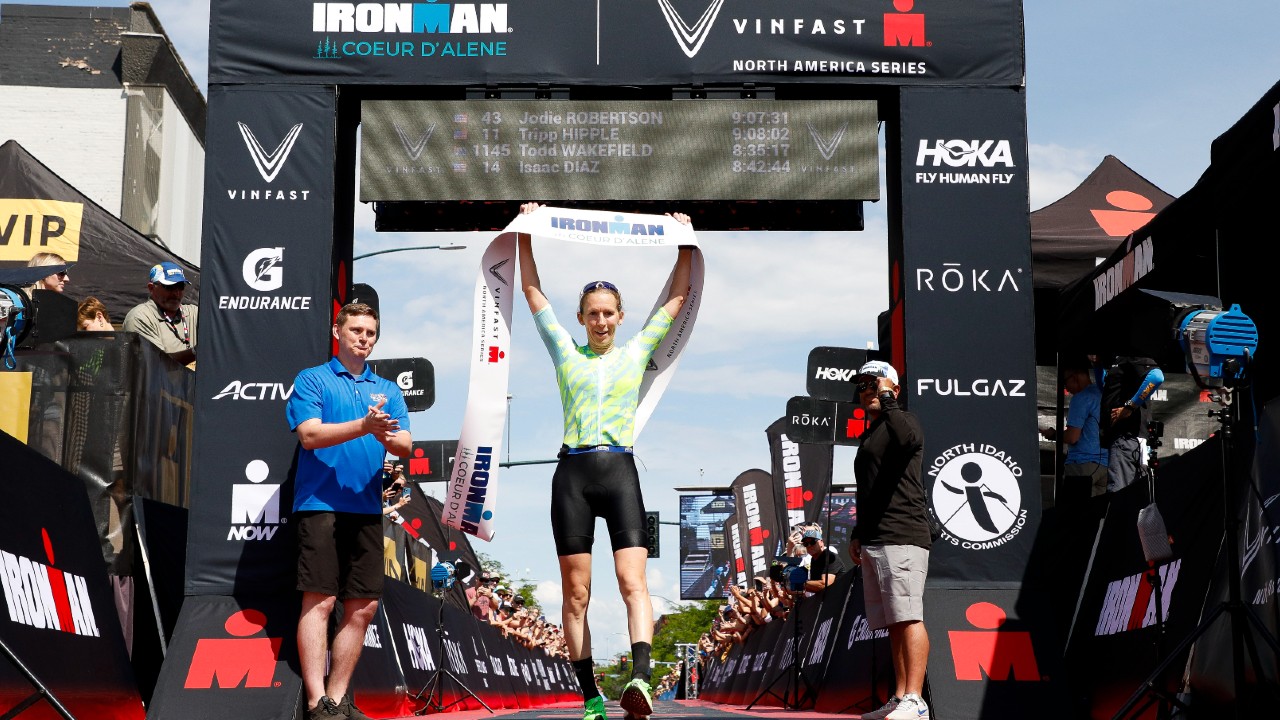 Pro Men – Leiferman holds off Marquardt
Our eventual race winner Leiferman exited the water just under five minutes off the pace – as the field was headed early by American Dylan Gillespie. Justin Metzler was right with Gillespie and eventual runner-up Marquardt was in third. The race's star attraction Sam Long was, like Leiferman, around five minutes back.
Long was making good headway in cutting back that deficit early in the bike leg when his day started to go badly wrong. A flat tyre saw him make multiple stops for repair work before he eventually decided to call it a day at around halfway during the bike leg.
Up front it was Metzler who took up the lead on the bike while Leiferman was gradually making his move from further back in the field. The 36-year-old poured it on to cut through his rivals and take the lead by the 90km mark.
Marquardt though was not going away on a day where he was never out of the picture, and he actually beat Leiferman into T2 by a small margin, but he would not be able to match his fellow American on the run.
Leiferman took control early on the run and built what would prove to be a winning lead. Marquardt though plugged on gamely though he could never get back to within less than two minutes of Leiferman.
Metzler, clearly emotional after fighting back from a significant achilles injury which was diagnosed in late 2022, went through the pain barrier here to claim a valiant third. He also crucially claimed a spot at the IRONMAN World Championship in Nice in September.
IRONMAN Coeur d'Alene 2023 results
Sunday 25 June 2023 – 3.8km / 180km / 42.2km
Pro Men
1. Chris Leiferman (USA) – 8:06:42
2. Matthew Marquardt (USA) – 8:08:49
3. Justin Metzler (USA) – 8:23:29
4. Adam Feigh (USA) – 8:24:31
5. Dylan Gillespie (USA) – 8:32:48
Pro Women
1. Jodie Robertson (USA) – 9:07:31
2. Haley Chura (USA) – 9:17:29
3. Melanie McQuaid (CAN) – 9:22:03
4. Ai Ueda (JPN) – 9:23:58
5. Jen Annett (CAN) – 9:25:00