DNF ends Don's hopes of return to the IRONMAN World Champs in 2018
Lots of British Age-Group success… and a 'World Record' performance too in Denmark
(Photo credits – KMD IRONMAN Denmark Facebook page)
It was always going to be a monumental challenge – and that he was even in the mix to try and make it happen, is truly remarkable. After ninth place recently at IRONMAN Hamburg, Great Britain's Tim Don was racing at IRONMAN Copenhagen on Sunday in a final attempt to secure the necessary qualification points to race in Kona in October. After what he has been through since his broken neck, it was always going to be a tough ask – but for much of the race, it did look quite possible.
With Jesper Svensson (SWE) at the front of the race out of the swim, with 60km of the bike complete he was leading the race by two minutes, but by 110km, last years IRONMAN Kalmar winner, Clemente Alonso-Mckernan (ESP) had caught him. The Spanish athlete would lead into T2, four minutes up on Denmark's Kristian Høgenhaug, before Don, Boris Stein (GER), Giulio Molinari (ITA) and eventual winner, Cyril Viennot, arrived another minute and a half later.
Alonso-Mckernan was out of the race within the first 10km, and halfway through the run Don was just 1:10 back from Viennot, but soon after started to struggle and lose lots of time, before eventually having to stop around the 26km mark. Viennot continued on to win, just dipping under the eight hour mark.
https://www.instagram.com/p/BmsW4bPFtmZ/
Record breaker?
The women's event in Copenhagen was Age-Group only (just as Saturday's race a couple of hundred miles away in Kalmar was Age-Group only for men), and saw home athlete Christina Svejstrup win by almost 37 minutes. Her time? Nine hours EXACTLY.
That, to the best of my knowledge, is the fastest female Age-Group iron-distance performance ever. At the same race last year, Christina clocked 9:17:06, the third fastest time of the day overall, only beaten my the leading two Pro athletes, Michelle Vesterby and Corinne Abraham.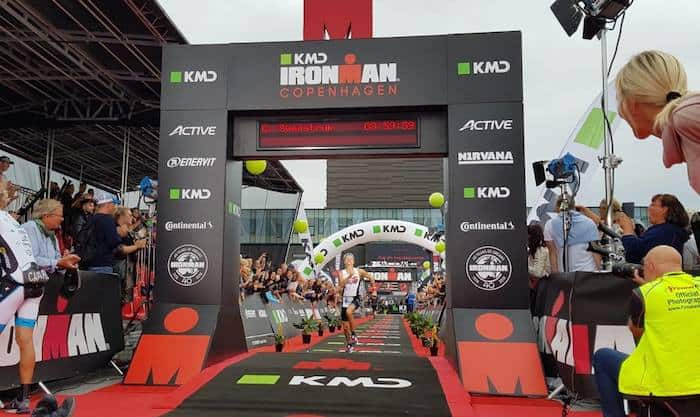 IRONMAN Copenhagen, Denmark – Sunday 19th August 2018
3.8km / 180km / 42.2km
PRO MEN
1st – Cyril Viennot (FRA) – 7:59:52
2nd – Kristian Høgenhaug (DEN) – 8:02:53
3rd – Giulio Molinari (ITA) – 8:05:56
4th – Boris Stein (GER) – 8:10:51
5th – Markus Fachbach (GER) – 8:14:32
6th – Johann Ackermann (GER) – 8:15:47
7th – Chris Fischer (DEN) – 8:19:14
8th – Nick Baldwin (SEY) – 8:22:18
9th – Sebastian Norberg (SWE) – 8:25:25
10th – Kristian Hindkjaer (DEN) – 8:36:45
British Age-Group Podiums
2nd – Jennifer Stewart (GBR) – 9:48:35 – F35-39 (4th fastest Female Age-Group athlete)
2nd – Sophie Whitworth (GBR) – 10:21:23 – F45-49
1st – Gill Fullen (GBR) – 10:09:11 – F50-54 (10th fastest Female Age-Group athlete)
1st – Glenda Goscomb (GBR) – 12:45:00 – F60-64
3rd – Patricia Darling (GBR) – 13:43:06 – F60-64
2nd – Pat Atwood (GBR) – 15:33:43 – F65-69
@fullen_gill crosses the line @KMDIronmanCPH to win her AG, Coach @Tripezza said it turned out to be an unexpected tough day at the office but lessons was learnt !

Next stop Kona ! pic.twitter.com/BdDFyfrVBS

— ETE Racing (@ETEracing) August 20, 2018
3rd – Alan Semple (GBR) – 8:52:07 – M35-39 (8th fastest Male Age-Group athlete)
2nd – Charles Pennington (GBR) – 8:53:34 – M40-44
3rd – Graham Tye (GBR) – 10:21:09 – M55-59
3rd – Terrence Murphy (GBR) – 14:23:00 – M70-74
Looking strong @c_e_pennington! Keep pushing @teamfreespeed @thesweatexperts pic.twitter.com/gbPBaRZ9S1

— Helen Murray (@Helenfmurray) August 19, 2018
In addition to the above, Emma Wardell (10:02:16) finished fourth in the F30-34 division, making her the second fastest GB Age-Group Female and 7th fastest overall Female Age-Group athlete.
Also, Gary Laybourne (8:55:44) went Sub-9 in his first IRONMAN, finishing fifth in the M35-39 category, the third fastest overall Brit and 13th fastest overall Male Age-Group athlete.
First Ironman: 8hr 55
Second Ironman: Kona!
World Championships – BRING IT ON!!!!! 🌎 🏊‍♂️ 🏃‍♂️
Amazing GB performances as ever at major champs 🙌
@prescateamwear @GRNsportswear @SLHTriathlon @tri247 @UkTriChat pic.twitter.com/Q1wdss9HKt

— Gary Laybourne (@GaryLaybourne) August 20, 2018