Record-breaking win for Joe Skipper at IRONMAN Florida
"No Average Joe" is his tagline, and Great Britain's Joe Skipper lived up to that self-appointed title on Saturday at IRONMAN Florida.
It was a brilliant performance in what proved to be an exceptionally tough race, with Skipper and Ben Hoffman (USA) pushing each other to stunning marathons on top of some very speedy cycling. Perhaps more remarkable, just three weeks ago they finished sixth (Joe) and fourth (Ben) at the IRONMAN World Championship in Hawaii. Their efforts secured their place on the start-list for that race next October. Qualification ticked in the first week of November? That'll do nicely.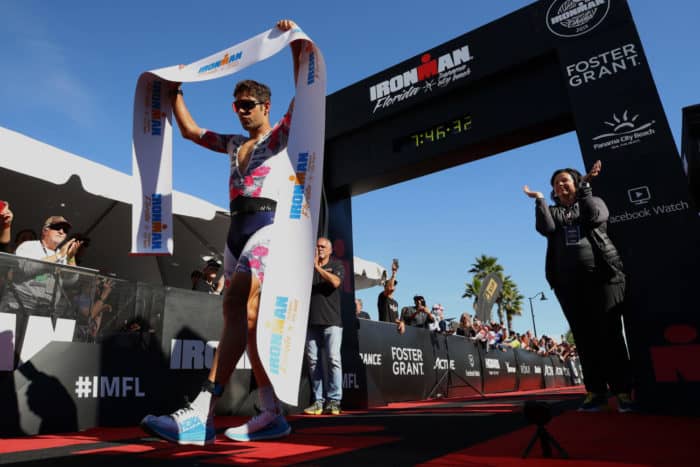 The day started with Alexander Berggren (SWE) leading the way through the opening (wetsuit-legal), two-lap 3.8km swim. His 48:20 left him 30 seconds clear of Ben Hoffman who had Peru Alfaro (ESP) and Johann Ackermann (GER) for company.
Alexander Berggren is the first out of the water and into T1️⃣ at #IMFL.

Presented by IRONMAN Kazakhstan. pic.twitter.com/IS8vXyj0t6

— IRONMAN Triathlon (@IRONMANtri) November 2, 2019
Former winner and expected to lead for much of the day, Andrew Starykowicz, clocked 50:45 and would be ready to board his Orbea and ride through the field from ninth, while Joe Skipper (53:51) and Sam Proctor (54:22) were 19th and 21st respectively. Proctor's day would end early, illness picked up during the week leaving him empty and with no final flourish to his debut Pro season.
Andrew Starykowicz is off to a strong start on the bike. 🚴‍♂️💪 #IMFL

Presented by @Visit_PCB pic.twitter.com/xUXLB57WV7

— IRONMAN Triathlon (@IRONMANtri) November 2, 2019
It didn't take too long for the race to take shape at the pointy end, with Starykowicz joined by Jesper Svensson (SWE) and Ackermann pulling clear at the front. The temperatures were cool, and for much of the race Hoffman was riding with a loose black cycling jacket on. No such addiitons for Joe Skipper, who was close to matching the pace of Starykowicz and riding through the field.
Hello, Joe Skipper! 😂 #IMFL

Presented by IRONMAN Kazakhstan. pic.twitter.com/yb18pZOpQR

— IRONMAN Triathlon (@IRONMANtri) November 2, 2019
Svensson was working hard at the front, doing his share of the work along with the expected pace of Starykowicz. Ackermann couldn't stay with that duo, and as the 180km progressed, the American was able to pull clear and he rolled into transition with a fantastic split of 4:01:19. Svensson held strong to reach T2 in second via a 4:09:18, while Joe Skipper had moved up 17 places with a career-best ride of 4:05:51. Starting the run, Svensson was 5:52 down on Starykowicz with the Brit 9:31 down. A trio of Hoffman, Justin Mezler (USA) and Denis Chevrot (FRA)  followed at 14:30. It was all to play for.
13 miles in Starykowicz was running well. Regarded sterotypically as an uber-biker, he's won and podiumed at far too many races to be overlooked as a runner. He may not break too many run course records, but he's tough – and a halfway split of 1:24:30 was solid. Unfortunately for him, Skipper (1:18:10) and Hoffman (1:15:46) were both running fast as judged by the clock, and looking incredible. Not a hint of Ironman shuffle, they were attacking every step. With 13 miles to go, Skipper was 3:11 down and Hoffman 5:40 back.
🚨 NEW LEADER 🚨

Joe Skipper passes Andrew Starykowicz to take the lead.

📺: https://t.co/U1IDtcvYmr#IMFL pic.twitter.com/WBaQbN3ZCp

— IRONMAN Triathlon (@IRONMANtri) November 2, 2019
Skipper's relentless pace and chasing eventually allowed him to take the lead at midway through mile 18 and less than two miles later, Starykowicz would also have to watch Hoffman push him into second place – and out of the Kona qualifying slots. Joe was giving everything and looking brilliant… and still Hoffman was taking a few seconds per mile from his lead, that gap closing to as little as 90 seconds at one point.
Laser focused on the top spot. This is going to be one close finish!

📺: https://t.co/U1IDtcvYmr#IMFL pic.twitter.com/lamGwiFto4

— IRONMAN Triathlon (@IRONMANtri) November 2, 2019
Into the final two miles and Joe was able to dig again, raising his pace even further and running as if this was an all-out parkrun time trial. It was amazing to watch, and reflected in the final finish times. Joe took the win in a big new course record time of 7:46:28, clocking a 2:39:01 marathon. Hoffman crossed the line exactly two minutes later – with a run course record of 2:36:09.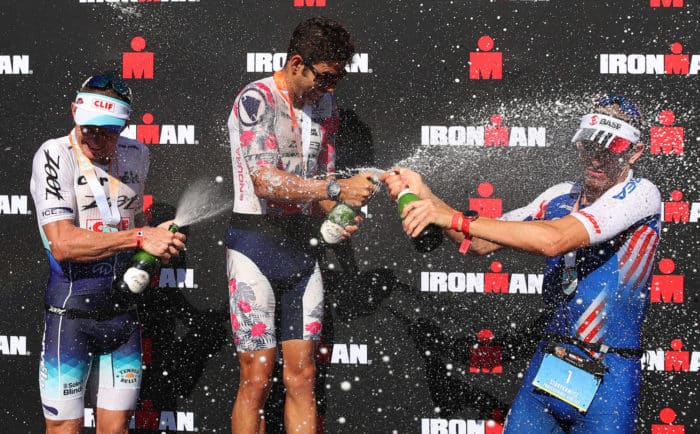 IRONMAN Florida, Panama City Beach – Saturday 2nd November 2019
3.8km / 180km / 42.2km
PRO MEN
1st – Joe Skipper (GBR) – 7:46:28
2nd – Ben Hoffman (USA) – 7:48:29
3rd – Andrew Starykowicz (USA) – 7:56:32
4th – Denis Chevrot (FRA) – 8:02:22
5th – Ruedi Wild (SUI) – 8:03:21
IRONMAN Florida Men's Podium:

🥇Joe Skipper (7:46:28)
🥈Ben Hoffman (7:48:29)
🥉Andrew Starykowicz (7:56:32)#AnythingIsPossible #IMFL pic.twitter.com/HcuiIB6cWi

— IRONMAN Triathlon (@IRONMANtri) November 2, 2019
DNF – Sam Proctor (GBR)
https://www.instagram.com/p/B4XoAGVnWFW/