In the aftermath of Sunday's tragic accident at IRONMAN Hamburg, where a motorcyclist lost his life, professional triathletes Joe Skipper and Tom Oosterdijk have shared their thoughts on their regular podcast.
Sharing valuable insight – having raced the course in Hamburg before – Skipper revealed that he was not surprised to hear of such an accident, with the events in Germany raising further concerns about future events, including the IRONMAN World Championship in Nice.
"The race looked like an absolute farce"
Putting the terrible collision to one side whilst unpacking the events leading up to it, the duo spoke on the podcast of how bad the motorbike interference was in Hamburg, with Skipper drawing on his past experience at the race.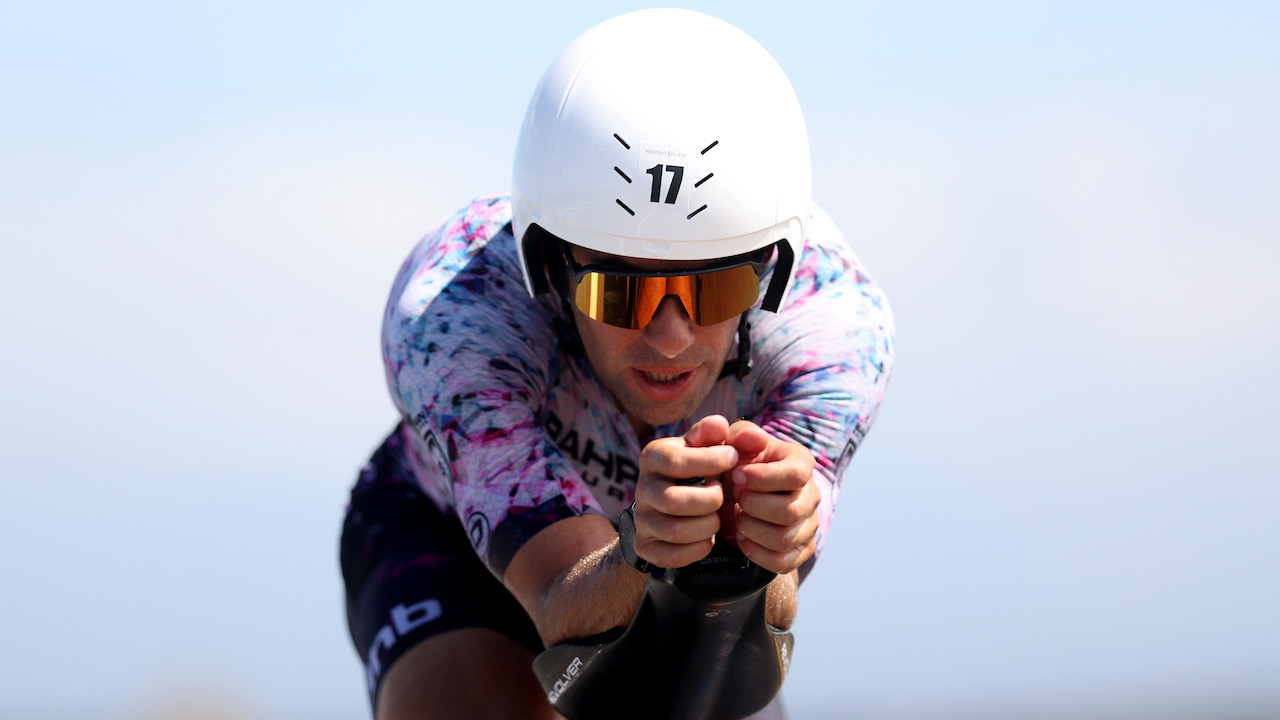 "The race looked like an absolute farce with all the motorbikes. I read Matt Hanson's thing, with 18 motorbikes he said near the lead group, which might be the case, it might not be, but there were at least 10-12 in some of the pictures I saw which was way too many.
"People's argument always is 'yeah but you need them for the media coverage if you want to grow the sport', but there was only one motorbike filming, the rest of them were just riding next to the athletes, getting in the way and pulling that pack along.
"I've done that race. I actually did Hamburg in 2018 and they turned it into a duathlon, with a 6km run at the start into a 180km bike and if you didn't make that front group on the bike you were totally f*****.
"I remember riding along, exactly where that crash was, and there were way too many motorbikes, probably 10 with us and you're going 50kmph and you think anyone behind us has no chance of catching up.
"It was a complete farce. You were just hanging in there, even though it was really hard, knowing if you were hanging in you were putting so much time into the others, because you're just getting moto paced along with the whole group."
Not an isolated incident
In a separate conversation with Tim Ford, Skipper goes into more detail with regards to motorbikes on the course in long distance races, highlighting that the situation in Hamburg wasn't a one off.
"I think it's just the same s*** all the time to be honest, there are loads of courses were the motorbikes are as bad as they were in this race [IRONMAN Hamburg], but it's just an accident doesn't happen, so it doesn't get the coverage that it should do.
"When I raced in Switzerland the other year, there were loads of motorbikes, maybe not as much as that, but still a decent amount and they were doing the same thing and Moto pacing everyone off the front.
Skipper added that lapped bike courses, where professional athletes had to come past the age groupers in latter laps, also presented a safety issue.
"When I was in Texas I think I saw about five crashes, and that was on a straight bit of road, with no corners or anything. I think what would be ideal for an IRONMAN is one lap bike courses, so you don't have two way bike courses and people lapping other people."
"They have way too many people on the course"
Whilst the incident in Hamburg was the worst possible scenario with the loss of a life, Skipper told Oosterdijk on their podcast that accidents like it will continue to happen if nothing changes – and that he is concerned about Nice.
"Something like this was going to happen sooner or later, because they have way too many people on the courses. The roads aren't closed generally, even though in this instance it was. But they still had two-way traffic on a road with each lane one car wide.
"It makes you worried about Nice, because I know at IRONMAN [France in] Nice the roads aren't closed, and you have a descent at the end which isn't closed roads. There could be loads of cars coming but you'd just assume the road was closed."
The fact that the IRONMAN World Championship might not be on closed roads shocked Oosterdijk, but Skipper added: "World Champs, that road won't be closed, which I think is crazy, you shouldn't be having the World Championships without closed roads.
"I don't think they'll do it [close the roads] because it costs money, and that's less profit for them to give to the shareholders.
"They [IRONMAN] definitely could make less money and make it safer by closing the roads if they wanted to."
Adding to this in his discussion with Tim Ford, Skipper reiterates the point about a lack of closed roads at the IRONMAN World Championships in Nice, saying "Nice IRONMAN World Champs, the road isn't even flipping closed, that last road isn't even closed so you could have cars coming up the opposite way,.
"You have the technical descent at the end, but you can't cross the centre line, because they can't guarantee a car won't be coming up the opposite way. If you overshoot the corner, and at that moment a car is coming the other way, you're going to have a head on collision with a car."
When asked if the roads in Nice would be 100% closed at the IRONMAN World Championships in September, IRONMAN CEO Andrew Messick was unable to confirm, saying "I believe so. I don't want to give you a definitive answer. But I believe so."
To listen to the Triathlon Mockery podcast episode with Skipper and Oosterdijk click here, and for the MX Endurance podcast with Tim Ford, click here.