Having been hit by a car during her final preparation camp ahead of Kona, Kat Matthews will not be racing on the Big Island at this year's IRONMAN World Championship.
However, whilst she won't be able to make an impact on the course, she certainly made an impact in her recent interview with Bob Babbitt on his 'Breakfast with Bob' show, where her character and strength shone through to display the type of mental fortitude required to finish on the podium at an IRONMAN World Championships, as she did in St George earlier in the year.
Trouble in Texas
Watching the interview, it's hard not to immediately become a Kat Matthews fan, if you weren't already. Speaking just over a week after the horrific accident that resulted in her hospitalisation, Matthews spoke eloquently, whilst still managing to joke with Bob when recounting the event.
Amazingly, her first thought when discussing the topic is not of herself, but is of Patrick Lange, her training partner in Texas when the accident happened who witnessed it all. Bringing the audience's attention to Lange, Matthews stated that "it was incredibly tough for him, and is still tough for him" and was quick to note that "how he's dealing with it is admirable".
On the topic of the actual incident, Matthews says that "I physically can't recall getting hit" and as ever manages to find the one silver lining from the situation, adding that "there was literally nothing I could do, which in a way is quite reassuring as I had no impact on the situation".
The incident and its timing, just days away from possibly the biggest race of her career, must have been devastating for Matthews, and whilst she does express her sadness, her composure and geniality throughout the interview is remarkable. Whilst watching from the sidelines on Thursday will undoubtedly be tough for the Brit, Matthews strikes you as someone who is already thinking ahead to World Championship glory in 2023.
Watching on: Sidelined in Kona
Whilst Matthews won't be on the start line this year, she has still made the trip out to Kona with her husband Mark, where she will be cheering on training partners Patrick Lange and Ruth Astle for the wins.
When asked if coming to Kona to spectate was a hard thing to do, Matthews responded candidly, saying: "There are elements that are hard about not being able to race, but its not about being here or being somewhere else, it's about not being able to race full stop."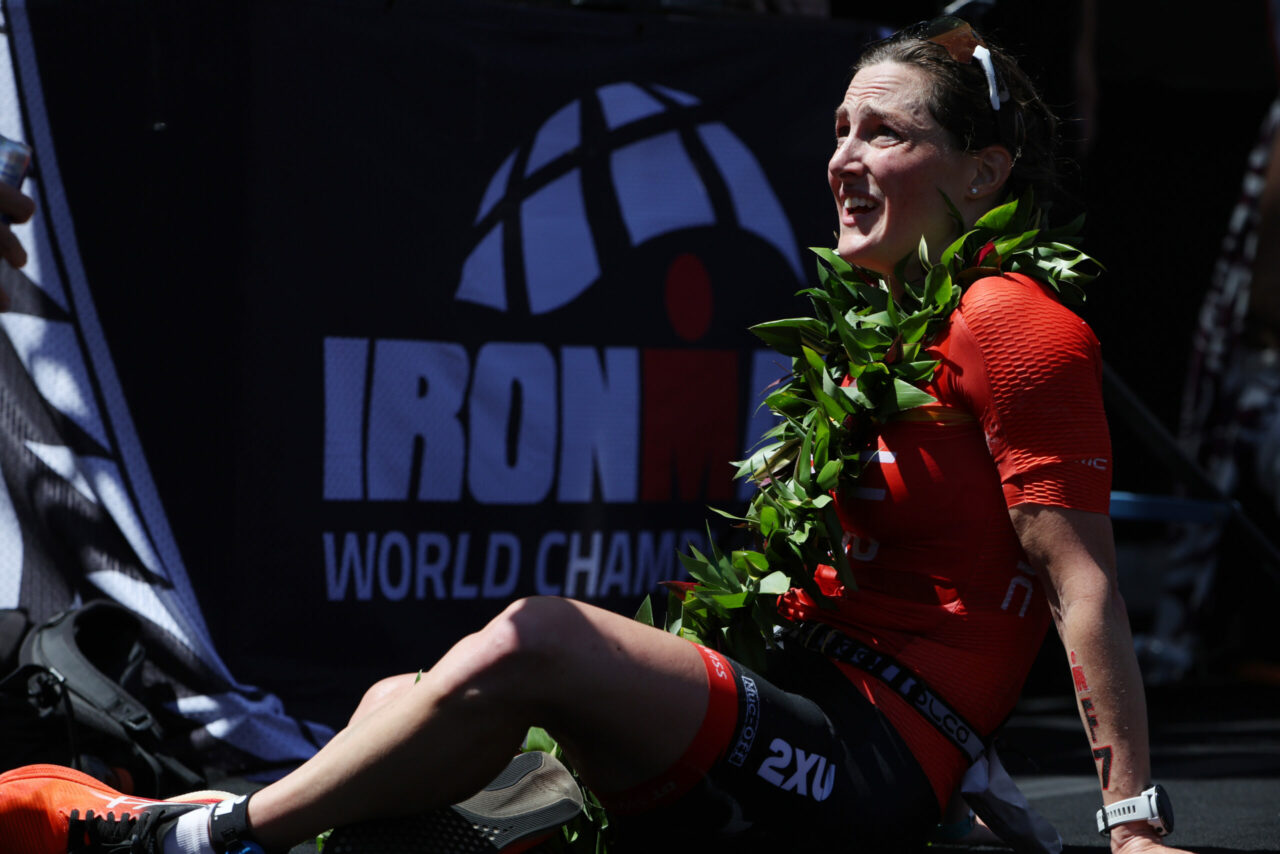 Matthews was out in Kona in 2019, also spectating, as her husband was racing and while she told Bob "I've been waiting the last three years for this", she is certain that her time in Kona will come.
Following her second place finish at St George in May, then her astounding destruction of the Sub8 barrier at the Phoenix Sub7Sub8 challenge in June, Matthews was rightly tipped as one of the favourites for Kona, and although her title challenge won't happen this year, it will likely just add fuel to the fire for 2023.