Kat Matthews smashed through that Sub8 barrier in Germany on Sunday by getting the better of an epic battle with triathlon legend Nicola Spirig.
She stopped the clock in an incredible time of 7:31:54 after overcoming a gallant rival in a spectacular race over the full iron distance.
The 31-year-old British star had produced a career-best performance to finish second behind Daniela Ryf at last month's IRONMAN World Championship in St George.
On Sunday she again produced insane levels by digging deep to retake the lead from Spirig with just 11km remaining of a fantastic race.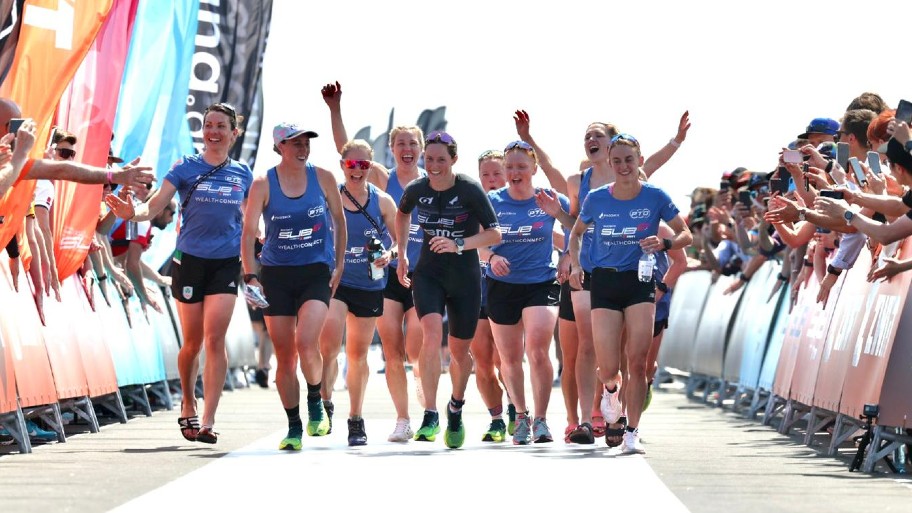 Just three km earlier Matthews had herself been passed by the relentless Swiss veteran, but when Kat retook the lead the move was decisive.
Swim – Level best
Both women had targeted 50-minute swim times going into the event. They were absolutely spot on about exiting the water together, but wrong about their times.
In the end it was Kat exiting first in a time of 54:43 with Spirig literally on her feet just seven seconds adrift.
Team Matthews, with Sarah-Jane Walker and India Lee pacing for Kat, were technically excellent swimming in single file while Spirig alternated between that and a triangle formation.
Spirig, having led early, struggled late on to stay on the feet of Angela Maurer as she lost that advantage to a strong Matthews finish.
At this stage it was all very much to play for, with Kat still well ahead of the 8-hour barrier based on her bike and run target times, and Nicola just on the edge. The feeling pre-event however was the Spirig, perhaps, was being somewhat conservative with her published targets.
Bike – Spirig holds firm
If Team Matthews thought they might put Team Spirig to the sword on the bike, they were wrong.
While Kat quickly built a lead of more than a couple of minutes, Spirig – producing admirably consistent pace on her road bike – would not let her get away totally.
The blistering early pace from Team Matthews slowed just slightly in the closing stages of the 112-mile leg at the Dekra Lausitzring, while Spirig just continued to plug away effectively.
Matthews arrived in T2 with a completed bike split of 3:50:06 – just under 10 minutes ahead of her target.
Spirig meanwhile outperformed her expectations in incredible fashion – her 3:53:16 was almost 26 minutes ahead of her 4:19 target.
It all meant Matthews had an advantage of a little under four minutes as they went out onto the run.
Run – Kat wins a thriller
Spirig, despite only having competed in one IRONMAN race in her glittering career (in Cozumel back in 2014 – a win), set out on the run hoping her foot speed would erase that deficit and take her to glory.
Everything appeared to be going perfectly to plan for the Swiss legend as she upped the pace consistently to move ever closer to the British star.
Spirig finally caught and passed Matthews with 14km remaining, but if anybody thought that was the end of it they were mistaken.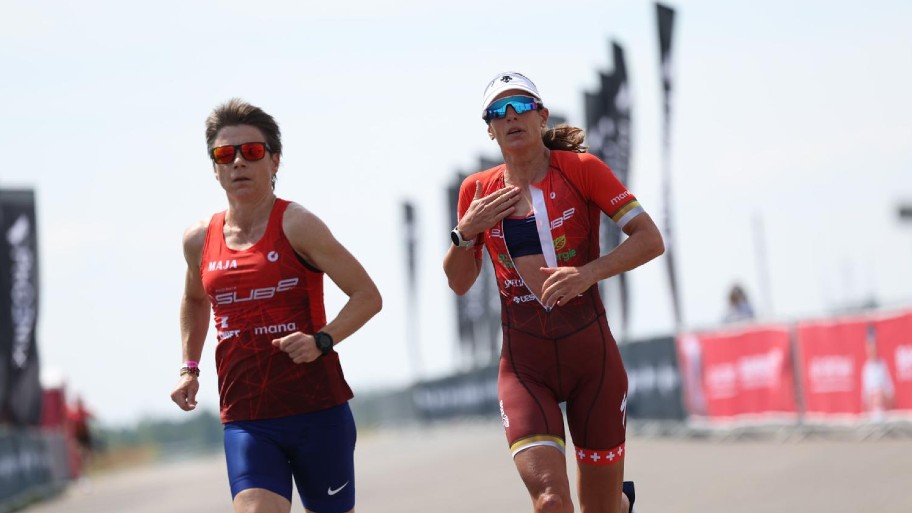 Matthews dug deep and refused to allow the Superfrau to go clear. Instead she stayed within a few seconds before surging back to the lead 11km from home as Spirig began to slow ever so slightly.
This time the move appeared to be decisive as Kat immediately set about building a lead and setting down a massive mental marker.
Matthews maintained her pace like a metronome and at the same time Spirig was slowing markedly, and within a short space of time she had built a lead of a minute as Nicola looked to restock her sugars.
Kat would not be denied as she continued to pull clear in for a brilliant victory – stopping the clock on 7:31:54, well inside that much-hyped 8-hour barrier. She had predicted exactly 7:31:00.
Spirig for her part produced an incredible display in only her second race over the full distance at the age of 40, coming home in 7:34:19. She still managed to finish with the quickest marathon of the day.
Sub7Sub8 Project results
Sunday June 5, 2022 – 3.8km / 180km / 42.2km
Dekra Lausitzring, Germany
Kat Matthews – 7:31:54 (54:43 / 3:50:06 / 2:46:09)
Nicola Spirig – 7:34:19 (54:50 / 3:53:16 / 2:45:07)