"@protriorg your rankings suck."
So said Lucy Charles-Barclay's husband and co-coach Reece on Wednesday in response to the Professional Triathletes Organisation's latest update after the sport's blue riband event, the IRONMAN World Championship in Kona.
LCB staged a remarkable comeback from injury just to be on the start line in Hawaii, and she then produced her customary outstanding swim to lead from the gun and be first out of the water en route to the runner-up spot behind Chelsea Sodaro.
Yet that – and a similar show in the PTO US Open in Dallas – somehow saw her drop three places in the female swim rankings, from #3 to #6.
How can it be?
That seemed puzzling to say the least and Reece was far from a lone voice – so let's try and make some sense of it…
In many ways it's a thankless task trying to rank hundreds of athletes over different distances and with varying race schedules.
But by and large – so long as you pay attention to the small print or follow our John Levison's explanations – the overall PTO rankings (that is swim, bike and run combined) do a good job.
In fact they do better than a good job. Look at the overall top 10s and they're hard to argue with. And all from a 'black box', no points for positions (as you might get in say tennis or golf), and the ability to process any race – that's not easy.
Taylor Knibb has just plummeted from the top 10 to #48 in the latest standings, but there's a perfectly rational and sensible explanation for that.
It works the other way too. Think of the big bright spots in Alistair Brownlee's injury-hit season – his impressive wins at IRONMAN 70.3 Swansea and IRONMAN Kalmar – vaulting him in the other direction.
It's something that barely existed before and the results database is a significant plus point for the sport too.
Making a splash, or a washout?
But… it's fair to say that when it comes to the rankings for the three individual disciplines, there was plenty to talk about after Kona.
First up – and as we highlighted at the start – the swim in the women's race.
Whether it was that tweet which prompted it, there was a quick amendment and Lucy's mark of 108.44 for that dominant swim in Hawaii was rapidly revised upwards to 112.00.
"It seems like that was a glitch in the ranking algorithm, so the updated 112 is the correct score," said the PTO.
That put her back in third position, with Lauren Brandon – who led the chase pack at Kona – still out in front.
But it's hard to know what more Lucy can do to take the #1 swim ranking or increase her 95% percentage…
Play it again Sam
Onto the bike and answers on a postcard please as to how Sam Laidlow can demolish the Kona course record by close to five minutes and still earn less ranking points than Sam Long and Lionel Sanders did on two wheels when they were matched against him at the Collins Cup.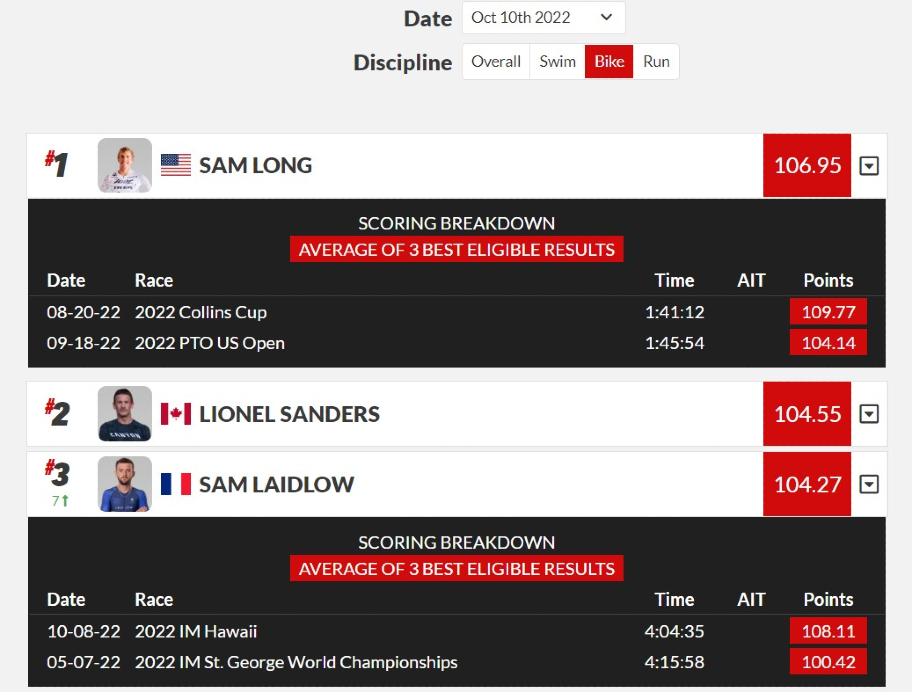 And the formline of the Laidlow bike performance on the Big Island could hardly have been franked any more conclusively given that INEOS Grenadiers pro cyclist Cam Wurf clocked the second fastest time of the day (4:09:03) – three seconds inside his own previous course record from 2018.
Long and Sanders were quickest on the bike in Samorin by some margin so there is a rationale and nobody is pretending it's a perfect formula just yet.
Personally I'm uneasy about the Collins Cup even being used for the rankings – from the limited fields to three-person matches at different times of the day in what could be markedly different conditions. But also it's pretty obvious why the PTO is keen to include.
Ultimately the overall rankings do an excellent job – and they need to as there's plenty of money riding on them both during the campaign in terms of making it into PTO races and at the end of the year.
But there are question marks when you drill down elsewhere, even if they are largely the exceptions – as no arguments at all with Daniela Ryf as the top-ranked female cyclist or Anne Haug heading the run.
But to show LCB as not the top-ranked swimmer in middle and long-distance racing – having never been beaten, ever, in the format – that just doesn't feel right.
And to a lesser degree neither does that points tally for the Laidlow bike display which was a world away from anything that's gone before it in Kona – and no one got near to him on the day either.
It's far better to have people talking about the rankings than not, but there does need to be a logic which is relatively easy to understand – or clearly explained. 'The computer says no' just doesn't cut it.
If the athletes themselves don't have faith in it – and as we said, Reece's comment was far from an isolated one – then there's still work to do.
And in fairness to the PTO, when asked for a response to this article, they said: "We are continually looking at ways to improve the rankings to ensure they fairly reflect the best performances."