Nick Kastelein claimed a dramatic victory at IRONMAN Vitoria-Gasteiz in Northern Spain from Cameron Wurf in an Australian one-two.
With very few opportunities left to join the qualified athletes list for the 2022 IRONMAN World Championship in Kona, there were two significant carrots at stake.
And Wurf looked to have put himself in pole position for one of those when a stunning bike leg gave him an advantage of almost 10 minutes starting the run.
But there was drama aplenty to come and it was Kastelein, who last year returned from a pelvic fracture and broken ribs, who had the final say once he moved into the lead with just 5km remaining in the marathon.
Swim – Kastelein makes early splash
The swim saw a group of four establish an early lead of 1:40.
It was actually eventual winner Kastelein who was out of the water first, just ahead of Sweden's Patrik Nilsson and Spaniards Peru Alfaro and Emilio Aguayo Munoz.
Two-and-a-half minutes back was Wurf, but that was soon about to change.
Bike – Another Wurf masterclass
It was no surprise to see pro cyclist Wurf – who helped his INEOS Grenadiers team win Paris-Roubaix earlier this season – put his rivals to the sword on the bike leg, powering into the lead after 25km.
But the manner was again hugely impressive and his split of of 4:01:33 was nearly 10 minutes faster than the next best – Tobias Dahl Thomsen's (DEN), who was closest to him at T2, 9:32 down.
Kastelein at this point had dropped out of the top 10, 13 minutes down.
Run – Wurf hangs on for gutsy second
And so to the run and ahead of the race Wurf had admitted: "This has been an uncertain year of preparation as I have been very involved in cycling and I have not been able to train as much for the run and the swim."
But setting out on the marathon, all seemed on track, with his first 10km two seconds under the 40-minutes mark.
But it was from that point onwards as the temperature soared that the gap tumbled – down to less than four minutes by the 18km point, with Munoz looking by far the biggest danger.
Wurf was walking through the aid stations to take on hydration and nutrition, a policy which helped stabilise things and though the lead was still fragile, Wurf regained his rhythm and refused to relinquish his advantage.
Munoz got to within seconds just before the fourth and final lap but Wurf held firm and it was the Spaniard who was suddenly seemingly struggling with the onset of cramp.
The next twist saw Munoz reduced to a walk and overtaken for second by Kastelein who had been running quicker than anyone.
And that continued as the Aussie, now based in Girona, reaped the benefits of building up for this race by doing two-hour training runs in the heat of the day.
He finally made the catch with around 5km remaining and this time Wurf had no answer, Kastelein clocking a clear best-of-the-day 2:43:28 marathon.
The big question now was whether all Wurf's efforts would be rewarded with a Kona slot – or would he lose second place to German Dominik Sowieja who was less than 90 seconds behind.
But Wurf had managed his resources superbly (his marathon time was 2:57:43) to hold on to the valuable runner-up spot.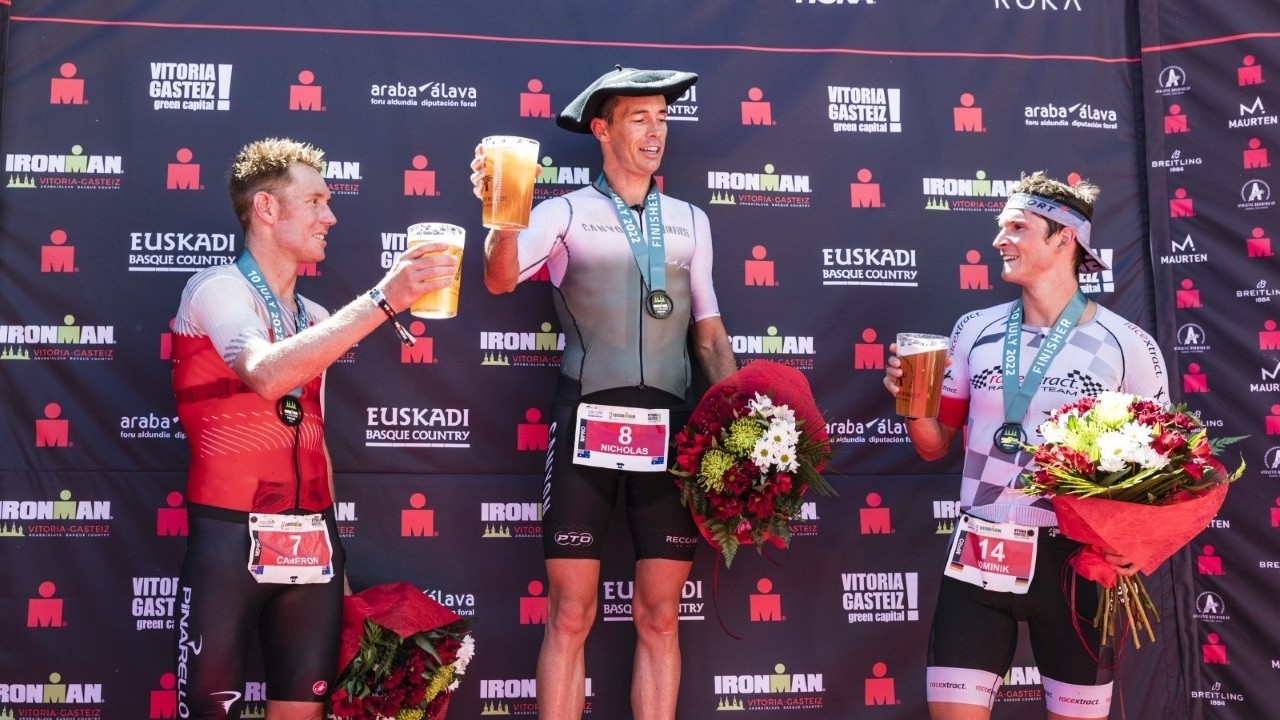 IRONMAN Vitoria-Gasteiz 2022 Results
PRO Men
(No PRO Women's race in Vitoria)
Sunday July 10, 2022 – 3.8km / 180km / 42.2km
1. Nick Kastelein (AUS) 7:52:50
2. Cameron Wurf (AUS) 7:53:29
3. Dominik Sowieja (GER) 7:54:21
4. Tobias Dahl Thomsen's (DEN) 8:05:43
5. Evert Scheltinga (NED) 8:06:25
6. Andrej Vistica (CRO) 8:07:11
7. Victor Arroyo Bugallo (ESP) 8:09:34
8. Silas Kohn (GER) 8:15:07
9. Leon Chevalier (FRA) 8:19:28
10. Andreas Jung (GER) 8:20:40