Jan Frodeno will meet with his surgeon on Monday as he bids to get back on track following his withdrawal when leading early on the run at Challenge Roth.
The German legend was returning to action for the first time this year following a partial tear of the Achilles.
And he looked superb as he led the swim and then the bike, emerging first out of T2 just ahead of Denmark's Magnus Ditlev.
But while 24-year-old Ditlev would go on claim the glory, Frodeno's race came to an abrupt end not much more than 3km into the run when holding a narrow advantage.
'Tricky to say the least'
Speaking afterwards to Julian Meinhold and fellow German triathlon great Sebastian Kienle on the race's livesteam, Frodeno admitted: "It's kind of bittersweet.
"I knew I'd made a bit of an error two weeks ago where I managed to re-tear the scar that's formed on my tendon.
"It's been so up-and-down and the last couple of weeks have been tricky to say the least."
But there were many positives for Frodeno to take out of the race as he explained: "In the end I'm happy I came here. Two thirds of the race went really, really well. And I actually felt fantastic for 3km as well on the run but it was just inevitable that the tendon was going to give me some grief.
"I've had a few light moments where I say 'okay, let's just go' but it's just been that kind of phase and I just try to take away the positives even though my head hurts a little bit more than my tendon."
Emotional rollercoaster
The tendon had barely been an issue during that brilliant swim / bike combination, with the run always likely to be acid test.
Frodeno said: "It was actually really fine. This morning was probably the worst when I got up – I was like 'oh god, here we go' but then after the swim I was really surprised.
"I ran to my bike and thought 'oh man, this feels good and it's game on'.
"I didn't have the best of transitions at T1 but was going well in the first half hour on the bike and was surprised how quickly Magnus made up that minute and got up to me.
"And then we got to Greding and I think I averaged 440W for that climb and yet I got dropped so then I knew how he made up the time!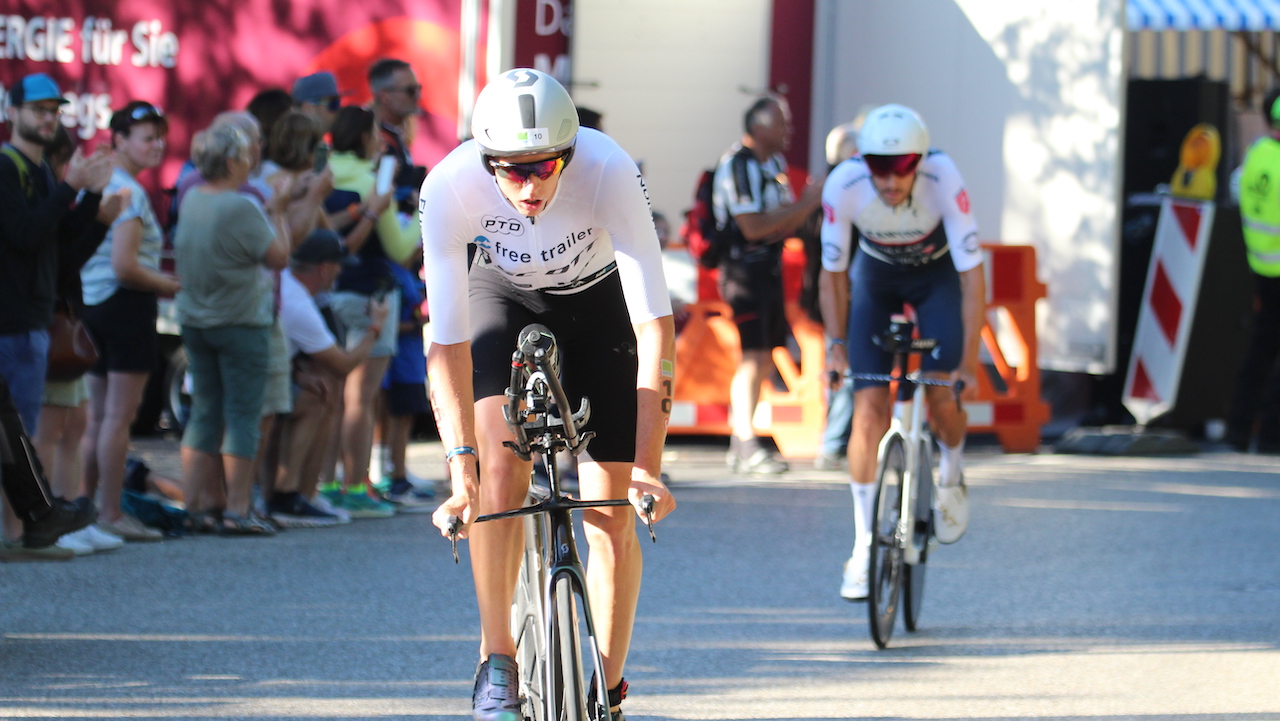 "He's obviously known for his biking but it was fun though, I haven't had that sort of scenario and dynamic for a long time.
"It was genuinely nuts out there, especially after the last two to three years where everything's been quiet and we've all had to keep our distance. There was so much happening and it was absolutely fantastic to experience it this time.
"But it [the Achilles] felt really good for 160km on the bike and then I started to feel it but that was general fatigue just setting in. It's just a fragile area."
Hard facts
And Frodeno now faces an important post-race meeting on Monday.
When asked what was next by Kienle, himself plagued by Achilles injuries over the years, a visibly emotional Frodeno explained: "I think I'm going to see my surgeon at six o'clock tomorrow morning and we're going to have a look at some hard facts and see how bad it actually it is.
"And other than that we dream for 14 weeks from now. I have to take the positives that legs, heart and everything else are pretty good so I'm just hoping to build enough shape to be ready for Kona and if I get anything else, that's a bonus."