Jan Frodeno was a DNF on his eagerly-awaited return to action at Challenge Roth on Sunday – pulling out of the race when leading early on the run in Germany.
The German legend was competing for the first time since last year's Collins Cup after missing the IRONMAN World Championship due to a partial tear of the Achilles.
Jan Frodeno a Roth DNF
He had led after the swim and was still in front at T2 after a blistering bike leg of 4:03:07 followed by a 1:15 transition.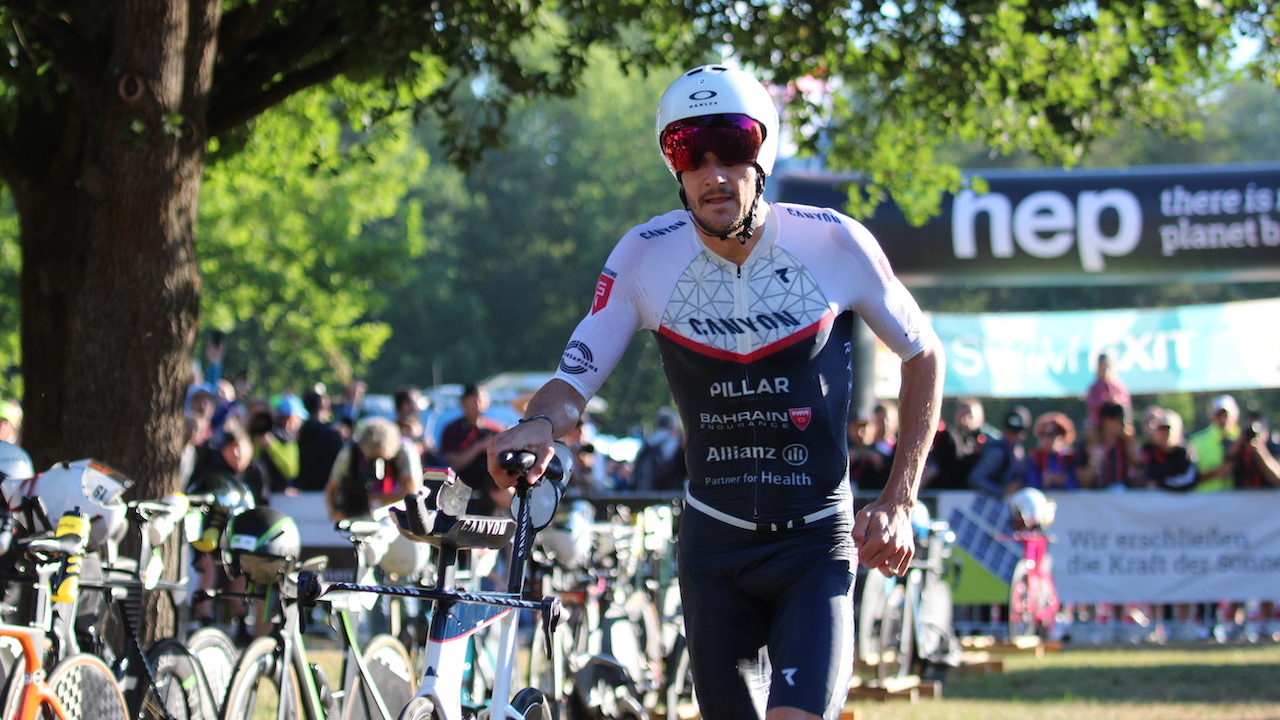 But all the question marks over his prospects pre-race were around his running potential, given his early-season injury.
And unfortunately they were answered around 3km into the marathon as he pulled up, pointing to his Achilles, which had put paid to Frodeno's defence of the IRONMAN World Championship title in St George in May.
In the build-up to his return he had stressed that his running was the big issue, saying: "I know I've trained well and I'm in good form, but I don't have enough running kms so I'm hoping for a positive outcome and I have to realistic to a certain degree and also consider the rest of the season."
How the race panned out
Frodeno only had compatriot Maurice Clavel for company throughout the swim and they reached the transition zone just a few seconds inside 49 minutes, with a lead of 1:26 over the rest.
Once onto the bike eventual winner Magnus Ditlev (DEN) – who was to set a course record of 4:01:56 – emerged as the biggest threat to Frodeno and the pair entered T2 within seconds of each other.
But Frodeno was out first and now was the moment of truth.
'Bittersweet'
Speaking afterwards to Julian Meinhold and fellow German triathlon great Sebastian Kienle on the race's livesteam, Frodeno admitted: "It's kind of bittersweet.
"In the end I'm happy I came here. Two thirds of the race went really, really well. And I actually felt fantastic for 3km as well on the run but it was just inevitable that the tendon was going to give me some grief."
When asked what was next by Kienle, himself plagued by Achilles injuries over the years, a visibly emotional Frodeno explained: "I think I'm going to see my surgeon at six o'clock tomorrow morning and we're going to have a look at some hard facts and see how bad it actually it is.
"And other than that we dream for 14 weeks from now [the 2022 IRONMAN World Championship at Kona]. I have to take the positives that legs, heart and everything else are pretty good so I'm just hoping to build enough shape to be ready for Kona and if I get anything else, that's a bonus."
'Sticking to the plan'
His coach Dan Lorang also spoke to Belinda Granger on the livestream and he explained the thinking beforehand: "As a team we said to Jan – and he agreed – that we have one big final goal in his career and that is to go again for a win in Kona… and there should be nothing between that.
"We knew that there was a risk to come to the competition today so he agreed to the whole team to say 'okay, if I feel on a pain scale from one to ten, a four or five then I'll go out'.
"So I think for sure he felt something and just stuck to the plan and knew now was the time to be clever and pull out and be ready for Kona."
Asked how difficult that decision is to make for a professional athlete, Lorang added: "Normally it's very hard as they want to fight and come to the finish line.
"But there was the plan behind this – we talked about it in front of the race. There was the possibility and I think that's why he was able to take the decision. But for sure it was not easy for him."