Germany dominates with five of the top seven in Kona whilst David McNamee sets fastest British time in IRONMAN World Championship history.
Swim
The day began on a positive note from a British perspective, with the 'windmill arm' swim style of Harry Wiltshire visible from the start – even if it took a while for the Ironman commentators to pick up on it! Approaching the pier, Wiltshire was to the front of the swim back alongside Andy Potts (USA) and Jan Frodeno (GER), and with a sniff of being the leader out of the water… he was going to take it.
A swift sprint over the last 50 metres and indeed it would be Wiltshire first up the stairs in a time of 48 minutes exactly. David McNamee (48:06) and Tim Don (48:15) were in a great position too, while Will Clarke (52:26) and Joe Skipper (54:11) were a little further back.
In total, 26 athletes were within a minute of Wiltshire in the swim, including defending champion Jan Frodeno and other favourites including Andy Potts (USA), Brent McMahon (CAN), Frederik Van Lierde (BEL), Andreas Raelert (GER), Ben Hoffman (GER) and Luke McKenzie (AUS).
Bike
Much of the first half of the ride saw a long, large pace-line of athlete to the fore, with the likes of Michael Weiss (AUT), Boris Stein (GER), Joe Skipper and Sebastian Kienle (GER) making swift moves to join them.
The big(ger) news was the five minute penalties incurred out on the course (served at the penalty tents), which included McMahon, Raelert, Van Lierde and Will Clarke among others. With several podium threats standing on the side of the road, that was significant.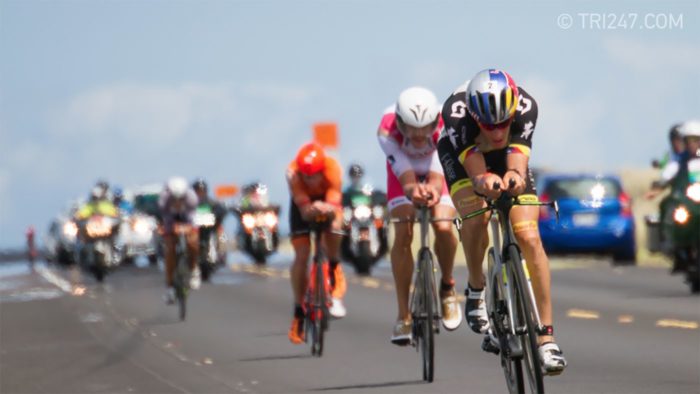 As is typical, the return leg from Hawi, and then the last 30 miles is where the real hurt is put in and the big gaps created, and as the lead athletes headed towards T2, just 45 seconds separated Kienle, Boecherer, Frodeno, McKenzie, Hoffman, Stein and O'Donnell.
The news wasn't so strong from the five British men. Tim Don was a DNF, David McNamee 17 minutes back, Joe Skipper 28 minutes down and Will Clarke and Harry Wiltshire a further four minutes down on Joe.
Kienle closed with a 4:23:55 bike split, though the fastest of the day was actually Boris Stein (4:23:04). By contrast, thanks to his swim margin over that pairing, Frodeno had only had to ride 4:29:00 to still start the run in first place… and with a realistic chance of challenging the course record on Craig Alexander. So far, Jan Frodeno had not set a foot wrong.
Run
While Kienle was first in to T2, Frodeno was first out on to the run course. Sebi then quickly closed that gap. And so it began… for the next 10 miles they were either side-by-side or when Jan pulled away – typically during an aid station – Sebastian would aggressively fight back, time after time.
Was Kienle trying to race Frodeno's race? It looked like that elastic would surely have to break and it was the 10-mile point, Palani Hill, that was the key. Frodeno finally gained more than a few seconds, quickly extended to 30 / 60 / 90 seconds – and would never be threatened again.
A class act, the Olympic, Ironman 70.3 and Ironman World Champion was going to add another title to his impressive C.V.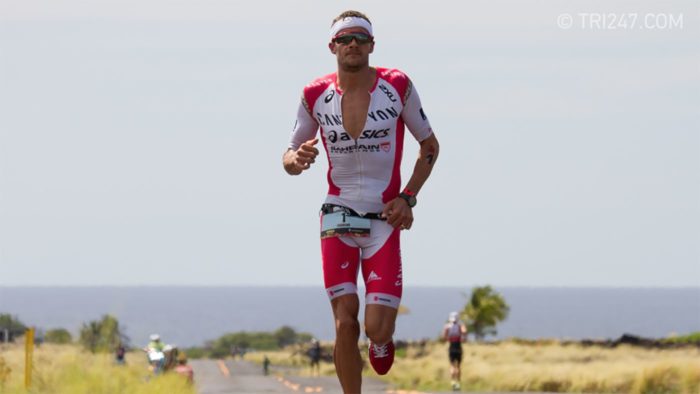 While Frodeno was running to defence of his title and Kienle was still holding strong in second, from way back in a different zip code (outside the top 20 at T2), Patrick Lange – another German athlete – was running like a machine.
The winner of Ironman Texas this year, he was cutting through the field at close on 6 minute/mile pace for the first 16 miles. He wouldn't quite catch Kienle – but an all-time run course record (2:39:45) in his first outing in Kona was a fine return.
While two places lower in 13th than his 11th place debut 12 months ago, David McNamee (8:28:05) set the fastest time ever by a British athlete at the IRONMAN World Championship.
Speaking of his second title shortly after the race, a tired Frodeno spoke to Greg Welch:
"It feels that much sweeter (to win again). It was also a good time and as an athlete you always want to compare yourself to those that have gone before. It's been a long year with a lot of sacrifice and I'm happy for my family that it's paid off. Sebastian was pushing all the time, he was stronger on all the hills before but I managed to get away on Palani."
IRONMAN World Championship Pro Men Results
Saturday 8th October 2016
2.4miles / 112miles / 26.2miles
1st – Jan Frodeno (GER) – 8:06:30
2nd – Sebastian Kienle (GER) – 8:10:02
3rd – Patrick Lange (GER) – 8:11:14
4th – Ben Hoffman (USA) – 8:13:00
5th – Andreas Boecherer (GER) – 8:13:25
6th – Timothy O'Donnell (USA) – 8:16:20
7th – Boris Stein (GER) – 8:16: 56
8th – Bart Aernouts (BEL) – 8:20:30
9th – Ivan Rana (ESP) – 8:21:51
10th – Frederik Van Lierde (BEL) – 8:21:59
11th – Andy Potts (USA) – 8:25:35
12th – Matt Russell (USA) – 8:25:52
13th – David McNamee (GBR) – 8:28:05
40th – Harry Wiltshire (GBR) – 9:24:18
41st – Joe Skipper (GBR) – 9:25:07
42nd – Harry Wiltshire (GBR) – 9:25:07
DNF – Tim Don (GBR)