Jonny Brownlee helps Food4Heroes deliver its 100,000th meal to frontline NHS workers across the UK
Jonny Brownlee, Olympic triathlete and Food4Heroes supporter, serves 100,000th meal to NHS workers at Huddersfield Royal Infirmary
Over £250,000 raised to help provide free healthy, nutritious meals for NHS frontline staff
Not-for-profit organisation supports local food economy to continue to thrive during the lockdown
Food4Heroes, the not-for-profit organisation serving fresh healthy meals to NHS and care workers at hospitals around the UK, has today delivered its 100,000th meal with the help of Olympian Jonny Brownlee. Launched just 5 weeks ago on 24 March by Amanda Guest of Guest Dining and John Brownhill, Food4Heroes pools local catering companies, gastropubs and restaurants to deliver fresh and nutritious meals to NHS health and care staff across 24 hospitals.
Some of the restaurants and local caterers involved in this initiative across the country include:
Andrew Bradley, from Bradley's Outside Catering, Yorkshire – supplying 3,745 weekly meals to Halifax from his home
Family run pub, The Old White Hart, Lyddington – supplying 400 meals daily to Kettering General hospital
Fosters Event Catering have nearly 100 employees producing, transporting and serving more than 300 meals daily to Southmead Hospital, Bristol
Celebrity chef Michael Caines MBE working with his Academy at Exeter College – soon to launch supplying meals to Exeter Hospital
Connie and Hester Sale, mother and daughter, who not only volunteered to set up a region but are also providing 150 meals a day to Horton General Hospital, Banbury, using a local school kitchen.
As part of its fundraising efforts, Food4Heroes launched the #StepUp4OurNHS challenge which asks participants to climb one of the UK's most iconic landmarks from home and nominate four friends to do the same. So far Food4Heroes has raised over £250,000, all of which has gone into preparing fresh meals for NHS heroes, paying all the local businesses that prepare and deliver for Food4Heroes.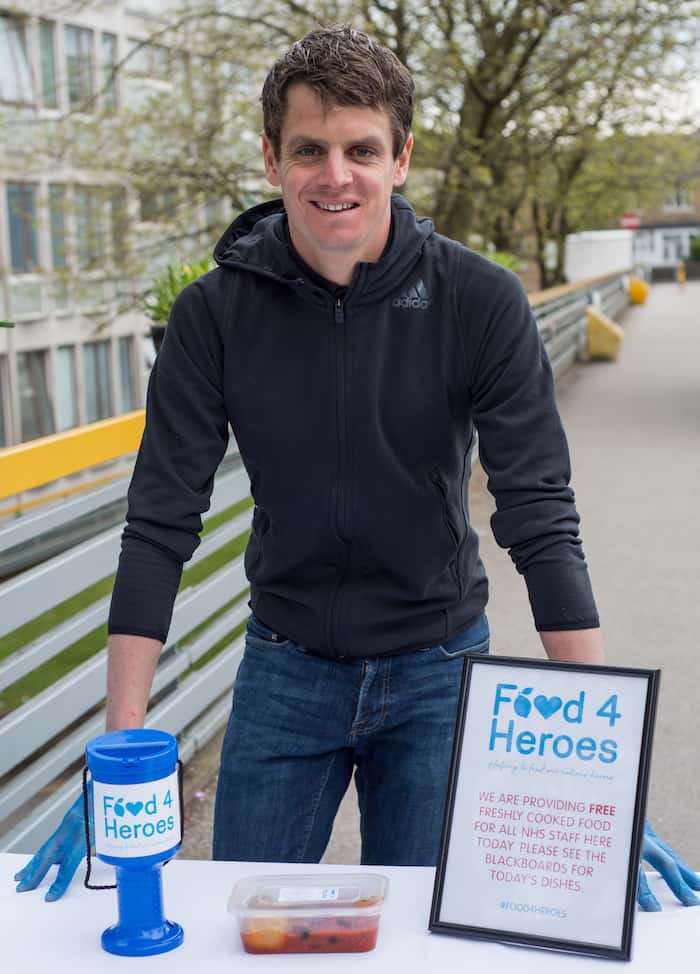 John Brownhill, an HR technology consultant and co-founder of Food4Heroes, said:
"Five weeks ago, we set out to provide a few hundred meals at The Huddersfield Royal Infirmary. Since then, we've expanded to 24 hospitals, with over 45 restaurants/chefs opening their kitchens to make meals for NHS workers. The response has been incredible from our communities, a network of more than 800 volunteers and incredibly generous public donations. And we are delighted to support local food businesses, keeping chefs cooking during the lockdown. We aim to provide our NHS heroes with meals for as long as this crisis continues."
Jonny Brownlee, Olympic triathlete, commented:
"Food4Heroes' brilliant work is keeping our NHS heroes healthy and energised. It started in my home of Yorkshire, and I'm really proud to be taking part in serving the 100,000th meal."
Celebrity chef Michael Caines MBE, said:
"Food4Heroes is a charity I am passionate to support given their focus on supporting our NHS heroes, both in the community and at our regional hospitals. In a short space of time they have been able to create a network of chefs, suppliers, volunteers and delivery drivers. Not only will this offer a respite to the NHS workers but also provide a key demand source for local food producers. Since the closure of restaurants and hotels, small and medium local food producers have struggled to fill the void of demand this industry once offered and too small to enter into the supply of supermarkets."
Andrew Bradley, a chef from Yorkshire, commented:
"During this crisis we all need to play a part in helping those that are fighting Covid-19 on the frontline. This is a fantastic initiative which enables us to give back to the valued work of so many NHS workers".
Amanda-Jane Weir, Head of Staff Engagement, Queen Elisabeth Hospital NHS Foundation Trust, said:
"It is through the kindness and generosity of groups like Food4Heroes that we are able to continue to look after the health and wellbeing of our staff, however it's not just about providing nutrition, but staff knowing that people are out there working with love and passion to support them through this crisis. It's not just food for the belly – it's food for the hearts and minds too."
For more information and to support Food4Heroes, visit: www.food4heros.co.uk