As a serving member of the British Army, Kat Matthews knows all about working as a team, so on Sunday she will be in her element when Sub7Sub8 finally becomes reality.
Matthews will head a crack team as she bids to go under 8 hours for an iron distance race, and beat Swiss 'Superfrau' Nicola Spirig in the process.
Kat mixes being an Army Physiotherapist Offer with life as a professional triathlete, and she has enjoyed a rapid rise to truly elite level in recent years.
The 31-year-old from Exmouth comes into Sub7Sub8 on the crest of a wave after finishing a terrific second behind Daniela Ryf at the IRONMAN World Championship in St George last month.
Now she steps in for the injured Lucy Charles-Barclay at the Dekra Lausitzring in Germany on Sunday, and she is revelling in the team element of this much-hyped project.
Kat Matthews on teamwork
"I've come from team sports. And my background is also with the Army and as a physiotherapist," she explained.
"So communication, teamwork, loyalty, everything that goes as a team is, I guess, my bread and butter, my passion. And now triathlon is my profession and career.
"And so this event merges the two in a way that I don't think we – well, we haven't ever seen, and I'm not sure if we will ever see again. So yeah, having the team element of this event is why it sparks my interest."
A key member of Kat's team on Sunday will be fellow British triathlete Ruth Astle – another recent age-grouper who has enjoyed a rapid rise to prominence as a pro. Ruth finished fifth in St George.
Matthews said: "I think Ruth and I actually were rivals when we were both age-groupers in 2018. And our coaches both had this sort of rivalry that, you know, 'Oh, she's gonna win at the age group world champs.' And then we've both come through as professionals in our first IRONMAN together, and then we've raced ever since and done training camps.
"So to then be part of a team with Ruth is like a bit of a dream, so thanks Pho3nix."
Astle on Team Matthews
Astle meanwhile says Team Matthews is both well prepared and well bonded, with the latter making the whole project more enjoyable.
She said: "I've also come from team sports. Actually being part of a team again is really fun. And I think our team in particular, we seem to have bonded really well.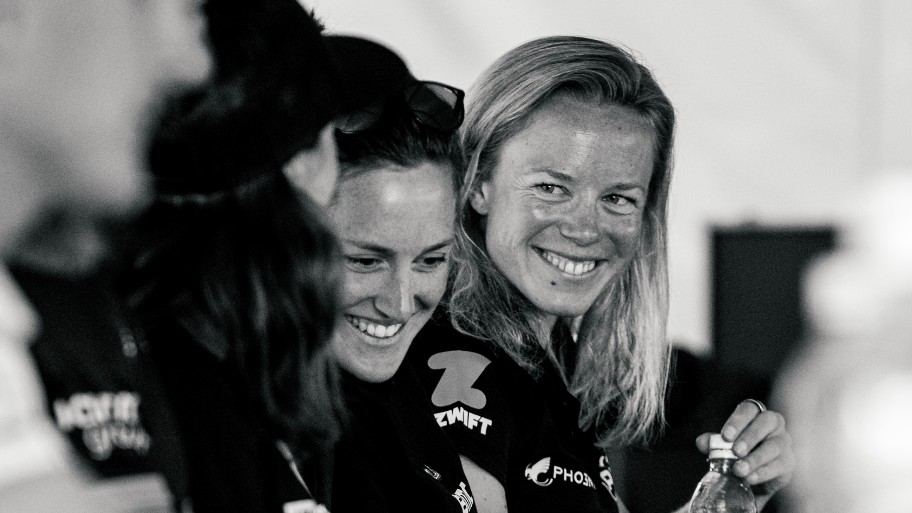 "It's been really fun, which I think is quite a key element when you've got a long day ahead, that it is going be fun at times, maybe not all the time, but yeah, I'm really looking forward to it.
"We've practiced a lot on the track. We've got our turns all reasonably nailed now and I think we're all really excited to just see how fast we can go to give Kat the best buffer coming onto the run."