Having won a second World Championship title of the season in St George, Utah on Saturday, it's no surprise to hear Kristian Blummenfelt speak in high praise of the venue.
Winner of the delayed IRONMAN World Championship in May this year, the Norwegian superstar ticked off one of the few targets left available to him, when he broke clear of Ben Kanute to win the IRONMAN 70.3 World Championship for the first time.
Where did he come from?!
At the post-race press conference on Saturday, host Paul Kaye highlighted his great form in the USA this year in World Championship races, with the addition of third place at the IRONMAN World Championship in Kona three weeks ago too. Finishing on the lower step of the podium in Hawaii, is something that clearly still hurts him however, as he reflected on those three events
"It has been quite great I would say, especially here in St George. Not feeling like 100% with Hawaii, as I was third…"
After watching the Pro Women's race on Friday, how to deal with the cold conditions and what to wear was a hot topic pre-race. Interestingly, Big Blu's approach was to make it a cold one…
"It was a little bit tricky in the swim; with the dark, it's difficult to see where you are in the pack. I thought I was a little bit further down in the pack to the front guys than I really was, so I decided that I would skip putting on any extra things in transition and just try to bridge up there, and suddenly I was with Ben after a few k's. My plan was to dress so that I was cold – and would really have to work hard on the bike to stay warm.
"I tried to go as hard as I could until Snow Canyon. I didn't really know what it would take out of the run legs, but I was pleased with the gap I had down to Gustav. I thought okay, I will have a fine run, because we had dropped Ben just on the way down… and then [Ed. turning to Ben], I didn't know where you came from suddenly! Catching 20/30 seconds in two or three k's, and I then I thought I'll stay behind him until making the move with four or five k left. I was pleased with the way the legs were responding then."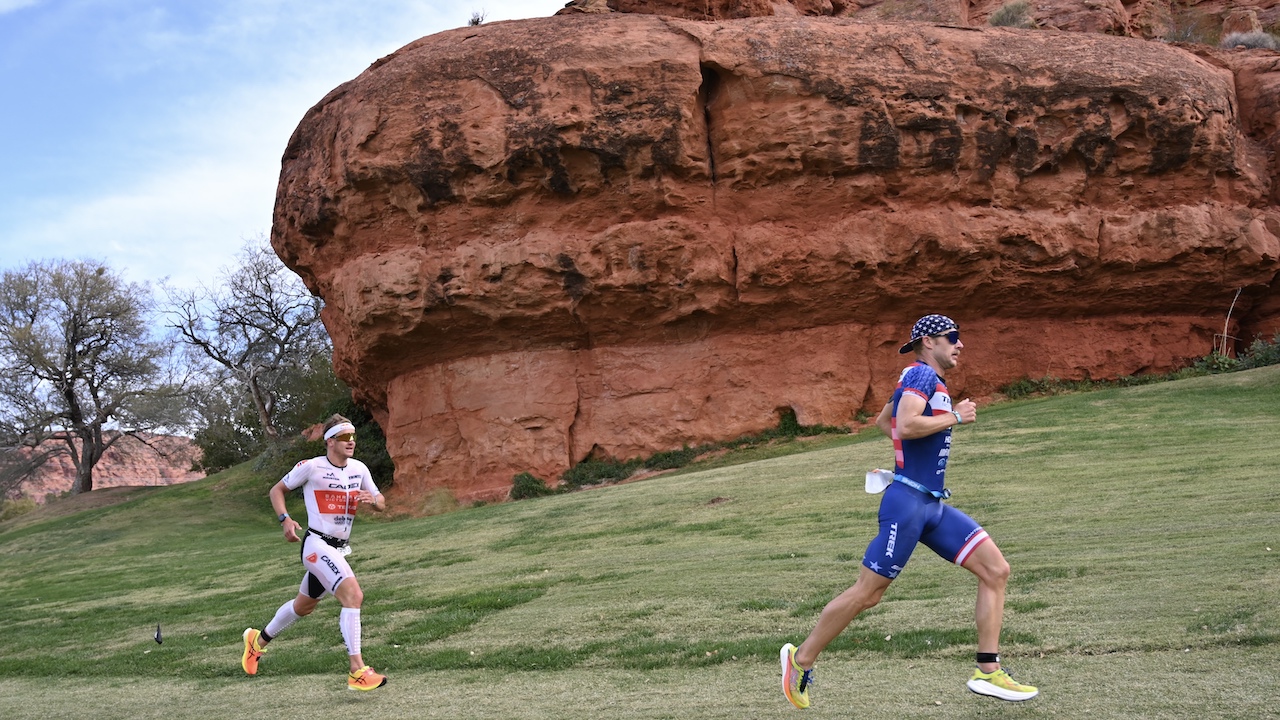 Not a good swap
Three weeks ago, Gustav Iden took over the IRONMAN title with his victory in Hawaii. Kristian now returned the favour by taking the crown that Iden had won in both 2019 and 2021.
It wasn't redemption for Kona – with perhaps further indication that we will see him in Hawaii next year, despite his Paris 2024 goals.
"Yeah… but I think it's a bad swap, to be honest! I really want that long distance title as well, so we will see next year… but it is good to cross out the 70.3 title as well, as I haven't done that one before."
A change of plan on the run
While Blummenfelt brilliance is all but expected now, the USA's Ben Kanute produced the sort of top tier performance that he has been searching for all season, and really took the race to Kristian on the run.
That changed his approach to the half marathon, as he explained:
"First of all, the plan wasn't that he should catch me! But then when he did, I felt like he was surging through every corner on the golf course. I knew that he had been here for three weeks and probably knows the run course quite well.
"I hadn't been through it in advance, only watching the women's race yesterday, and so I was quite surprised about how twisty it was. It was tricky, especially after a tough bike, I was sort of scared of getting a cramp or any issues there but it was fine getting through the first 10k, and then I was waiting to make the move."
St George – holding the sport alive
Coming back to his respect for this region, Blummenfelt spent a long time after the race speaking to volunteers and officials, taking photographs and signing autographs. It was his way of giving something back.
"It's so great to have a community like here in St George. It's the third World Championship we've had in almost a year and to see four or five thousand volunteers turn up, every year, every time, for two days of racing is really impressive. Without all of the support from the local community we wouldn't have had the races we had. They have sort of been holding the sport alive during the pandemic, so it's a great place for triathlon."