There's surely no argument that Norway's Kristian Blummenfelt is the male triathlete of the year.
While 'Big Blu' has been featuring in more than his fair share of headlines, they have been fully earned by his stunning on-course performances, across all distances.
Here's another, with news that ASICS have announced a partnership with the Olympic and World Champion. Quite appropriate, given that those events – plus his recent performances in Cozumel and Daytona – were all achieved wearing the brand's METASPEED Sky shoe.
Running Shoe market
You would expect, of course, an elite athlete to reflect that their particular bike / shoes / nutrition / clothing / other sponsor is 'best', of course, but given the rapid changes which have been happening in the footwear market in recent years, we thought that this particular announcement was worthy of mention. And just a little bit of analysis…
Initiated by the Breaking Two and INEOS 1:59 projects and the attempts of Eliud Kipchoge to cover the marathon distance in under two hours, the running shoe market has made huge technological moves in recent years.
The introduction of the carbon-plated super shoes, led of course by Nike's Vaporfly and Alphafly range, have been a clear contributor towards faster times in road running. Those developments haven't necessarily received universal praise, with (valid) arguments that comparisons of times to previous generations are all but impossible. Records have been tumbling – in the shoes of various brands – in 5km, 10km, and Half Marathon racing.
From an elite athlete perspective however, choosing not to use the latest technology is almost career suicide. That has resulted in some very notable examples of sponsored athletes wearing blacked-out versions of competitor products so as not to be (literally) left behind.
Perhaps more interestingly, in some cases athletes have been making a conscious decision not to have a shoe sponsor, in order to be able to make a free choice in a rapidly changing market. The top-level margins are fine, and nobody wants to give away 'free speed'. That, until now, was seemingly the Blummenfelt approach.
While the Nike shoes are still the market leader in terms of volume sales (you simply can't miss the mass of fluoro colours at any event you want to attend), the 'super shoe' market is now a far more competitive one, with ASICS, Hoka, Saucony, adidas, New Balance and others all producing competitive options to challenge the lead that the Oregon-based 'Swoosh' has set.
Credibility
Kristian himself has done extensive footwear testing – much of it documented on his YouTube channel – including plenty of racing in the various Nike models, purchased with his own (non-sponsored) cash.
Having won all of his biggest races in 2021 wearing the METASPEED Sky shoe, it's a link-up which seemingly makes a lot of sense all round. From a brand perspective, there can't be much more credibility than perhaps the best male athlete in the sport wearing your product to high-profile success before you are partners.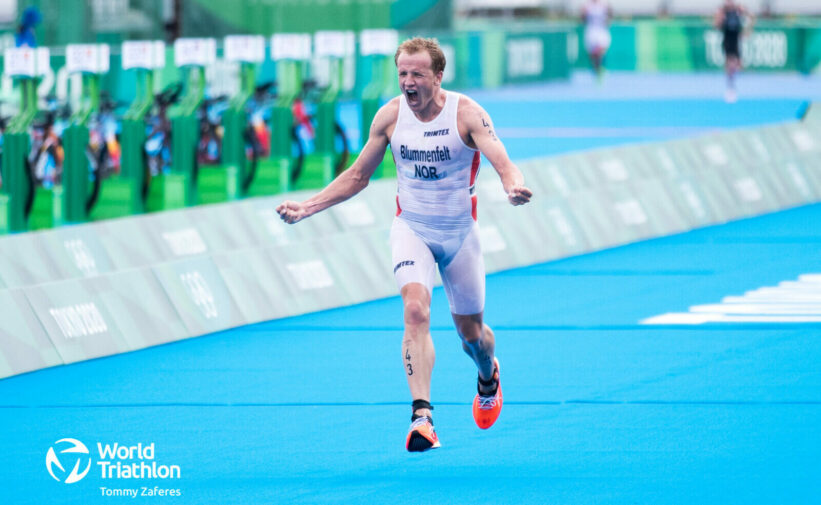 From athlete perspective, these modern shoes are not cheap – so being paid to wear them, rather than paying to wear them, is a very attractive option too.
I think we've all learned a lot about Team Norway and their scientific approach to the sport in recent months, meaning that Blummenfelt and team must be very content that his current and future products will not leave him at a disadvantage. Recent performances suggest that the products work pretty well for him…
Off the back of his 2021 season and still aged 27, his best years could well be ahead of him – making him a marketing dream.
When you add all that into the mix, it's a link-up that makes sense at all levels.
It also means that ASICS have both Tokyo 2020 Olympic champions in their official global ambassador team.