Kristian Blummenfelt has revealed exactly when he knew Olympic triathlon gold was in his grasp by sharing the details of his incredible build-up to the Tokyo Games of 2021.
On a recent episode of "The Triathlon Hour" by Jack Kelly, 'Big Blu' drew back the curtain on just how ready he was to produce the race of his life in the Japanese capital.
In a great interview, the Norwegian – who renews rivalry with Tokyo medalists Alex Yee and Hayden Wilde at WTCS Cagliari this weekend – spoke remarkably of just how confident he was leading into the race
Blummenfelt – "I was in insane shape"
After winning the gold medal in Tokyo, Blummenfelt recalls how many people asked him when he knew that the win was his, to which the Norwegian had a surprising answer.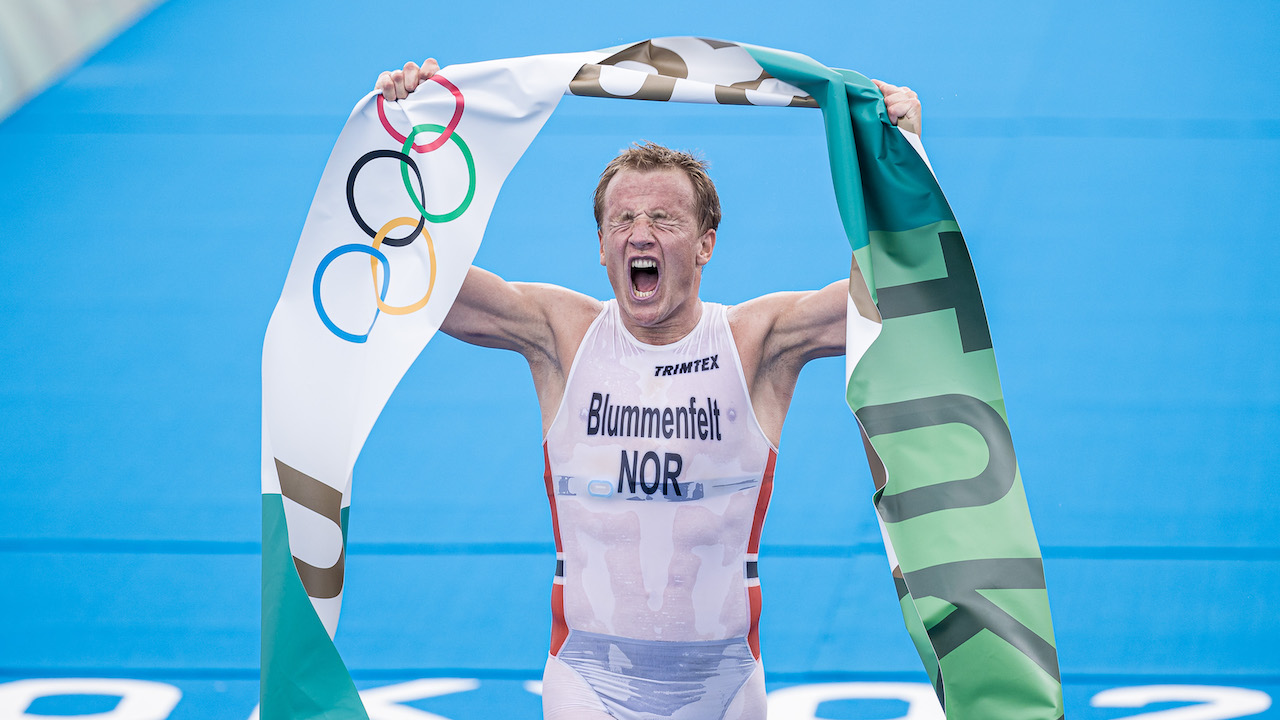 He revealed: "Going into Tokyo, I was in the best shape of my life, and when people asked me when I thought I had the win in my pocket, it was probably the day before.
"After doing my pre-race strides the day before, I thought okay, I have made it to the start line with no stress fractures, no injuries and no sickness. There is one more sleep and I am in insane shape."
Leading into the race, Blummenfelt's most recent result was sixth at WTCS Leeds – but his training gave him an incredible amount of confidence heading into the biggest race of his life.
Off the charts in training
Breaking down just how fit he was in the lead-up to the race in Tokyo, Blummenfelt said his training with fellow countryman Gustav Iden had given him so much confidence that he believed he could win in any scenario.
"I felt like even though I was standing on the start line with different possibilities of how it could play out, I was confident it would come together into a big group off the bike.
"If I had to, I could have gone harder in the swim to make the front group, but thought it would come together.
"I thought that then the way to win the race was for it to come together off the bike and for it to be a running race, because I was running super fast in training with super low lactate."
Pulling back the curtain on just how fast he was running, Blummenfelt explained that he was dropping training partner Iden in training sessions with much less lactate.
"In the pre-camp in Tokyo in the heat, I was beating Gustav in training by about 10 seconds per kilometre with half his lactate on the brick sessions, so I knew I was in great shape."
This weekend, both Blummenfelt and Iden will race in Cagliari, as Blummenfelt looks to make his first WTCS podium since August 2021 as he builds back towards a title defence in Paris.