When Kristian Blummenfelt stood vomiting at the IRONMAN World Championship start line last Saturday, the odds against what would soon transpire must have been pretty big.
Just under eight hours later the Norwegian superstar would be triathlon's new long-distance king, an astonishing performance given the troubled preparation he had endured.
Blummenfelt caught a severe cold just after arriving in St George to begin his final preparations for the race. It was an illness which would prevent his compatriot Gustav Iden from even making the start line.
While he did manage to get in enough preparation to at least believe he could be competitive, the final minutes before the start did not bode well.
A weak swim to start
The 28-year-old from Bergen told the Rich Roll podcast on YouTube: "The swim, I should have been up there on the swim, but I felt just so weak.
"I was standing there on the start line, we had five minutes to warm up and after two minutes I started vomiting because my throat was so bad and irritated. Had a weak swim, two minutes behind."
Blummenfelt now found himself in no man's land on a brutal bike leg – unable to bridge up to the front group of five, but ahead of a pack headed by Cameron Wurf and Lionel Sanders. At one stage Kristian believed his chance of victory had gone.
One final shot at glory
"I tried to catch up but just lost time on the first 40/50km on the bike, went from like 2:30 to 3:30 and then I had Cam Wurf behind me, like 40 seconds behind. So I thought 'okay I'll just refocus with the guys behind and give it one final shot for the race'.
"It was almost like I was giving up, but I also tried to think 'it's not over until it's over' – typical Ironman mantra. Just focus on doing the nutrition, getting in a lot of liquid and carbs to be prepared for the final half-marathon."
Even though the gap to the leaders had stabilised at around four-and-a-half minutes towards T2, Blummenfelt was still unsure of how his run would pan out. His expectations at this stage were hardly lofty.
"I wasn't sure how my run legs would be as I felt quite smoked on the bike leg, going up the two big climbs," he said.
"But I was thinking that if I go out on the run on my limits, then it's at least giving it a try. At least running for a podium because no way that all five of those guys would be able to put the marathon together. I was expecting some of then to blow up.
"So at the beginning I was just running for a podium – I think for the first 10k I was running at the same speed as Braden Currie. I knew that he could be a good runner and I was thinking maybe I can't really catch him, but then I suddenly bridged two minutes out of those four-and-a-half minutes with half the marathon still to go.
The moment Blu knew
"That was kind of the moment when I thought I could actually start winning this. Pictures in my head of myself winning the race. Keep focused and make sure that I still do the nutrition and hydration correctly and take as much fluid as I could in the aid stations just to stay cool."
Blummenfelt's coach Olav Aleksander Bu said going into the race he could not be sure of how Kristian would perform, such was the illness he was still recovering from. He couldn't feel any real level of confidence until he saw his athlete exit T2 onto the run.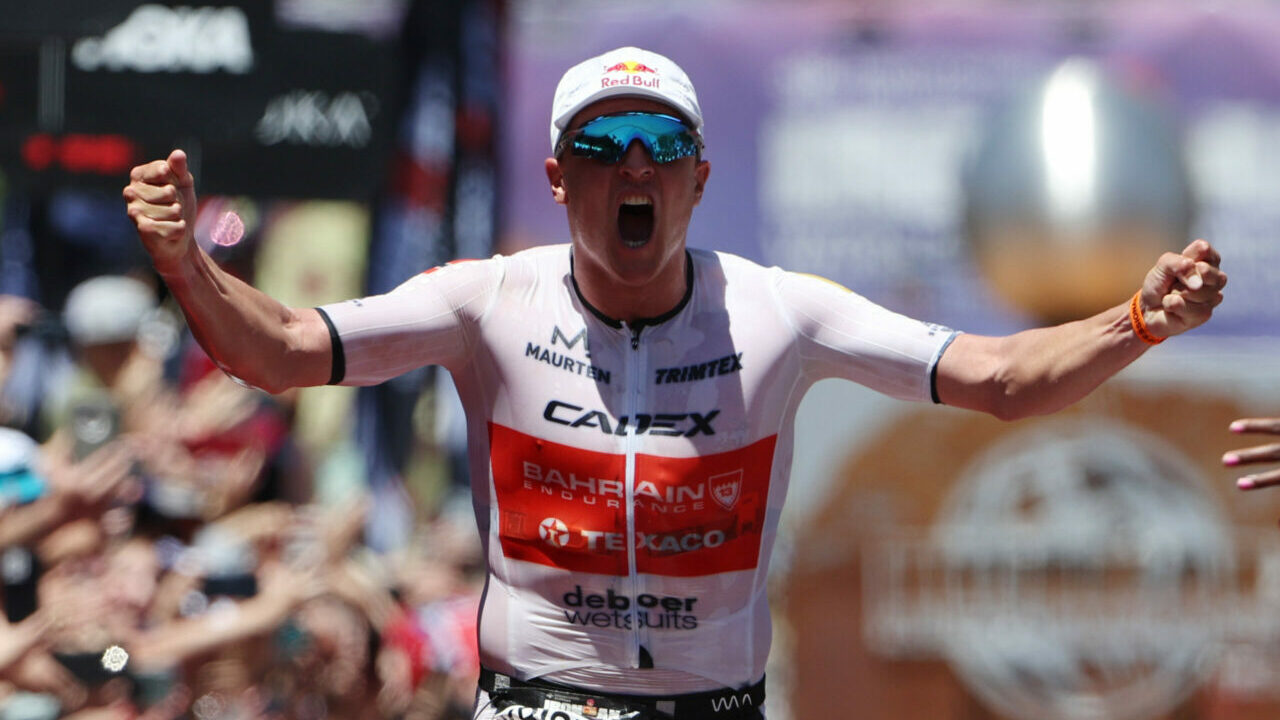 "When I saw them come off the bike, and starting to run, Kristian looked sharp, then I was confident already that, okay Kristian is gonna bring it home."
Blummenfelt has now completed two races at the Ironman distance, and both times he has been battling illness. The first time in Cozumel last year, he overcame a stomach bug to set the fastest time in history. This time he beat the odds to become a World Champion.
Now he is already looking ahead to his title defence at Kona in October, and he hopes a slightly better preparation.
"Hopefully third time lucky in Hawaii – that would be my race!"