In the first part of our interview with Leon Chevalier, we focussed on how his move to Bath University in 2018 provided the firm base from which to move forward his professional triathlon racing ambitions.
If that Bath environment provided the foundations, then a friendship with British long distance athlete Susie Cheetham, and her husband and coach, Rob, would prove to be the catalyst which saw him skyrocket up the PTO World Rankings in 2021.
In this second feature, we get input from both Leon and the Cheethams about a link-up that has proven hugely successful.
A Pro Mentorship Program
In 2020 – almost a year to the day before he won IRONMAN Mallorca – the Cheethams took Leon under their wing, in something of a 'Pro Mentorship Program'. Why did they do that… and why Leon? Rob Cheetham gave us his take:
"We've always known how talented Leon is. His cycling is elite level on its own, and he's a tremendously talented runner. He came from a duathlon background and his swim used to be his weakness. However after a couple of years getting his butt kicked by the ITU girls every day at the Bath High Performance Centre, his swim improvement has been the most surprising. He's now a really well-rounded athlete with no real weaknesses.
"The beginning of most triathlon pros' careers is spent balancing the need to race using the best kit with the financial restrictions of an expensive sport. This means often partnering with sub-standard bike, kit or shoe sponsors that aren't reliable nor fast. We learnt early on in Susie's career that the reliability and quality of kit is so valuable for performing to your potential. Having a mechanical in a race is an expensive mistake that will likely cost more than the inferior sponsorship deal you may have been forced to accept early in your career.
"Although Leon was clearly talented, as a full-time University student he wasn't able to focus on just training or afford world class equipment. We believed that if we took away some of the stresses and distractions of starting out as a Pro, trying to find partners to put him on the best possible kit from day one and allowing him to focus on consistent training, he could be really successful."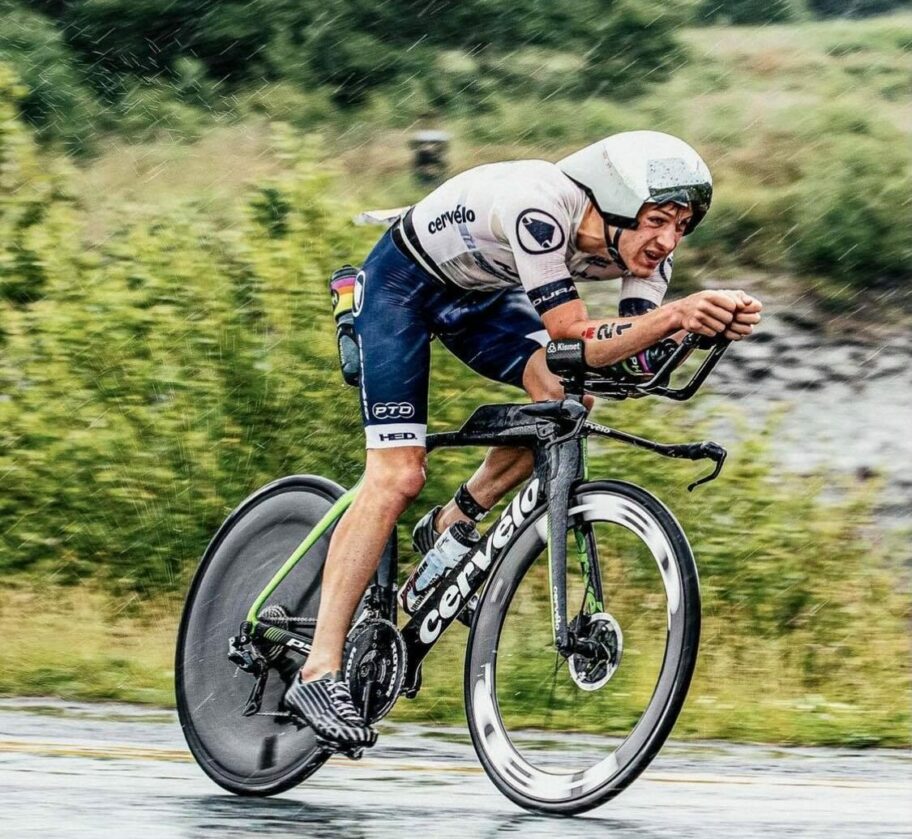 Opportunity knocks
Less than 18 months ago, Leon found himself trying to find a bargain bike on Facebook Marketplace (something we have seen before with Kyle Smith). At that point, he didn't realise that an innocent "what do you think of this one?" email would turn into something completely different.
"Rob and Susie have always been around in Bath and I've been swimming with Susie on campus since 2018, when I moved to Bath, so I've always been going to them for advice, and as friends. When I was trying to get into the long distance circuit in 2019, I was looking around on Facebook Marketplace for time trial bikes that would be less than a grand – just trying to make it up as I went – and in September 2020 I sent an advert to Rob asking what he thought about his bike, and he said 'I think you can do better.'
"A couple of days later he put forward what he was suggesting, that they would really like to help me out, and that they were going to try and fast-track me so that I wouldn't be on the back foot from the start. Rob and Susie have provided the training, the insights, all the things that help make you a successful long distance athlete.
"On top of that, Susie's sponsors came forward and helped out. Hoka came forward and gave me a contract for shoes and all the other sponsors were really happy to help out with kit, so basically I was on the start line at Challenge Gran Canaria [Ed. April 2021] and I had no excuse not to perform, other than not having the experience."
The plan
Fast-forward 12 months, and with the benefit of hindsight, it looks like a masterstroke – but what were the initial aims?
Rob explained, "We were hoping that Leon was able to show the beginnings of his potential as a pro triathlete through the year. We hoped that through our coaching and guidance, and the awesome support from our partners, he would be able to show in races what we see in training. Enough so that he could successfully begin a sustainable career as a full-time professional triathlete in 2022. By that we'd like him to be able to begin to build his own relationships with sponsors and be financially self-sustainable following a successful year of racing in 2021."
Having recently signed deals with the likes of Precision Hydration, HED Wheels, Hoka, Endura and others – and that impressive PTO Ranking reflecting his racing results – it's a case of 'job well done all round'.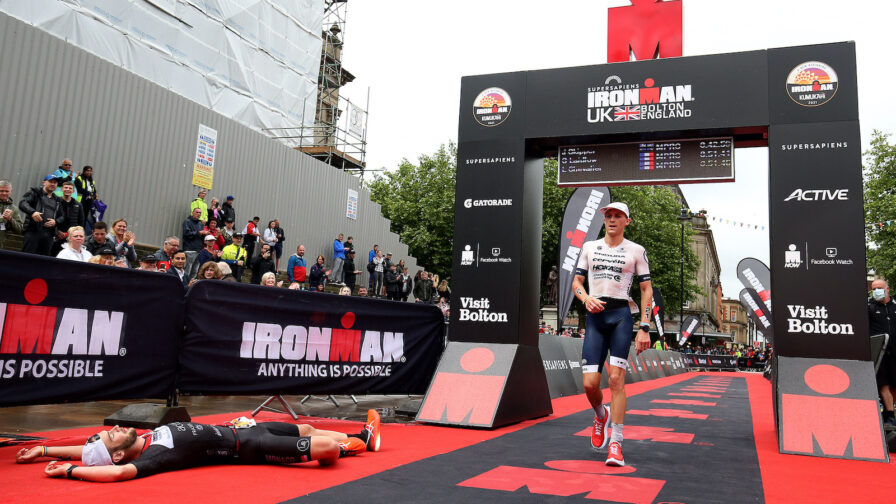 Ahead of target
If the aim of this link-up was indeed to help fast-track the process, that has certainly borne fruit.
Leon explains: "I went into this long distance adventure because I thought that I could at some point be up there, but I don't think that I thought it would come this quickly.
"I came back from Challenge Gran Canaria and I was kind of disappointed with the result (11th), but then I also had lots of lessons learned and things that I knew I had to work on to be at the pointy end of the race.
"It fuels the fire, because I just wanted to do better and I was thrown in at the deep end with the best guys in the sport at that race. I think I was only eight minutes down from Jan Frodeno and it looked like he had given absolutely everything, and I knew that I had so much more to give than I did on the day… it gave me confidence later on in the season in terms of power on the bike, pacing and I took it as an opportunity to build upon for the rest of the season.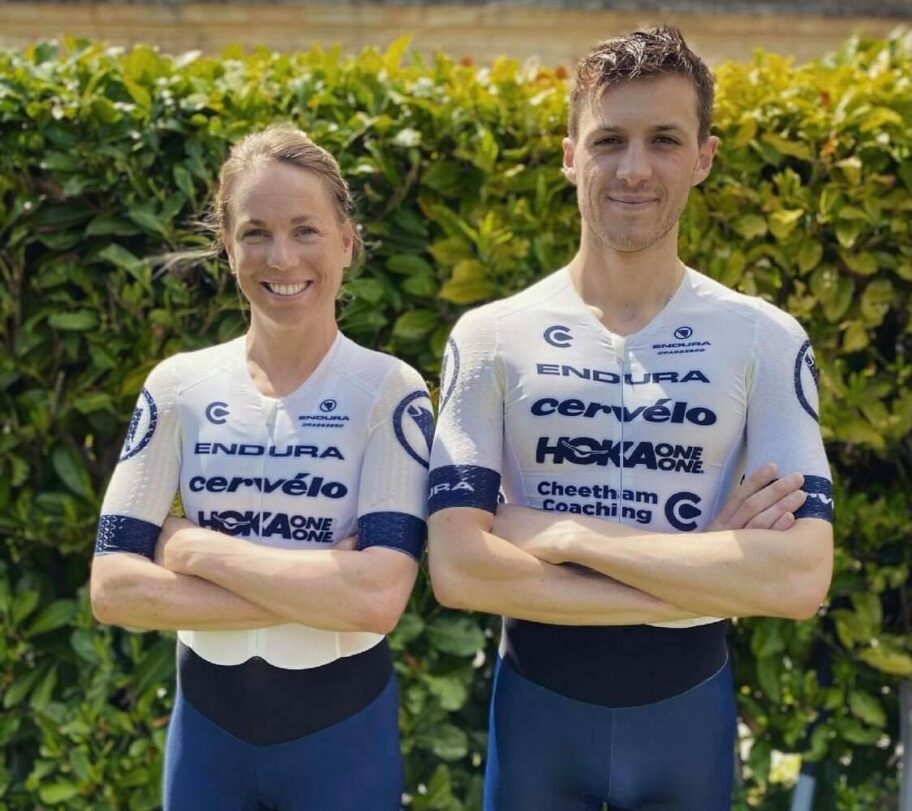 "When we started with Rob and Susie in September 2020, we had a two year plan because that was the number of years I had left at uni, so the idea was to see whether by the time I graduated I was a viable, long distance professional triathlete. We knew that to be at that stage would probably take qualifying for Kona, maybe winning Embrunman, something like that.
"It just happened that we ticked off all those boxes a year or 18 months ahead of schedule, and all of a sudden I've got sponsors who are supporting me for a long-term contract…. now professional triathlon is a career that I can envisage doing for the next 5/10/15 years.
The next step
"It's hard to wrap my head around really, that I've got great supporters and sponsors, but there's also a bit of pressure on me to deliver.
"It's a really exciting time to be a part of the sport to be honest, the level has just gone up so much is what I'm understanding from reading other people's posts and times and all of that. Everyone has just stepped it up.
"The guys that were at the top have had competition from new guys on the scene, and they have raised their game accordingly. All of a sudden there's a density of athletes at the top which makes it interesting for people to watch… but also way harder as an athlete!"
A helping hand
If the Chevalier-Cheetham story is a case of the apprentice graduating with honours, guided by the wise owls, could this approach be the start of something more? Rob is not ruling out doing something similar again – but also suggests how others can potentially help along the next generation too:
"The partnership with Leon came about partly because Leon was a talented friend that needed a hand. It came at a time when we were able to provide that and we've enjoyed seeing the progress he's making. We certainly wouldn't rule out doing it again, and we would also love to encourage other established Pros to help the next generation where they can.
"We all have a pair of wheels or two in the garage, last season's helmet or an unused wetsuit; any of which could be what stands between success and failure for a budding new Pro. Or even just having a coffee and a chat with your local Rookie Pro to offer some wisdom from the triathlon school of hard knocks.
"The PTO's incredible support over the last two years has really shown that raising the profile and competitiveness of the sport as a whole is good for all of us. And if you can help out – it's worth doing so."