Leon Chevalier knows how to perform over the full distance. The Frenchman, currently ranked PTO World #11, already has four Ironman podiums under his belt after just three years on the professional scene.
Racing on the biggest stage, Chevalier's record is even more impressive, having finished in the top 8 at each of the last IRONMAN World Championships in St George, Kona and most recently Nice.
Now, with his eyes on the world title, the 27 year old is gunning for the top, with his first step securing Kona qualification at this weekend's IRONMAN Cozumel in Mexico.
"I had a bit more in me"
Having started his season early in March at IRONMAN South Africa, Chevalier explained how his schedule lined up perfectly to make the trip out to Cozumel to finish off the year.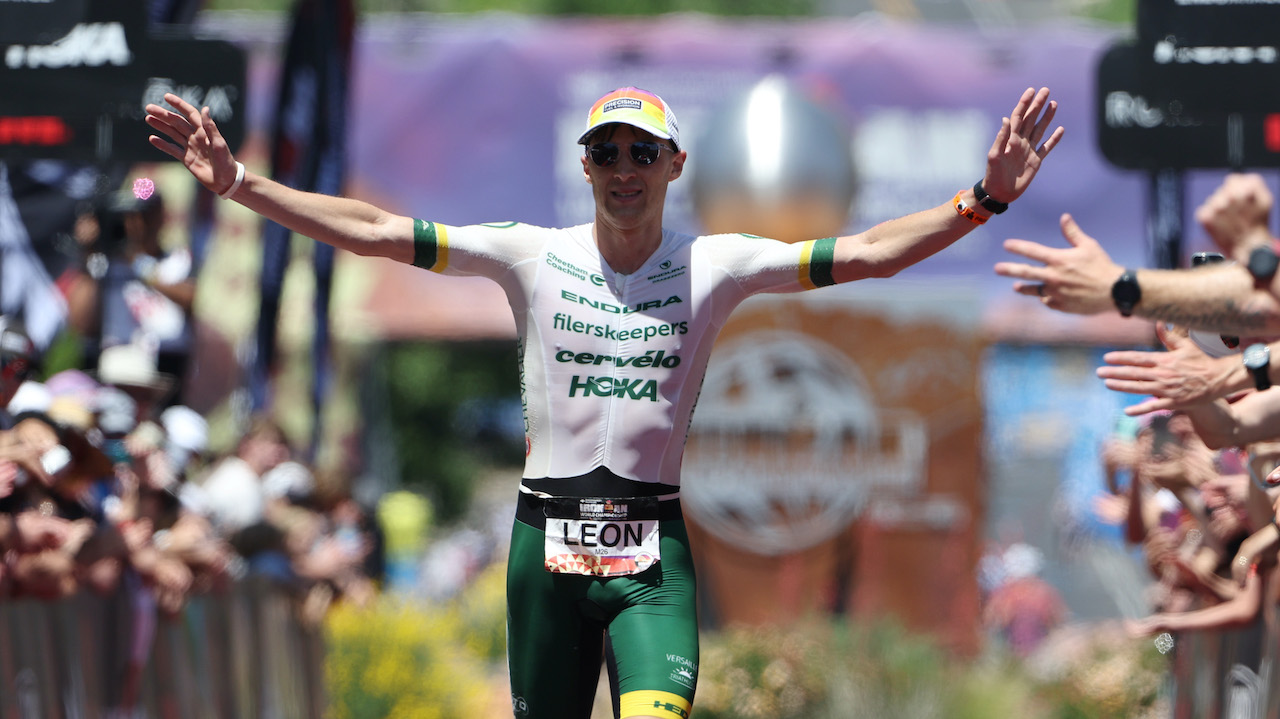 "Basically, Nice being early September, meant that it felt like there were still a few months left of the season and I took a few breaks anyway during the year, after starting really early at IRONMAN South Africa.
"The whole season was really chase a big goal, race and then have some time off, so it felt like I had a bit more in me to go all the way to Cozumel.
"This season was also a bit less expensive not having to travel to Kona, so I thought given that I commit a certain budget to each season, that there was the opportunity to go to Cozumel."
Sharing his ambitions for the race, the French star said he had been trying out a slightly more relaxed mental approach to training coming into this race and emphasised that Kona qualification was the primary goal.
"I'm going into Cozumel with the goal of getting an early slot to Kona next year. That is the absolute priority, but I would also like to win. I am going in with a slightly different approach, as it has been a long season despite the breaks and I have just gone into training since Nice as I want to and without putting myself into a hole.
"I know that physically I have maybe not had the best prep but mentally it has been refreshing to have a different approach and not put too much pressure on myself. If it goes well, that's good, but equally no drama if it does not.
"After the race, I'm just looking forward to spending a little time here after the race and have a little holiday to round out the season."
Making consistency count
Reflecting on the IRONMAN World Championships in Nice, Chevalier detailed how all his focus had been on performing on the biggest stage and after fifth in September, he hopes to compete for the podium and the win at future editions.
"Then in Nice, I put all my eggs in one basket for that. I went to the Alps for the whole summer, spent that time going up and down mountains to prepare for the race, hoping that I could have a solid race.
"Fifth place at Worlds means that it is basically Sam [Laidlow] and myself who have finished in the top 8 at the last three World Champs and obviously Sam is currently the guy to beat so I feel like I haven't done too badly over the last three World Champs.
"My swim was a lot better and so was my marathon, running under 2:40, so I would say 2023 has been a success. I have shown physically that I have what it takes to battle for the top steps at World Champs, I am one good swim away from a podium and one great day away from winning the World Championships, so that's something to look forward to."
Looking ahead and finding joy in training
Moving forward after Cozumel, Chevalier said that a confirmed Kona slot could slightly alter his plans, but that the main target of Kona, along with wins at one or two other long distance races, will likely remain the same.
"For now, I am still focusing on two or three IRONMANS to peak for during the season, with one of them being the IRONMAN World Champs, another a race that I really want to win and then everything else has to be integrated as some sort of prep for those big races.
"If I do get the slot through Cozumel it might change the plans for next year and I may give myself some different goals, but for now, this will be the end of my third season and in the future I can focus on racing some of the shorter distances, but there are a lot of races and you can't do them all unfortunately, so you need to prioritise."
"There will be a big focus on the IRONMAN World Champs in Kona next year and then a big push for Nice in 2025, where I will try and gear everything towards that and then I will try and gear everything I can towards that along the way."
Giving a great insight into how he stays mentally refreshed and motivated, Chevalier revealed he had recently gotten more involved with his local athletics club and along with appreciating the benefits of life as a pro athlete, this has helped him keep the fire burning during a long season.
"I am just enjoying the process, enjoying visiting new places and another lesson this year has just been to enjoy the chance to race as a pro athlete, you just need to enjoy the whole thing.
"I have signed up with my local athletics club, really got involved with the whole running race scene and just reminded myself that exercise can also be a hobby and it's important to enjoy it."