The IRONMAN World Championship at Kona (though the men will be at Nice, France, in 2023) is the event every elite athlete wants to win, but first they have to make sure they are among the qualifiers.
Historically at least (!) held in Kailua-Kona, on the west coast of Hawaii Island ('The Big Island'), the race brings together the very best long-distance triathletes on the planet to compete for the coveted title.
The inaugural event back in 1978 was the brainchild of US Navy Commander John Collins and his wife Judy, with 15 competitors taking on the gruelling course. The first races were held on Oahu, before the move to the Big Island in 1981.
US Navy Communications Specialist Gordon Haller was crowned as the first-ever IRONMAN Champion, finishing in 11:46:58.
The COVID pandemic meant the absence of the Kona race in both 2020 and 2021, while the 2022 season saw the unusual situation of two IRONMAN World Champions crowned.
The postponed October 2021 edition took place in St George, Utah on May 7 2022 with Daniela Ryf and Kristian Blummenfelt taking the '2021' Pro titles.
After three years, racing returned to Hawaii – over two separate race days – on October 6 and October 8 2022, with brilliant races won by Chelsea Sodaro and Gustav Iden.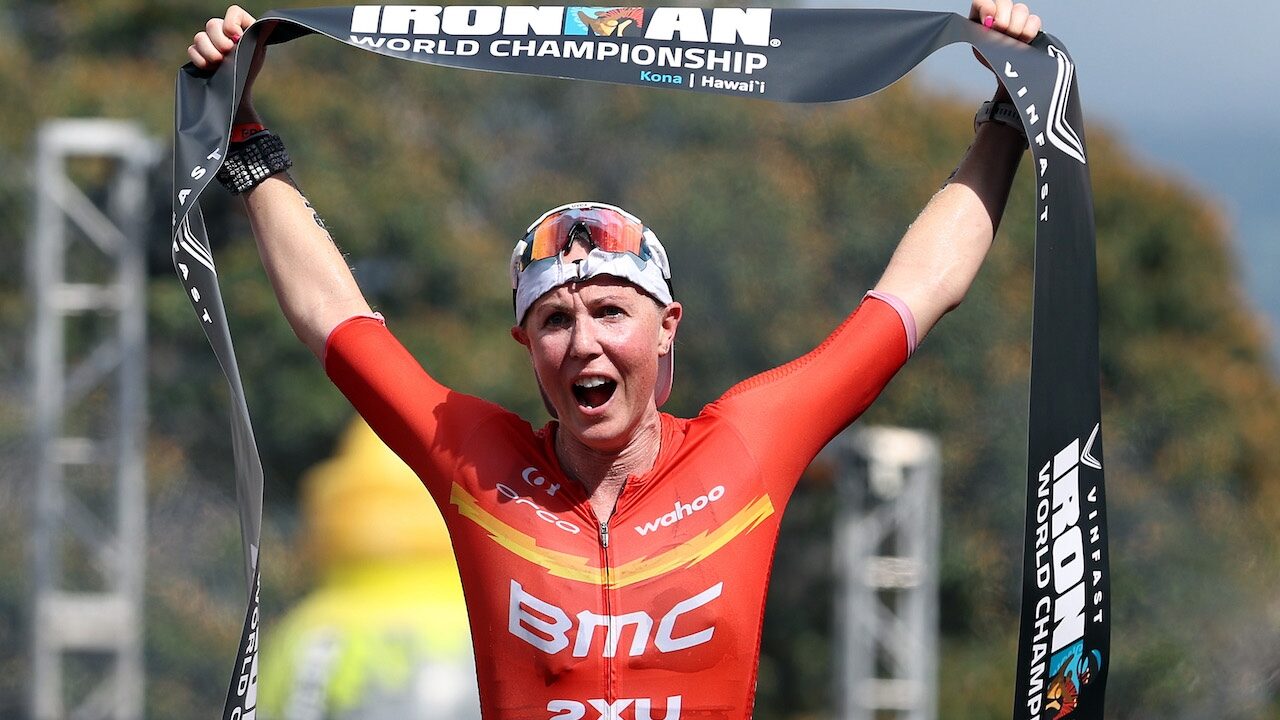 The 2022 Pro Men's race saw four men inside the previous course record (7:51:13) time set by three-time champion, Jan Frodeno, in 2019. That title now resides with Iden, who stopped the clock (including a 2:36:15 marathon), at 7:40:24.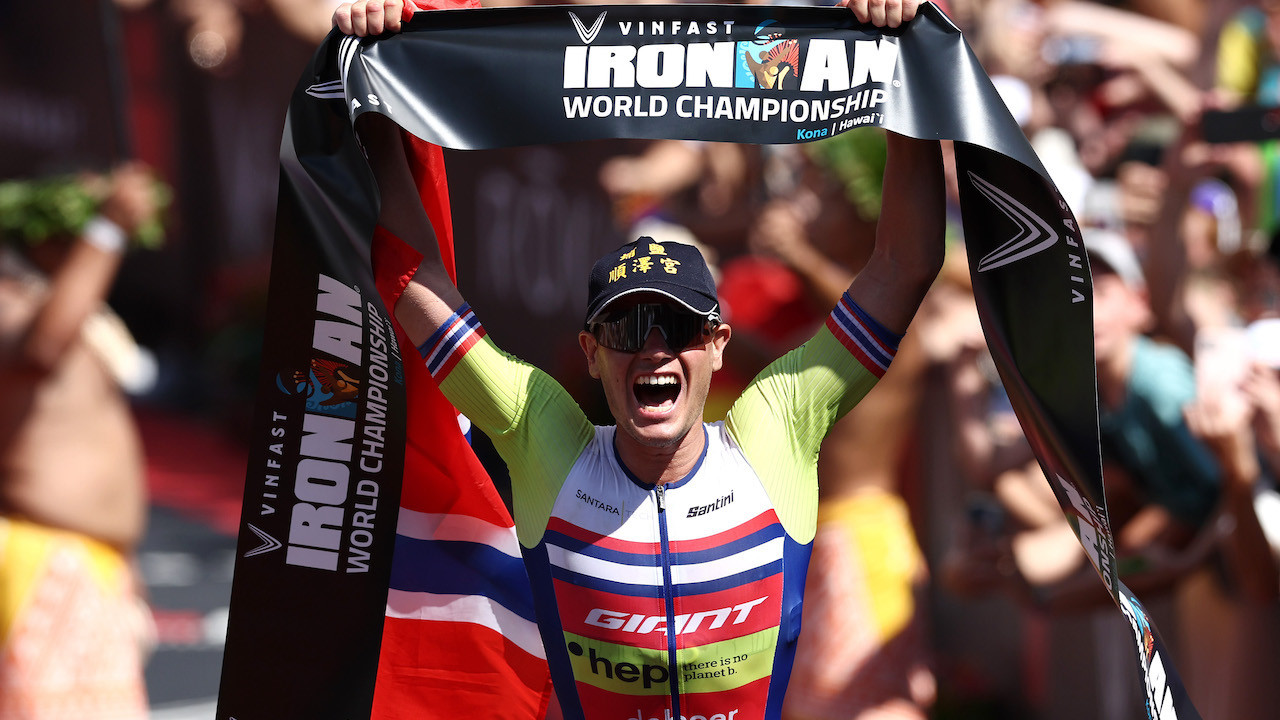 In 2018, five-time IRONMAN World Champion, Daniela Ryf clocked a Kona course record for the women's race, finishing in 8:26:18.
IMWC 2023 qualifiers
The 2023 IRONMAN racing season is now in progress, and below is the current list of names who have qualified for the 2023 IRONMAN World Championship. Previous IRONMAN World Champions receive a five year qualification Champion Exemption, and podium finishers (2nd / 3rd) from the 2022 race also qualify (2022 Podium Exemption).
In addition to the above, winners of the 2022 IRONMAN 70.3 World Championship will also receive an exemption / auto-qualification.
NOTE: Previous requirements regarding exemption athletes gaining their slots subject to completing a validation race have been removed from the latest IRONMAN Pro Qualifying Rules document.
PRO MEN (56)
Bart Aernouts (BEL)
Sam Appleton (AUS)
Leonard Arnold (GER)
Daniel Baekkegard (DEN)
Gregory Barnaby (ITA)
Cody Beals (CAN)
Matt Burton (AUS)
Kristian Blummenfelt (NOR)
Tuan Tun Chang (TWN)
Leon Chevalier (FRA)
Denis Chevrot (FRA)
Reinaldo Colucci (BRA)
Rémi Conte (FRA)
Braden Currie (NZL)
Magnus Ditlev (DEN)
Nathan Dotrmann (AUS)
Georg Enzenberger (AUT)
Adam Feigh (USA)
Jan Frodeno (GER)
Kristian Grue (NOR)
Arnaud Guilloux (FRA)
Maximilian Hammerle (AUT)
Matt Hanson (USA)
Pieter Heemeryck (BEL)
Niek Heldoorn (NED)
Benjamin Hill (AUS)
Jonas Hoffmann (GER)
Kristian Hogenhaug (DEN)
Arthur Horseau (FRA) – wildcard
Gustav Iden (NOR)
Ben Kanute (USA) – Deferred to Kona 2024
Sam Laidlow (FRA)
Patrick Lange (GER)
Chris Leiferman (USA)
Franz Loeschke (GER)
Andre Lopes (BRA)
Matthew Marquardt (USA)
Oliver Martinussen (DEN)
Steve McKenna (AUS)
Brent McMahon (CAN)
Justin Metzler (USA)
Clement Mignon (FRA)
Max Neumann (AUS)
Mathias Petersen (DEN)
Ben Philips (AUS)
Mike Philipps (NZL)
Andrea Salvisburg (SUI)
Joe Skipper (GBR)
Rasmus Svenningsson (SWE)
Jesper Svensson (SWE)
Luciano Taccone (ARG)
Jan Van Berkel (SUI)
Rudy von Berg (USA)
Bradley Weiss (RSA)
Michael Weiss (AUT)
Robert Wilkowiecki (POL)
Cameron Wurf (AUS)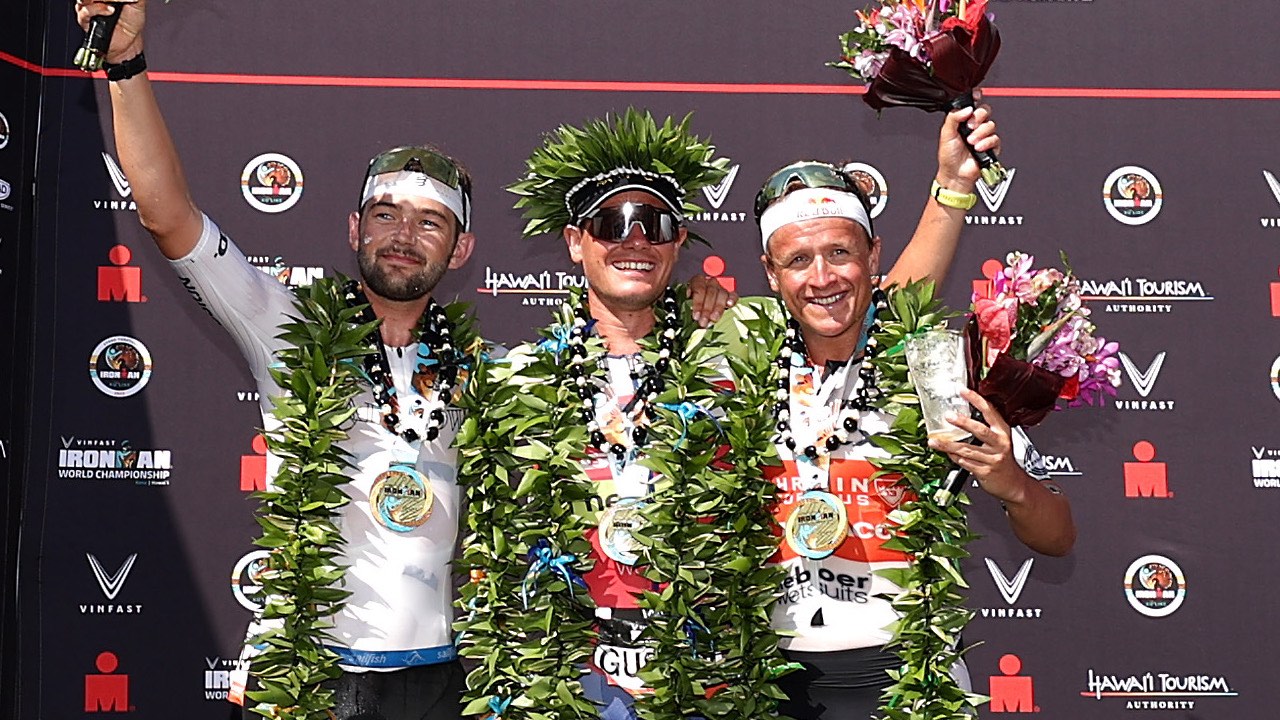 PRO WOMEN (56)
Alice Alberts (USA)
Jen Annett (CAN)
Ruth Astle (GBR)
Hannah Berry (NZL)
Daniela Bleymehl (GER)
Mariana Borges De Andrade (BRA)
Lauren Brandon (USA)
Laura Brown (AUS)
Lucy Charles-Barclay (GBR)
Susie Cheetham (GBR)
Haley Chura (USA)
Rebecca Clarke (NZL)
Jeanne Collonge (FRA)
Sarah Crowley (AUS)
Carla Dahan (FRA)
Gurutze Frades Larralde (ESP)
Manon Genet (FRA)
Kate Gillespie-Jones (AUS)
Anne Haug (GER)
Hilary Hughes (IRL)
Laura Jansen (GER)
Agnieszka Jerzyk (POL)
Radka Kahlefeldt (CZE)
Meredith Kessler (USA)
Taylor Knibb (USA)
Leonie Konczalla (GER)
Chloe Lane (AUS)
Fenella Langridge (GBR)
Danielle Lewis (USA)
Kat Matthews (GBR)
Justine Mathieux (FRA)
Jocelyn McCauley (USA)
Melanie McQuaid (CAN)
Skye Moench (USA)
Fiona Moriarty (IRL)
Lisa Norden (SWE)
Gabriele Obmann (AUT)
Pamella Oliveira (BRA)
Laura Philipp (GER)
Barbara Riveros (AUS)
Jodie Robertson (USA)
Daniela Ryf (SUI)
Kylie Simpson (AUS)
Penny Slater (AUS)
Chelsea Sodaro (USA)
Maja Stage Nielsen (DEN)
Sara Svensk (SWE)
Svenja Thoes (GER)
Sarah Thomas (GBR)
Sarah True (USA)
Michelle Vesterby (DEN)
Els Visser (NED)
Alexandra Watt (USA)
Lotte Wilms (NED)
Rachel Zilinskas (USA)
Laura Zimmermann (GER)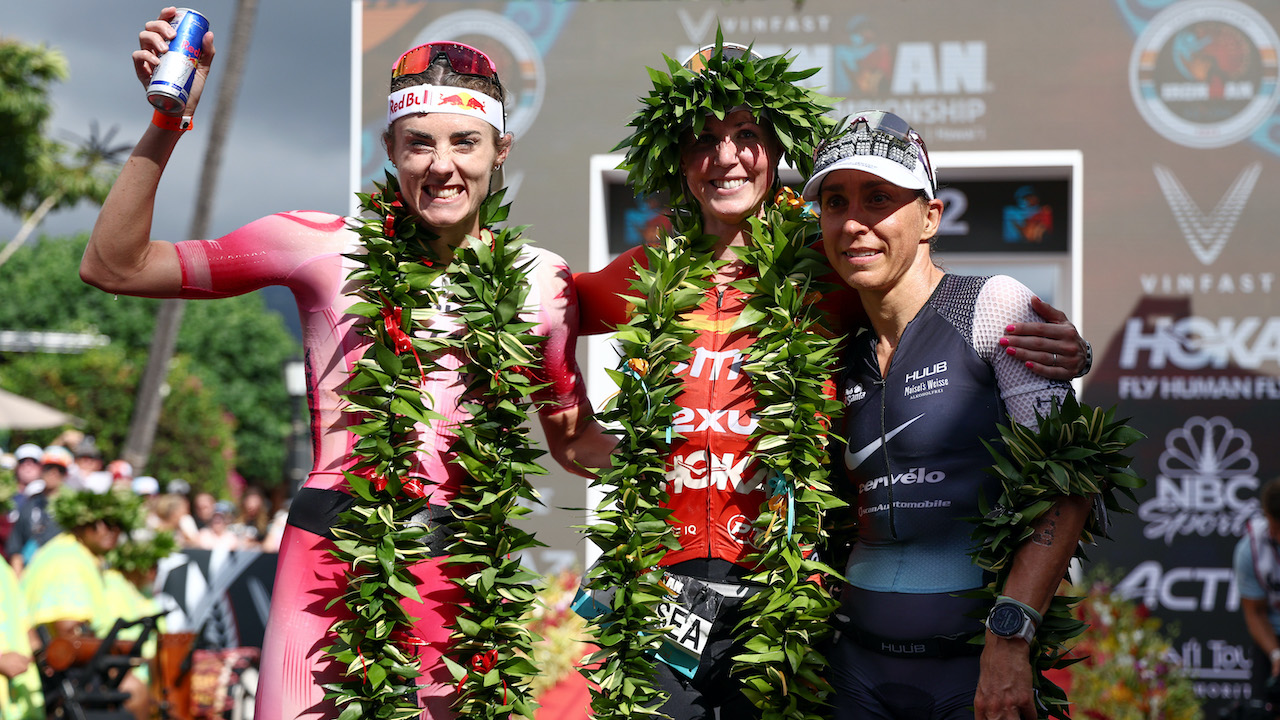 When are the IRONMAN World Champs in 2023?
The IRONMAN World Championships will take place over two days (and two venues) in 2023 and in two different venues.
The women will on Saturday October 14 in Hawaii, with the men racing at in Nice, France on Sunday 10 September.