Lionel Sanders says triathlon has gone from fighting for scraps to a truly golden era as he prepares for an epic 2022 season.
The Canadian has been at the forefront of trying to grow the sport, with his 'No Limits' mantra and detailed social media updates attracting and educating new fans.
But despite his best efforts, and those of others, the financial rewards available to elite competitors have been underwhelming. Meaning that the best racing the best is often a pipedream. Until now that is.
The massive investment into the sport from the PTO (Professional Triathletes Organisation) really kicks in for 2022 with the introduction of two huge races – the Canadian Open in Edmonton in July and the US Open in Dallas in September. Each will offer a total of $1million in prize money.
PTO a game changer
Sanders, speaking to the PTO in a video interview, cited a very recent personal example to illustrate the problems triathlon has fought with – and to emphasise why the rise of the PTO is a game changer.
"Obviously money brings people to the table, undoubtedly. And that's actually part of what has been the issue for us having truly competitive year-round racing circuit is because we've been fighting for scraps for so long.
"For instance, I did Galveston 70.3 at the beginning of the season in 2021 and first prize was $4,000 and I spent about $3,000 to have my wife there, the plane tickets, the Airbnb, Talbot my videographer etc. So I netted maybe $1,000 at best, if you factor food in I probably broke even.
"Finally there's enough that we can all come to this race and actually make a buck and race the best guys in the world. And that's what people I believe want to see.
"So there's nothing but good that's going to come of this for all pros, for the entire sport. I think it's a wonderful venture and I'm just very excited to be taking part in it."
Sanders targets home win
The first PTO major of course will take place on what for Lionel is home soil – in Edmonton, Canada. It will be a special moment, and something he is going all in to try and win.
"It's amazing, it's wonderful – the inaugural major. And it's certainly going to be my big season goal to win it on home soil.
"Actually my only world title was in Canada at the ITU Long Course World Champs in 2017, so I raced well there and certainly crowd support helps.
"We have such a rich history in triathlon, I think it's fitting that Canada has the first PTO major and I think the PTO and all of the parties involved are very passionate and have a great vision. And I see this being something big and just continuing to grow for many years to come and so I'm excited to be a part of it.
"It's a monumental race, I truly do believe finally we're in a golden era. We've got the right athletes, the right personalities, the right investors, the right people in charge of those investments and so this is really the beginning.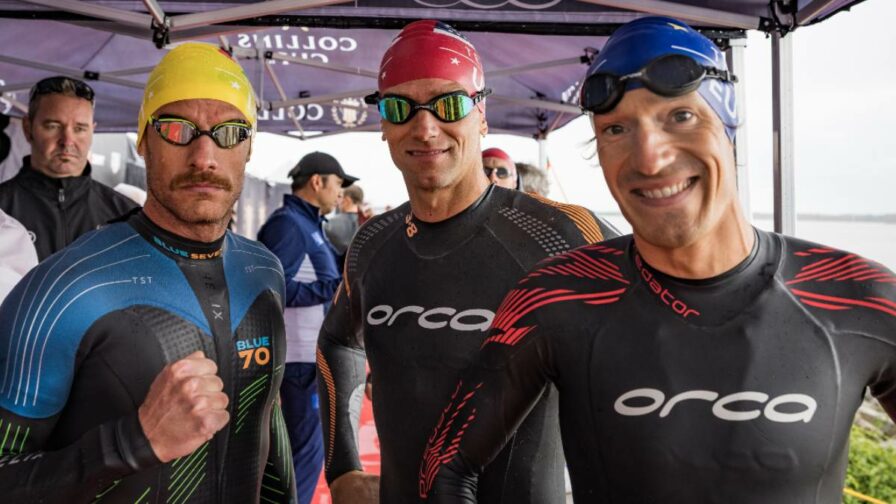 "The Collins Cup was like to test the concept and here we go, this is the beginning. And so to win the beginning when 20 years from now guys are going to be looking at this race as literally the beginning of what became a bona fide professional circuit that people are really going to want to win – it would probably be one of the highlights of my career."
Showcasing triathlon
Sanders' issues with addiction earlier in life are well-documented, and the sport of triathlon played a major part in overcoming them.
He said: "I obviously believe in triathlon, I believe triathlon saved my life. Triathlon, I believe, will provide more social utility in terms of motivation and that sort of thing than some of the things that I see. And so I think the PTO is going to help us elevate ourselves and unify ourselves so that we can showcase this great sport to the world.
"It's just a great sport that I believe creates lifelong learners, lifelong participants. And so that I believe is what they're (the PTO) bringing to us to allow us then to showcase that to the world and inspire people and bring them on board."