Lionel Sanders has given detailed reaction to his controversial disqualification at the IRONMAN 70.3 World Championships in a much-anticipated YouTube response following Sunday's race in Finland.
Sanders, one of the sport's highest-profile athletes, was shown a red card for what was deemed a centre-line violation deep into the bike course as he looked to reel in the leaders.
He posted a brief message on Instagram soon afterwards but said he needed more time to gather his thoughts.
That moment has now come, albeit after three previous attempts at recording a video which underlines the swirling emotions, and the final version is embedded below so you can watch in full.
Emotions are still running high but it's a considered response in which he asks his legions of fans to avoid any negativity as he himself looks to move on, though he also says he feels he would have been able to overturn the DQ had he been fully aware of the official protest process.
The report of the Head Referee was sent to Sanders and features in the video. We also have a statement from IRONMAN at the end of this article and it's clear that both sides are looking to work constructively going forward, with 'No Limits' himself saying he wants this to be a catalyst for change, signing off with: "Let's work together to make our sport better."
This was the second year in succession there had been a high-profile penalty in the men's 70.3 Worlds, with American Sam Long penalised five minutes for a drafting offence at St George last October.
And Long himself, soon after the video was posted, said: "I feel like I have often followed in your footsteps; in this instance sadly history repeated itself from last year. I feel so many emotions for what happened to you and wish we could see some change."
'I made what I believe to be a safe pass'
Sanders starts the video by saying: "It is 01:52am – I slept for four hours and woke up. It's absolutely eating away at me. I have to give my side of the story. It's just been a very difficult time and maybe people looking in will think that's a little bit weird. It's just a sport… but at the end of the day, it's my life.
"And so I think I am somewhat justified in feeling really emotional. I am going to give you my side of the story and what unfolded in as truthful and unbiased manner as I can. And then that will be the end of it. I hope. That's going to allow me to fall asleep and to move on because I really need to."
He then goes into detail about what was an improved swim and then a progressive bike leg which saw him work his way towards the front of a big chase group before the moment his race unravelled:
"At about 70 kilometres, we were going well, I began to make a pass on, as the report says, three athletes. And if you pass three athletes, you have 25 seconds per athlete. And we're on a course that is a very small, single lane European road. It is going up and down and side to side. And so I made this pass. And at some point during this pass we were going on a downhill and a left-hand sweeping bend. And if you know anything about riding a bike and cornering, you know that when you're going around a bend at a fast pace, you start off on the far right side, you go to the apex of the corner and then the forces of the speed in the corner force you back out to the far right side. So that's what was happening as I was making the pass.
"And so then I made the pass on the left side of these athletes and I believe it was the safe pathway to take. Otherwise, had I not taken this pathway, I would be pushing those athletes off the road and that would be very dangerous for everybody. And so then I successfully made the pass."
But it was shortly afterwards he was issued with the penalty and he added: "So the referee rolls up, blows the whistle. I get out of the bars, look over, he shows me a card. I say for what? And he says, for crossing the centre line. I say, but there is no centre line. And he says, but you have to abide by an imaginary centre line.
"I'm not going to debate. I see no reason why the referee who made the call would lie. What's the incentive to lie? Did I cross the centre line? Probably, yes. Was there a centre line? No. Was I aware that I was supposed to draw a centre line in my mind and not cross it on a single lane, narrow European road? The answer to that is no, I was not aware of that. Whether that's a rule or not, I was not aware of it."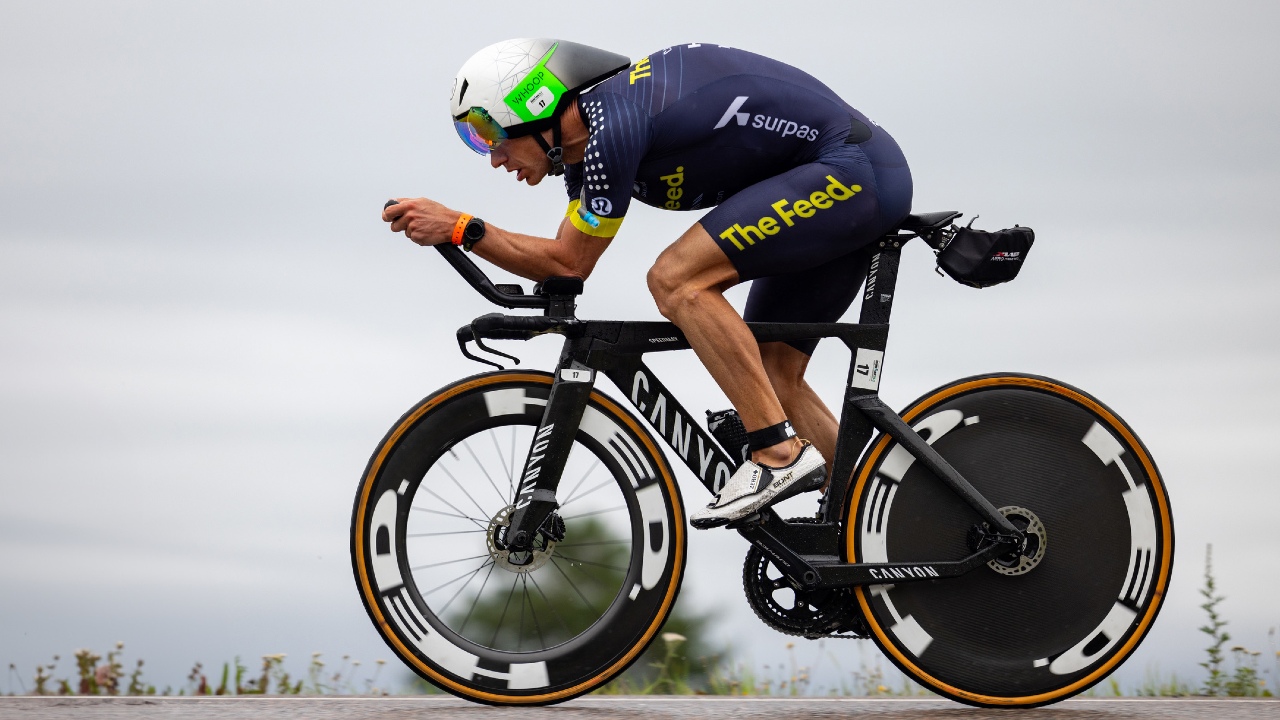 Protest confusion
The fact that Sanders had never received a penalty before in 10 years or racing then made the next phase of his race even more complex: "And so, admittedly, when I heard the whistle, I was so taken aback that I didn't see the [colour of the] card. In my mind, I thought I received a blue card."
Had it been a blue card, Sanders would have needed to serve a five-minute penalty which is why he went to the penalty tent and only then – clearly shown in the video – he was told by fellow athlete Matt Trautmann that the colour of the card he'd been shown was red, meaning a DQ.
Remarkably, soon after that bombshell Sanders is composed and classy enough to congratulate an age-grouper on her performance the previous day.
The situation went from bad to worse at T2 when he wasn't sure whether he was allowed to continue the race on the run, meaning by the time he started his half marathon, for which he clocked a 1:13, he'd lost around seven extra minutes via the penalty tent and extended transition.
Reflecting on that he explained: "I went to the head referee [in T2] because I was unsure if I was allowed to finish. And the head referee said, you may continue and you may protest. Now, that one I did hear. And so then I finished the run. I feel like I did a fairly respectable run."
It all meant he finished well down the field on what was his first 70.3 Worlds since 2016 and soon after crossing the line he went to make what he felt was a protest against the ruling.
Sanders explained: "When I crossed the finish line, it's pouring rain, I'm freezing cold. I immediately went to the head of rules in officiating, thinking that I was doing a protest and that's Jimmy Riccitello [IRONMAN's Global Director of Rules and Officiating] and we had a conversation. Nothing came of it. It turns out that's not how you do a protest. I didn't know that. I've never actually been versed on how to do a protest.
"And so, long story short, I'm very upset, clearly very upset, as you can see, still to this day, I'm still very upset. And so then I, of course, afterwards messaged Jimmy and said, I want to know what was I disqualified for? I want to know. And so then a few days passed. Eventually the referee created a report. I read the report."
Aim now is positive change
In terms of that report, Sanders added he disagreed with some aspects, but accepted others – but felt especially strongly about the suggestion he tried to gain an unfair advantage over his competition:
"That really hurts me to hear that. It's totally not true. In fact, I was trying to not gain an unfair advantage over my competition through drafting. So I disagree with every aspect of the reason I was disqualified.
"I have competitors [we have seen reactions from Matt Trautmann and James Teagle among others, which absolutely back this up] who I was passing, who are willing to vouch for me that I wasn't trying to gain an unfair advantage over them. I also have competitors who are willing to vouch for me that I barely crossed the imaginary centre."
"But this is now where I hope to elicit positive change. If the centre line thing is a rule and you're going to disqualify people, then it needs to be conveyed very clearly to the athletes. And that's fine if it's a rule, and that's fine if you're going to disqualify people for it, but the athletes need to be made very well aware of that, and I wasn't made very well aware of that.
"And secondly, you, as an athlete, I know you're going to be mad if you ever get a penalty but you have to be very present. And I went off into 'anger-land' and wasn't present. And I think that really hurt me, because had I been able to hear the referee say that, then I could have finished and I could have raced and found out where I really stood and then protested.
And I really believe I would have won the protest.
"I believe with all the evidence, apparently it goes to different levels. Actually, the first level is just the referee there and apparently they can say no and I can say I still disagree, and it goes to a different level and then it goes to a different level. I guess maybe I could have even gathered evidence after the fact and I have my competitors who could help me."
Michigan next as Lionel moves on
So huge kudos to Sanders for the constructive and considered way in which he rounds off the video.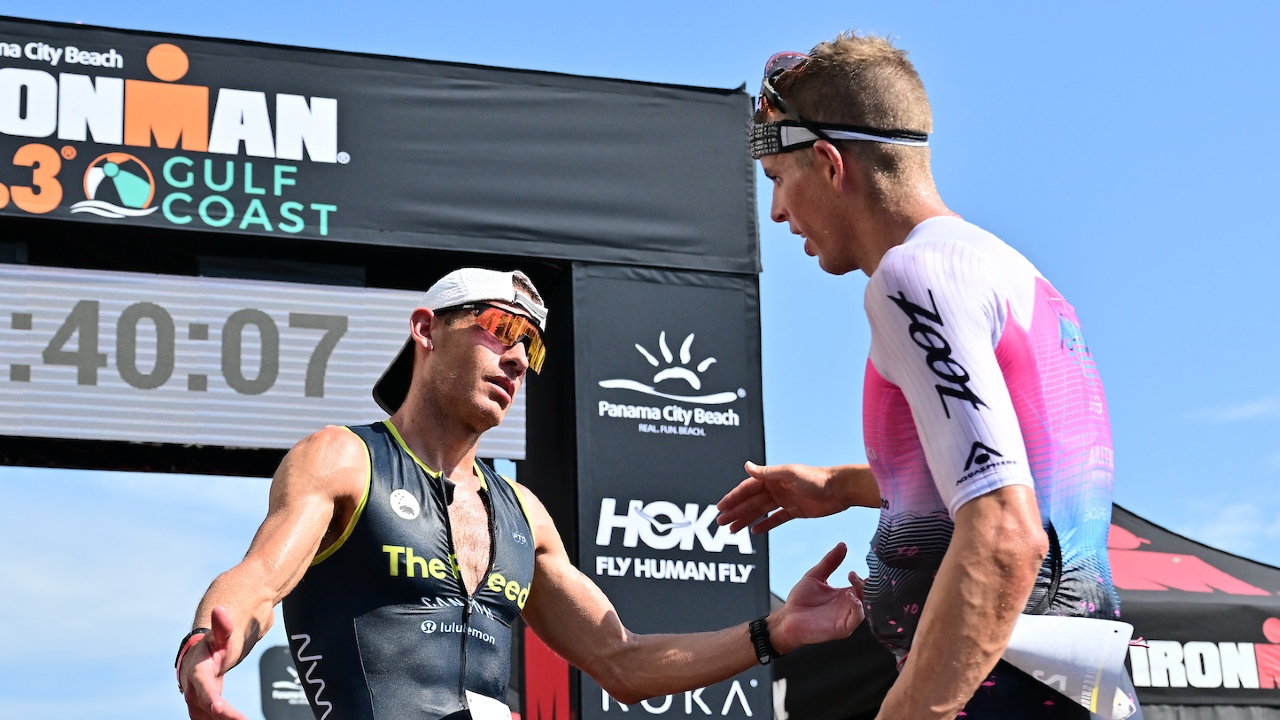 Sanders says: "I don't want any negativity to come out of this. It's truly got nothing to do with that. It's about learning and growing and improving.
"There's going to be mistakes made and there's going to be judgement calls and I'm going to be upset and you're going to feel you're right, that's life. That's all good. So I just need to give my piece of this story and I hope we can move on and we can become better as a team together.
We are all in this together as a sport of triathlon. It's a small sport, it's a wonderful sport. It's a sport that saved my life.
And he was keen to pay tribute to the three German athletes – Rico Bogen, Frederic Funk and Jan Stratmann – who completed a clean sweep of the podium:
"I want to congratulate Rico and Freddie and Jan on an amazing performances. These guys are very inspiring. Congratulations to all of them and to everyone who did the race.
"Let's keep this together. Let's work together to make our sport better, fairer, safer and more accessible. And I'll see you at the next one. 70.3 Michigan, two weeks from now.
IRONMAN's response
While Sanders deserves huge credit for taking his time to process those thoughts and emotions – and don't forget there are huge implications both this year and next in terms of a DQ opposed to a top-five finish – IRONMAN also appear to be willing to take on board learnings too.
We reached out to them as soon as Lionel posted the video and they told us:
"We have listened to the comments made by professional triathlete Lionel Sanders, and while we do not agree with everything he has stated, we believe his comments have been made in good faith.
"We respect the call made on race day by the independent technical officials assigned to the event.
"We have taken Lionel's comments and feedback onboard and are committed to communicating better with our professionals around race rules and their interpretations in the interest of safety and fair play."