Chris McCormack has huge respect for Lionel Sanders, describing him as triathlon's Rocky Balboa, but he says the Canadian cannot win Kona in 2021.
In fact the Australian two-time former IRONMAN World Champion is so confident about that fact, he says he'll match Sanders' prize money if he does.
On Sunday in Germany, the Canadian produced a personal best of 7:43:28 behind new world record holder Jan Frodeno (7:27:53) in the much-publicised Zwift Tri Battle Royale. That in itself was a remarkable achievement coming just three weeks after he had limped over the line at IRONMAN Coeur d'Alene with nutritional issues.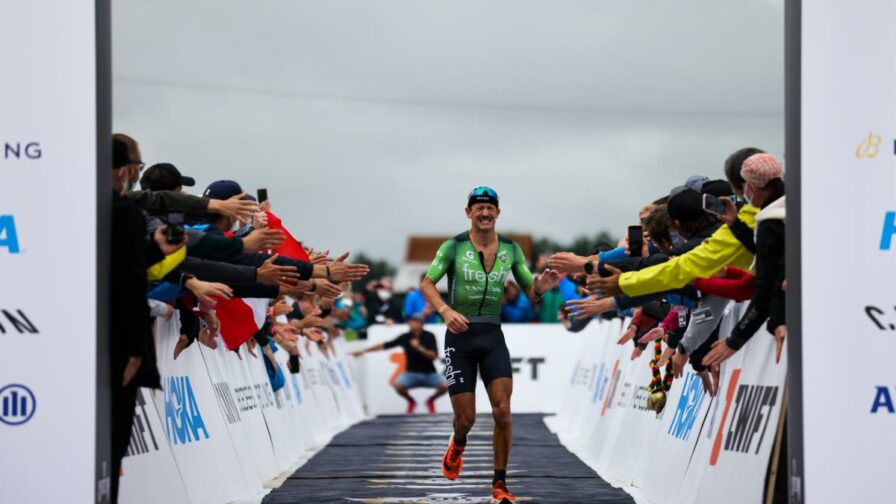 Now the 33-year-old, who does not yet have a qualification slot for Kona this year, must regroup and try to grab one – likely at IRONMAN Copenhagen on August 22.
McCormack knows exactly what it takes to triumph on 'The Big Island' – he won there in 2007 and 2010 – and believes Lionel's tortuous schedule makes it impossible for him to do so this year.
McCormack on Sanders schedule
Speaking on a Bahrain Endurace 13 team Facebook Watch broadcast during the race in Germany on Sunday, he said: "In Lionel's case, he hasn't got that spot for Kona, so he's gotta come off this performance, drop another ironman to qualify and then go to Kona.
"I'm interested to see how he pulls up from this, and how he qualifies and then what he's got left on 'The Big Island' if that race goes ahead. Because he's going deep here, both of them are, and I couldn't imagine having to drop another ironman within the next 12 weeks prior to Kona – just to get there.
"You can go to Kona, and you'll finish and you'll race, but you're not gonna win the event. And that's a guarantee.
"Ask yourself, in the last 25 years, what male athlete has won Kona off more than two ironmans in a season. None, zero, it doesn't work. You can't dig that deep and expect to perform in Kona – it's a special beast.
"When you're cramming three ironmans in the back end of the year when you've got an October race – he's gonna be there, he's gonna be on the start list, you'll see Lionel Sanders' name. But if he wins Kona I'll match his prize money, it's not happening, it won't happen.
"And that's a tragedy because I think he brings so much to the racing. I really wish he'd grabbed that spot in Coeur d'Alene, which has probably seen him a little bit off for this race.
"This is a fantastic race, and I love watching it, but I wanna see the best guys also come off this event with the world record and go to Kona and give us that Kona race that we missed last year because it's such a beautiful race as a fan of the sport to watch, and it has such a rich history which brings so much excitement to fans of the sport to tune in."
Lionel is Rocky Balboa
McCormack has massive respect for Sanders, and believes he brings much to the sport, but is worried 'No Limits' is racing against Father Time in his bid to win the biggest race of all.
"He needs to get a spot for Kona, he obviously cares about Kona. He's done this race, he's finished second today, or he lost. Now he's gotta get that Kona spot and try and recover and be ready to put out a big performance in Kona.
"He's had some disappointing races in Kona the last couple of years off the big racing, and it's hard to wear those disappointments.
"It's alright to have one and then you have two and you can deliver, and then the third one and the fourth one and it starts to become a bit of a weight on your back. So you either care about winning that race, or you're happy with a podium performance and you've got to live with that. I know most people care, and winning it is important.
"He doesn't have many more chances to do it, so I hope he pulls up well and gets through this next one quite well and can be in the best shape he possibly can be for Kona, because I think it's great for the sport.
"He's tough as nails, he brings a lot, he's Rocky Balboa. He brings so much to the sport and I enjoy following him, he's a warrior."